Clouds, cooler and wetter Sunday
The high of the day will take place at midnight
Published: Oct. 23, 2020 at 3:43 AM EDT
|
Updated: Oct. 24, 2020 at 10:55 PM EDT
Expect rain coverage to increase tonight as a front remains draped over the area. Waves of showers move out of North Carolina into Virginia. The heaviest rain is expected to be across the VA/NC border, especially Southside, where amounts may top 1″.
Areas of poor drainage flooding can't be ruled out so use caution if you're driving overnight.
SUNDAY
An area of high pressure to the north wedges down cooler air along with clouds and drizzle. The high of the day will take place at midnight Sunday with temperatures dropping throughout the day Temperatures go from the 50s around sunrise to the 40s by late in the afternoon. Patchy light rain and drizzle can't be ruled out, but it won't be raining all the time.
NEXT WEEK
We break out of the wedge on Monday and Tuesday with warming afternoon temperatures nearing the upper 60s and increasing late-day sunny breaks Monday. Tuesday will be mostly sunny and warmer with highs in the mid 70s.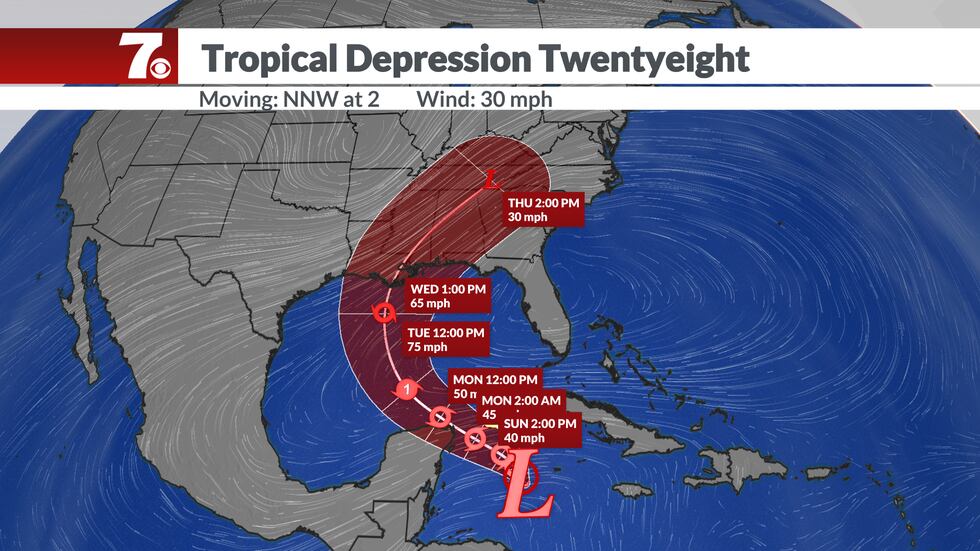 IMPACTS FROM THE TROPICS
Our newest tropical depression has formed in the western Caribbean and will likely strengthen to become Tropical Storm Zeta late this weekend. A midweek landfall is expected along the Gulf Coast, a popular landfall location for tropical systems this season.
From there, the remnants are expected to interact with an approaching front and get pushed toward the Mid-Atlantic late next week, likely Thursday and Friday for our area. This would mean another soaking rain to end the work week. Based on timing, it appears to move out in time for the Halloween weekend. However, much cooler air follows the tropical system with highs only in the 50s next weekend.
There is still quite a bit of uncertainty on specifics regarding timing and amounts, so check back daily for updates.