Warm to wintry; a little something for everyone in the forecast
A few stray showers are possible this weekend.
Published: Dec. 11, 2020 at 3:53 AM EST
|
Updated: Dec. 11, 2020 at 7:27 PM EST
Skies turn partly cloudy tonight and that will help keep temperatures from getting quite as cold. Lows slip to the low 40s for most areas with 30s in the mountains.
Our next cold front approaches this weekend but it's likely to bring only isolated showers. Most of the rain dries out before it arrives. The mountains offer the best chance of showers Saturday and Sunday. We'll keep temperatures well above average again this weekend with low 60s expected in most areas.
SOGGY START TO THE WEEK
Our weekend front moves off the coast. At the same time, low pressure will form over Texas before spreading rain into the area early Monday morning. Due to the timing, temperatures will be cold enough for snow in the mountains, however, most areas will only see a soaking rain. Rainfall may top one inch around the region, with locally higher amounts.
At this time, any snowfall appears mainly confined to the highest elevations where several inches may accumulate. Highs reach the upper 40s during the afternoon.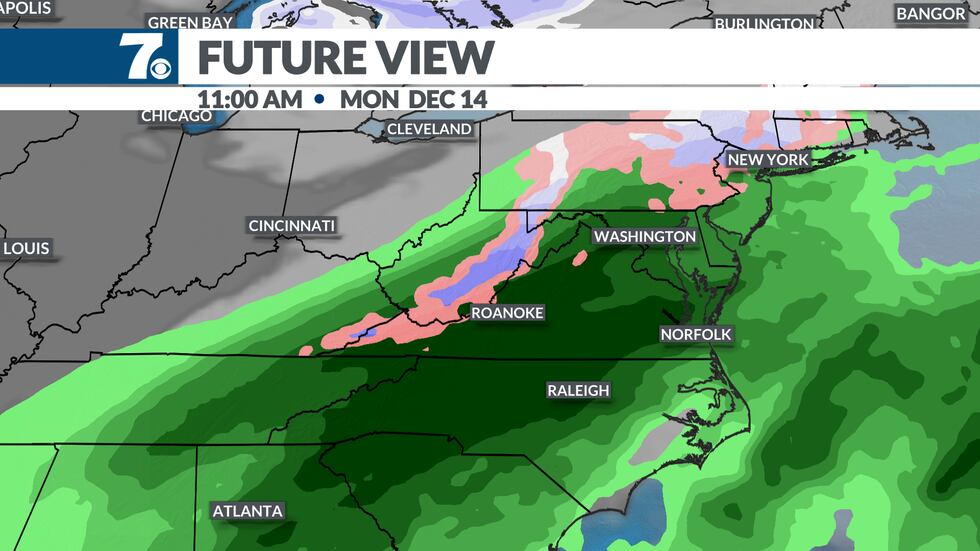 WEDNESDAY
Tuesday will be dry and sunny, but we'll quickly turn our attention to Wednesday when high pressure to the north will push in cold air along the mountains. At the same time, another wet storm moves in from the south. This time the air will likely be stubborn and linger as the moisture arrives. This may lead to significant duration snow event starting Wednesday morning and lingering into the evening.
There is still LOTS of time for adjustments to the forecast, but it's certainly something you'll want to keep an eye on.