Rain, mountain snow and wind accompany Friday's cold front
An arctic front brings colder air for the weekend
Published: Jan. 14, 2021 at 3:50 AM EST
|
Updated: Jan. 14, 2021 at 11:40 PM EST
WEATHER HEADLINES
Clouds thicken but dry overnight

Snow and rain showers after sunrise Friday

Much colder (and breezy) this weekend
FRIDAY
We're waiting on a cold front to move east into the region Friday bringing a variety of weather. The front will contain limited moisture but the cold air in the morning may allow for snow showers to mix in for the mountains.
TIMING: Any rain should hold off until after sunrise in the west, moving east into the NRV and Roanoke Valley before lunchtime. After noon, rain moves toward Lynchburg and Danville, exiting after sunset.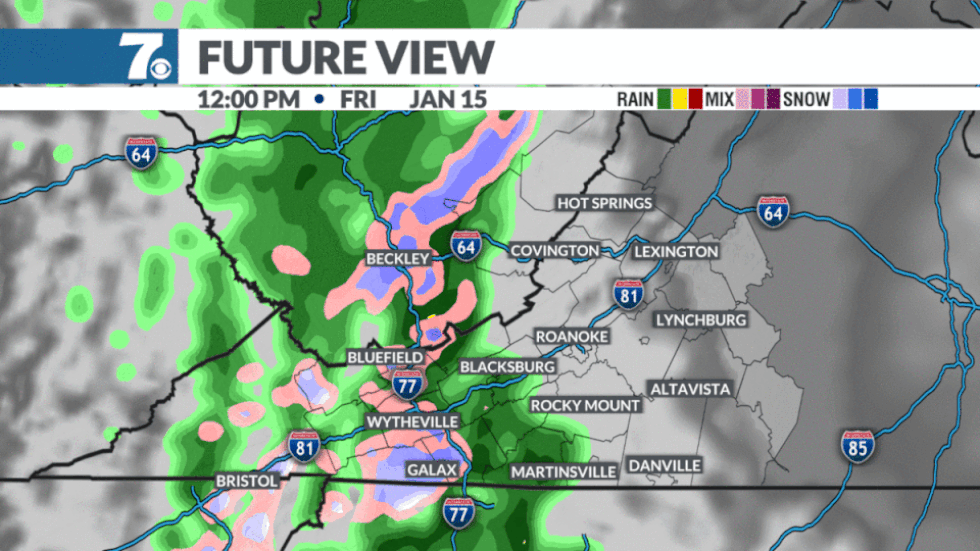 HIGHER ELEVATIONS: The highest mountain peaks may see one to two inches by noontime. with another inch in the afternoon.
LOWER ELEVATIONS: At the lower elevations, plain rain, or a rain/snow mix melting on contact is more likely. Across the Piedmont, rain is expected.
The front will usher in colder temperatures Friday with highs only in the mid to upper 40s. Winds will also remain blustery, gusting 25-35 mph.
THE WEEKEND
Weekend temperatures will barely reach the low/mid 30s in the mountains and the low 40s elsewhere. Lingering mountain snow flurries are possible early Saturday but we expect increasing sunshine for much of the weekend.