Immediate danger over after crash and fuel spill along 220 in Highland County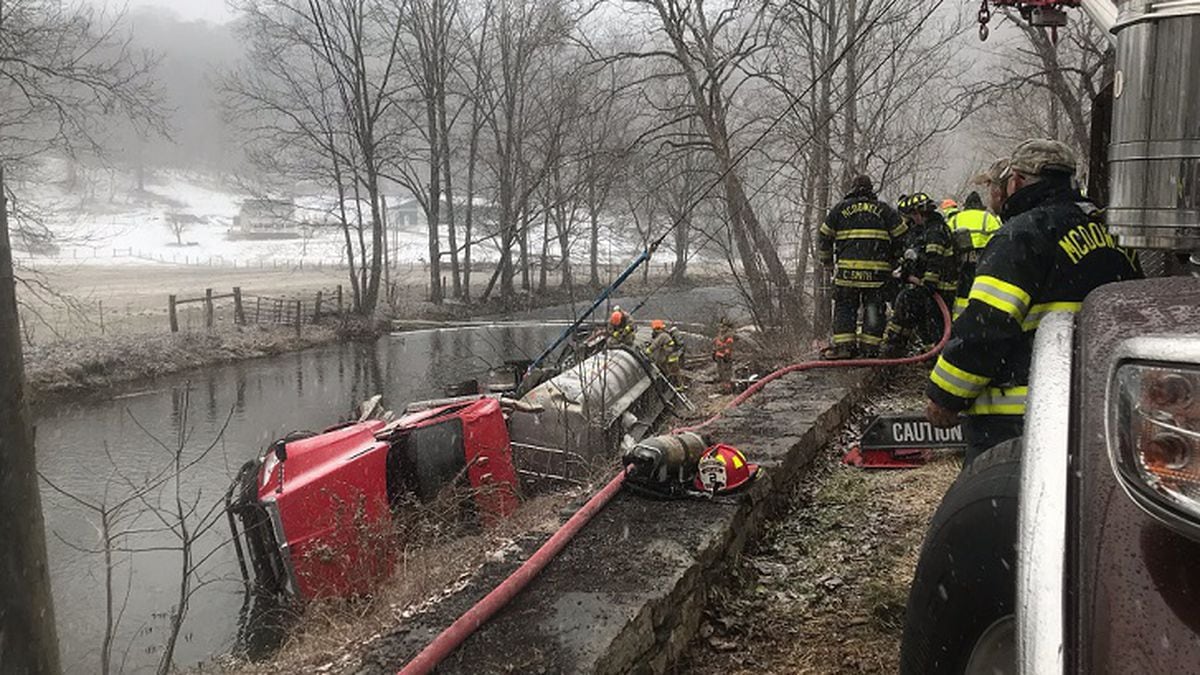 Published: Feb. 26, 2021 at 11:09 AM EST
HIGHLAND COUNTY, Va. (WDBJ) - UPDATE: Bath County Emergency Services reports the immediate danger from Friday's fuel tanker crash and spill has passed.
Coordinator Andy Seabolt says as far as he knows, none of the fuel that spilled from the truck when it crashed into the Jackson RIver made it to nearby Bath County, since not only was the spill contained; gas evaporates fairly quickly and rain would have diluted anything that stayed in the river.
UPDATE: Residents are still asked to avoid the area, according to officials out of Bath County.
The DEQ, VDOT and VDEM, along with local government agencies and the Roanoke Hazmat Team have been working the incident since its beginning. The DEQ immediately alerted the EPA and the Virginia Department of Health who then worked with area water treatment plant operators.
The gasoline transfer was completed Friday evening at 6:30 p.m. with an estimated 1,250 gallons of fuel released, which was less than earlier expected. The trucking company is set to release a confirmation on the number one the reserve tanker can be evaluated.
The emergency response contractor had to get rid of the diesel fuel before the wrecker could lift the truck and tanker from the river.
The DEQ and DWR biologists have been present to analyze fish kills, with some being found two miles downstream. Benthic communities appear to be unaffected, according to the statement from the DEQ. A final analysis should be ready Monday.
Response personnel actively change out containment booms. River booms were also placed at a minimum of two locations downstream. The booms are staying in place through the weekend and will be maintained by the emergency response contractor in order to catch any fuel that could wash off the embankments and/or vegetation.
The DEQ can be followed on Twitter here.
EARLIER STORY: Part of the northbound lane of Route 220 in Highland County will be closed much of Friday because of a tractor trailer crash.
Virginia State Police say at 7:44 a.m. Friday, the big rig overturned into the Jackson River. The truck was carrying 9,000 gallons of gasoline, and a HAZMAT team is assessing the fuel leak, which Bath County refers to as "major."
The Virginia Department of Environmental Quality says about half the fuel leaked from the tanker. Fuel has been seen in the river more than four miles downstream from the crash.
The crash occurred in the 8000 block of Jackson River Road/220. The driver was not hurt.
Police say the northbound lane will likely be shut down well into Friday afternoon.
In a Bath County Facebook post, county officials said, "There has been a major fuel spill in the Jackson River. Do not enter the Jackson River for any purpose including recreation, fishing, and livestock. This is an emergent situation and information is limited at this time. State and local officials have responded."
Copyright 2021 WDBJ. All rights reserved.