Starting off the weekend dry; precipitation chances increase for Sunday
Sunshine for Saturday before rain and possible mountain wintry mix moves in Sunday
Published: Jan. 20, 2023 at 3:51 AM EST
|
Updated: Jan. 20, 2023 at 3:15 PM EST
Staying windy into Saturday morning

Dry, but chilly to start the weekend

Sunday soaker arrives; rain/light mix possible
REST OF FRIDAY
Winds will remain strong throughout the rest of our Friday. Expect gusts overnight to read near 15-30MPH. Temperatures tonight dip down into the 20s and low 30s with a few clouds hovering around.
Calling all star gazers! Early tomorrow morning will make great viewing conditions for COMET C/2022. This comet only is seen on earth once every 50,000 years! Look towards the northwest early Saturday morning for a green hue. (You can still see the comet throughout the rest of this month, but clouds and the moon becoming brighter could make it tricky). A few clouds will pass by at times for our area.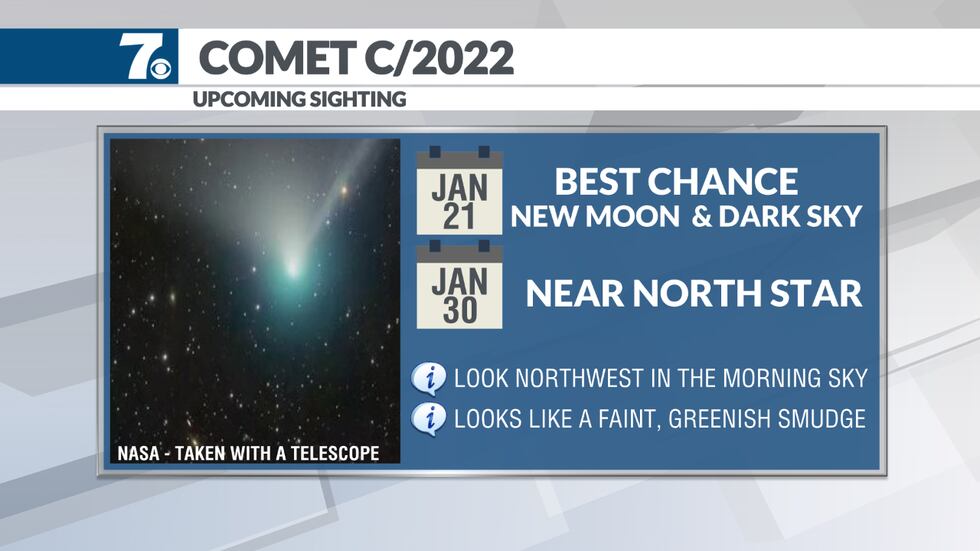 SATURDAY
Waking up Saturday morning it will feel chilly! Feels-like temperatures will be in the teens and low 20s with windy conditions still. Heading into the afternoon calmer conditions return. Highs warm into the 40s and low 50s. Saturday looks dry with mostly sunny skies and seasonable temperatures, so if you are wanting to do any activities outdoors this will be the best day this weekend. Come Sunday, soggy conditions push in.
SUNDAY
Another system will enter from the southwest bringing mostly a cold rain Sunday. A few areas (high elevations primarily) will see a light wintry mix at times. This is pretty much the same setup we have seen all winter! Temperatures will stay on the chilly end Sunday with highs only in the 30s. Precipitation starts to taper off Sunday evening/overnight.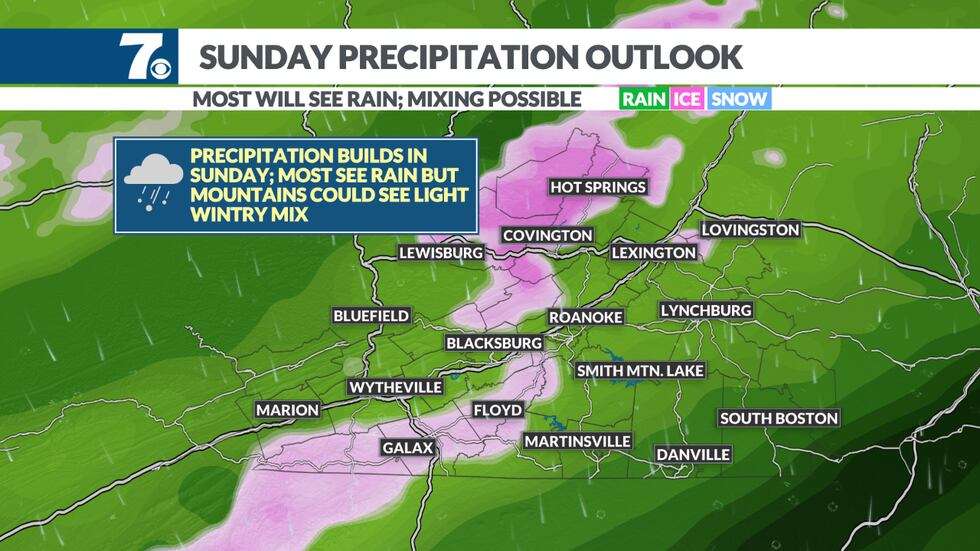 | | |
| --- | --- |
| RAIN BEGINS | Likely after sunrise Sunday - Arrives southwest to northeast |
| RAIN ENDS | Sunday evening into Monday morning |
| RAINFALL TOTALS | Widespread rain likely reaching .25″ to .50″ with locally higher amounts |
| SNOWFALL TOTALS (Mountains) | Snowfall in the West Virginia mountains are likely to top 1-3″ in spots. |
NEXT WEEK
Precipitation tapers off Monday (few snow showers still for West Virginia; flurries west of the parkway) and Tuesday with dry conditions and seasonable highs in the 40s. We remain seasonable all week with highs in the 40s and lows in the 20s/30s.
There are some signs another system may try to enter the region by the middle of the week bringing yet another round of rain and perhaps some wintry mix for some.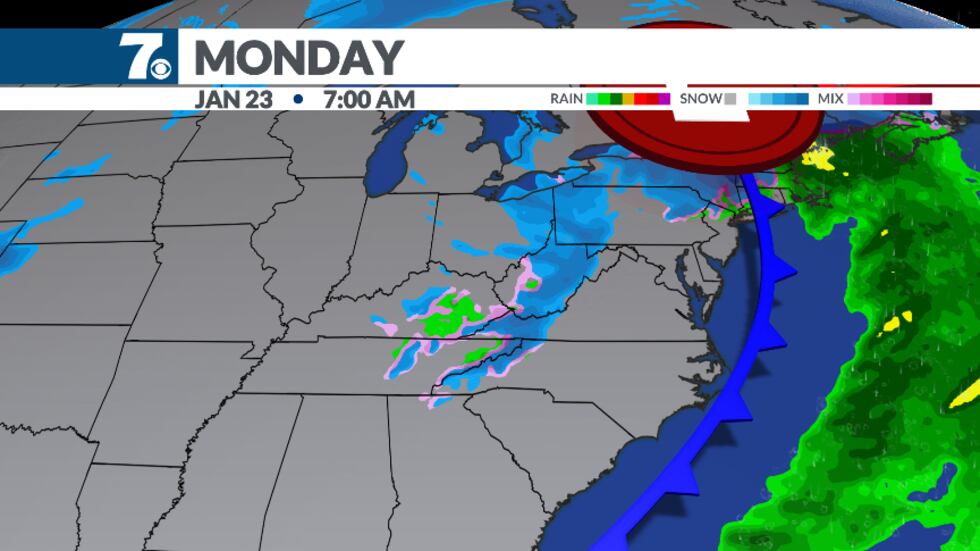 SLIGHT CHANCE OF SCIENCE PODCAST
Did you know that weather plays a crucial role for K9′s? Meteorologist Catherine Maxwell talked with Sergeant Heath Hyatt, K9 officer with Christiansburg Police Department and master K9 trainer for Virginia, about the struggles and benefits weather can bring to solving the case. Here's a preview:
If you have an idea for a topic that you want us to explore, send in your requests to weather@wdbj7.com. Slight Chance of Science will feature science topics from our team of meteorologists here at WDBJ7. You can listen to our podcast on any platform where you stream podcasts from. Enjoy!
Copyright 2020 WDBJ. All rights reserved.