Soaking rain returns Wednesday with wintry potential in the mountains
Grab the umbrellas before you head out Wednesday
Published: Jan. 24, 2023 at 3:49 AM EST
|
Updated: Jan. 24, 2023 at 5:49 PM EST
Rain arrives around sunrise; exiting around sunset

Light icy/rain mix in the mountains (along I-64)

Staying chilly and breezy Thursday
Clouds continue to increase overnight with lows dropping to around the freezing mark overnight. Any rain should hold off until around sunrise Wednesday morning.
The launch from Wallops Island along Virginia's eastern shore is set to take place around 6PM. Watch it Live at the link below.
WEDNESDAY
Our next soaking system is coming in from the southwest bringing mostly a rain event to the region Wednesday. Since the rain is likely to arrive after sunrise, temperatures should nudge just above freezing, minimizing the impacts of any wintry weather expect for the mountainous areas along either side of the I-64 corridor.
TIMING
Rain enters between 6AM and 8AM, impacting the morning commute. The system will keep moderate rain around for the afternoon and exit east between 5PM - 7PM.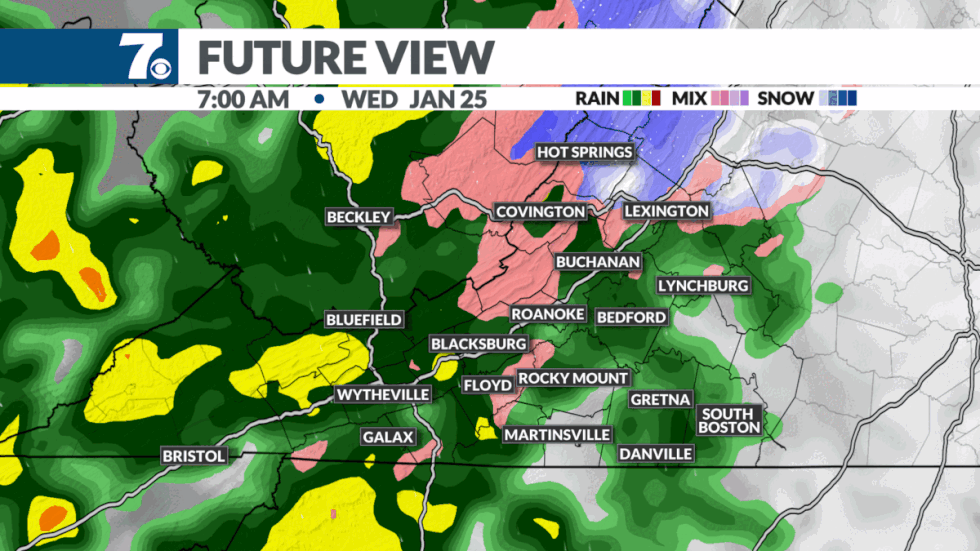 RAIN AMOUNT
Rainfall will be widespread and generally around .50″ for most areas. Locally higher amounts are possible
WINTRY MIX AMOUNT
A mix of snow/sleet/freezing rain is possible for the higher elevations along the Interstate 64 corridor. Snow and sleet accumulations up to 1-inch is possible along with a glaze of freezing rain (ice), mainly on elevated surfaces.
A WINTER WEATHER ADVISORY has been issued for the counties of Craig, Botetourt, Alleghany, Rockbridge, Bath and Highland in Virginia and Greenbrier and Pocahontas in West Virginia. These are the areas most likely to experience the wintry mix. We may also see some along the Blue Ridge Parkway and Bent Mountain.
END OF THE WEEK
Winds will turn strong behind the mid-week system, gusting 20-35 mph on Thursday. This will also keep the chilly air hanging around through the end of the week, but we will be dry.
Temperatures moderate some by the weekend with highs in the mid/upper 40s. That's about where we should be for late January. We may bring back the chance of rain Sunday into Monday. There are some signs we may have a subtle temperature drop late next week.
SLIGHT CHANCE OF SCIENCE PODCAST
Did you know that weather plays a crucial role for K9′s? Meteorologist Catherine Maxwell talked with Sergeant Heath Hyatt, K9 officer with Christiansburg Police Department and master K9 trainer for Virginia, about the struggles and benefits weather can bring to solving the case. Here's a preview:
If you have an idea for a topic that you want us to explore, send in your requests to weather@wdbj7.com. Slight Chance of Science will feature science topics from our team of meteorologists here at WDBJ7. You can listen to our podcast on any platform where you stream podcasts from. Enjoy!
Copyright 2020 WDBJ. All rights reserved.