Attorney general updates commonwealth on Virginia's Operation Ceasefire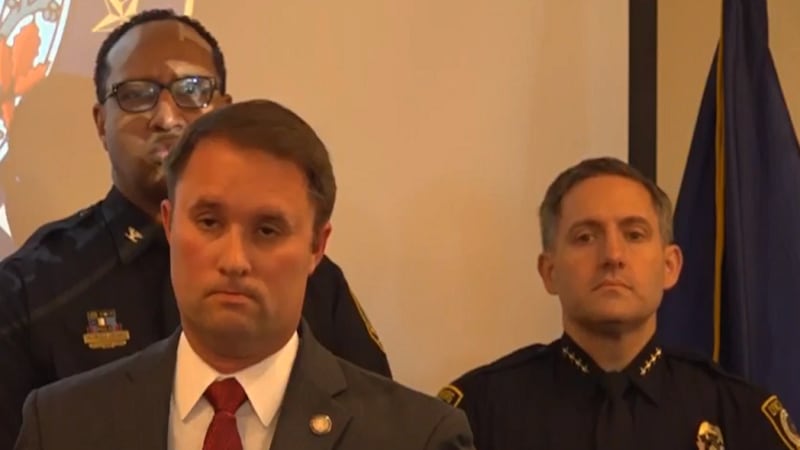 Published: Apr. 25, 2023 at 3:55 PM EDT
LYNCHBURG, Va. (WDBJ) - Gun violence across Virginia is the focus of Operation Ceasefire, announced last year by Governor Glenn Youngkin and Attorney General Jason Miyares, who updated the commonwealth at a news conference in Lynchburg Tuesday.
"Nobody in this amazing country should be looking over their shoulder with fear to be able to live their life," said Miyares.
Miyares says the initiative, which requires everyone to come together, was designed to "reduce gun violence through prosecution and community intervention, specifically targeting serious repeat offenders in Virginia's highest crime cities."
Miyares noted this week is National Youth Violence Prevention Week and National Crime Victims Week. He noted an increase in youth crime, saying one of his goals is for young people to make the right decisions and choices.
The General Assembly allocated $5 million of this past year's budget toward the initiative, which Miyares said makes Virginia better able to tackle violence, along with six cross-designated special assistant attorneys general and 13 prosecutors.
Miyares said the state is using as models policies and procedures that have worked in the past. He says law enforcement can't simply arrest its way out of increasing crime.
Miyares and U.S. Attorney for the Western District of Virginia Chris Kavanaugh said more than 50 percent of violent crimes in the state are committed by 3 to 5 percent of the population, with most being repeat offenders. A focus of Operation Ceasefire is targeting these individuals.
"If you want to lower violent crime, you go after that two to 5%, that are overwhelmingly driving, and are the repeat offenders. So I think that's a key component of Ceasefire," said Miyares.
"We take a very close look at people's criminal history. Have they been convicted previously of violent crimes or offenses involving firearms? And are they now on the streets? Second of all, is that we receive intelligence from people that are on the street, as well as from our law enforcement, criminologists and experts that are out there in Intel analysts."
The initiative granted Lynchburg $300,000 to enable the city to tackle gang prevention activities and do what law enforcement can't, including teach life skills, offer counseling and deal with substance abuse,
Roanoke got a $750K grant for a real-time crime center.
US Attorney Kavanaugh, also at the news conference, said there's no doubt there's a problem with violence in Virginia, and the answer has to start with leadership and a willingness to work with one another.
He said prosecutors are trying to use bipartisan increased federal penalties for such things as buying a gun for someone else who is a prohibited user. Last year, he announced prosecution of any case in which a gun was discharged during or related to a federal offense.
Lynchburg Commonwealth's Attorney Bethany Harrison emphasized the importance of support from the community to cut violence.
Operation Ceasefire also wants to provide protection to the people who know the violent crime offenders and can testify in a court of law.
"There was a lot of victims who didn't feel comfortable testifying, the idea was okay, we're going to provide some protection for you. If you feel in any way threatened, we're going to be able to provide you housing to get you candidly in a position where you're going to be protected," said Miyares.
Copyright 2023 WDBJ. All rights reserved.