Prison escapee who was serving life sentence for stepdaughter's rape arrested in West Virginia
Published: Aug. 30, 2023 at 1:06 PM EDT
LEWISBURG, W.Va. (WVVA/Gray News) - The U.S. Marshals Service with assistance from the West Virginia State Police, Lewisburg Police Department and the Greenbrier County Sheriff's Office arrested an escaped inmate from an Arkansas prison facility.
Samuel Paul Hartman, 39, an inmate who escaped East Arkansas Regional Unit in 2022, was arrested at the Quality Inn in Lewisburg on Tuesday along with his wife, Misty Hartman, 39, his mother, Linda Annette White, 61, and White's boyfriend Rodney Trent, 52, of Lester, West Virginia.
Hartman was sentenced to life in 2013 after being convicted of raping his 14-year-old stepdaughter, authorities said. He escaped while on a work detail in a field near the prison.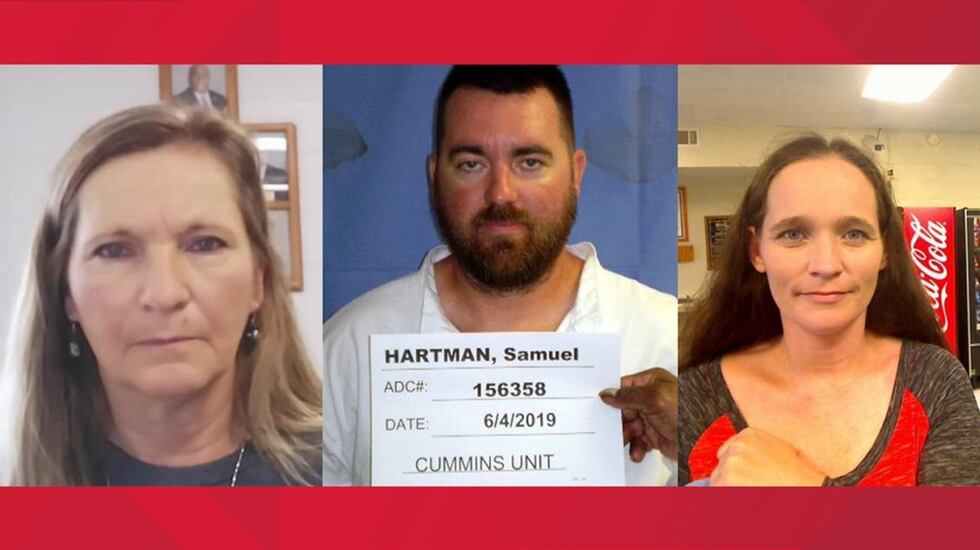 The women were alleged to have helped Hartman escape using a pickup truck and jet skis, while Trent faces felony charges for allegedly harboring a sex offender and for assisting the trio while on the run.
The U.S. Marshals Service said Hartman was on a work detail on Aug. 12, 2022, when a vehicle approached. Two women, later identified as his wife and mother, got out of the vehicle and fired several shots toward the work crew as Hartman ran to the vehicle.
The vehicle then fled as corrections officers pursued the vehicle to an area just short of the Mississippi River. All three fled using two pre-staged jet skis. The abandoned jet skis were later located on the riverbank. An eyewitness on the Mississippi side of the river reported seeing one man and two riding jet skis across the river."
U.S. Marshals investigators from the agency's Cold and Complex Case Unit paired up with investigators from the Eastern District of Arkansas in March to find the three.
"Today's capture was the result of deliberate and determined law enforcement work," said Joe Profiri, secretary of the Arkansas Department of Corrections. "The United States Marshals Service, Arkansas State Police, and the Arkansas Department of Corrections have kept this case on the forefront and followed hundreds of leads over the course of the last year. We appreciate the support and assistance from all agencies involved, the Arkansas governor's office and the State of West Virginia in bringing this case to a successful conclusion."
"In my nearly 30 years of law enforcement, I cannot recall a task force that has the level of dedication to accomplishing the mission and making our communities safer than that of CUFFED (Cops United Felony Fugitive Enforcement Division Task Force)," said Michael Baylous, U.S. Marshal for the Southern District of West Virginia. "The apprehension of these dangerous fugitives demonstrates the close and outstanding relationship that CUFFED enjoys with our local and state partners, other USMS Districts, and the USMS Domestic Investigations Branch."
Copyright 2023 WVVA via Gray Media Group, Inc. All rights reserved.