Retired Marine wins $150k in Powerball drawing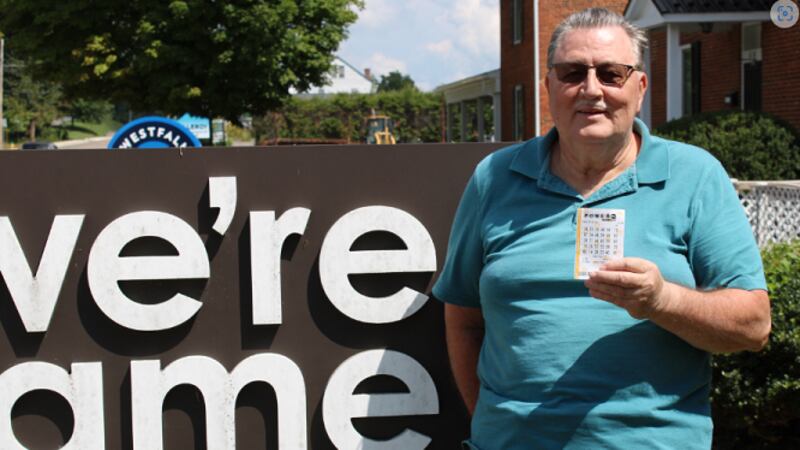 Published: Sep. 22, 2023 at 3:43 PM EDT
WYTHEVILLE, Va. (WDBJ/VA Lottery Release) - A Wytheville retired Marine has won $150,000 in a Powerball drawing.
William Malashevich says he likes to play Powerball when the jackpot starts getting big, according to Virginia Lottery officials. That was the case when he bought a ticket for the September 6 drawing at the Go Mart on East Main Street in Wytheville.
When he checked the winning numbers after the drawing, he received a shock.
"I hit them all but one!" he exclaimed.
Malashevich matched four winning numbers plus the Powerball number, which would normally win $50,000, but he had spent an extra dollar for Power Play® when he bought the ticket. That extra dollar tripled his prize to $150,000.
"I'm numb!" he told Virginia Lottery officials as he claimed his prize at the Lottery's Southwest Virginia customer service center in Abingdon.
The winning numbers in that drawing were 9-14-20-23-63, and the Powerball number was 1. He used Easy Pick and allowed the computer to randomly select the numbers on his ticket.
All Virginia Lottery profits go to K-12 education in Virginia. Malashevich lives in Wythe County, which received more than $3.3 million in Lottery funds for K-12 education last fiscal year. In Fiscal Year 2023, the Lottery raised more than $867 million for K-12 education, making up approximately 10 percent of Virginia's total K-12 school budget.
Copyright 2023 WDBJ. All rights reserved.