A list of Saturday events canceled or postponed due to weather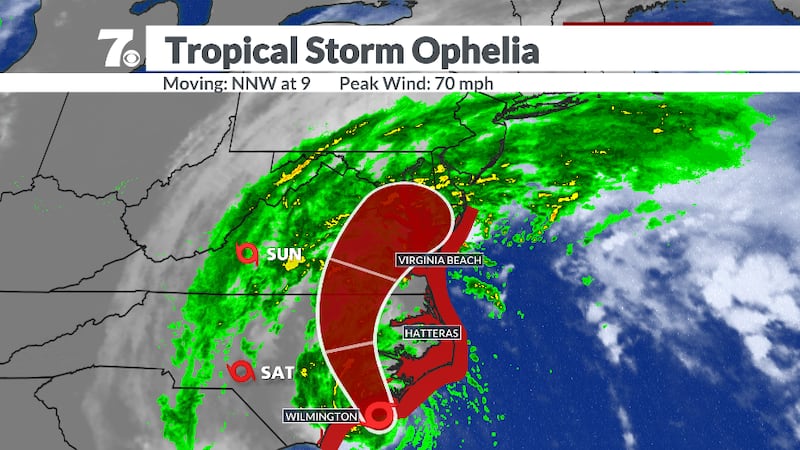 Published: Sep. 23, 2023 at 8:44 AM EDT
ROANOKE, Va. (WDBJ) - WDBJ7′s team of meteorologists have declared a First Alert Weather Day on Saturday ahead of Tropical Storm Ophelia. This weekend's weather is impacting some of the local events. Here is a running list of canceled or postponed events.
Floyd County's Hispanic Heritage Celebration has been rescheduled. The event was originally set for 1 p.m. on Saturday at the Warren G. Lineberry Community Park. The event organizers say "It will be raining most of the day here in Floyd and the wind will make keeping tents in one place difficult without proper weights." They will be rescheduling the event and will notify the public when a new date has been set.
The VMBC-Blue Ridge Competition scheduled for Saturday has been cancelled.
In Roanoke City, Parks and Recreation has canceled the trail work set to happen for National Public Lands. Despite the cancellation, they say the community can still join in by volunteering year round.
Organizers have rescheduled the Lynchburg Beer, Wine, & Cider Festival. That will now take place on Sunday, October 8th. All pre-purchased tickets will be honored.
Bedford Centerfest also announced this weekend's event will be postponed. Organizers wrote there is a new date in mind, and that will be made official next week.
In Henry County, the Festival Latino of Southern Virginia has been canceled. No word yet on when its set to be rescheduled.
In Martinsville, the Valley Star Credit Union 300 has been postponed until Sunday, September 24th at 5 p.m. The gates will open at 11:30 a.m. and the qualifying races will start at 1 p.m.
If you have an event that is canceled and would like to added to the article, you can email news@wdbj7.com
Copyright 2023 WDBJ. All rights reserved.