Fall foliage report: Oct. 28-29
Here's where to spot the best colors this weekend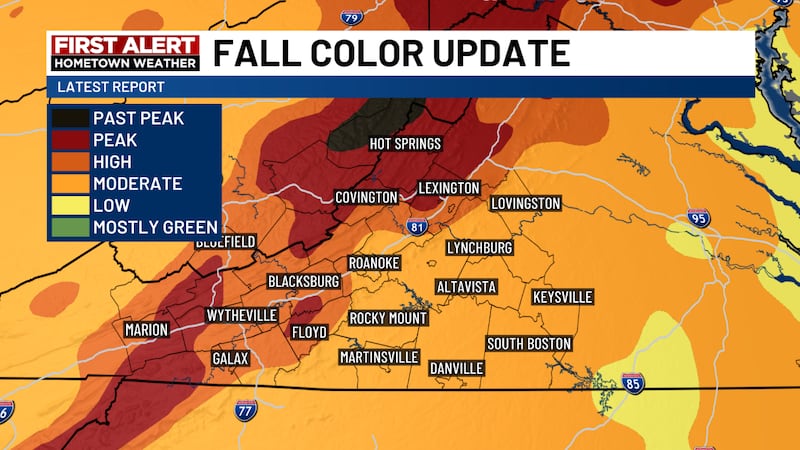 Published: Oct. 3, 2023 at 8:04 AM EDT
|
Updated: Oct. 28, 2023 at 8:43 AM EDT
ROANOKE, Va. (WDBJ) - Tens of thousands of visitors far and wide travel to the Blue Ridge each year to see the brilliant fall foliage. The Blue Ridge Parkway features nearly 470 miles of leaf peeping from October through early November, making it a favorite seasonal activity for locals and visitors alike.
WEEKEND FORECAST: Many areas are reaching peak or about to peak! We're expecting the sunshine and above-average temperatures to stick around all weekend long. Both Saturday and Sunday will feature highs in the 80s. We're also going to stay dry.
FOLIAGE REPORT THIS WEEKEND
This weekend would be a great weekend to do some leaf peeping!
The abundant sunshine we've been having has made fall colors pop! Many areas are experiencing peak coloring.
For the last weekend of October, we're expecting the the highlands to continue showing off bright reds, yellows and oranges. The valleys are also featuring big and bright colors to end the month. You'll know an area is "peaking" if less than 20% of the trees are green.
HIGHLANDS & GREENBRIER VALLEY
Some of the best colors this time of year are in the Highlands and Greenbrier Valley of West Virginia where it is looking superb. The leaves here are peaking now but will quickly dissipate as leaves continue to fall. Don't miss the beautiful fall foliage!
NEW RIVER VALLEY AND BLUE RIDGE PARKWAY
The New River Valley is peaking! The colors have exploded this past week with quiet weather conditions.
The Northern Blue Ridge Parkway is showing more muted colors this year, likely because of ongoing drought in northern part of our region. Regardless, you will still be able to spot beautiful colors if you drive along the Parkway this weekend.
ROANOKE VALLEY AND SOUTHSIDE
The Roanoke Valley is seeing moderate levels of color. Some trees are peaking, and others are just starting to turn. The Southside is seeing partial coloring as well. These areas will likely reach peak over the next 10-14 days.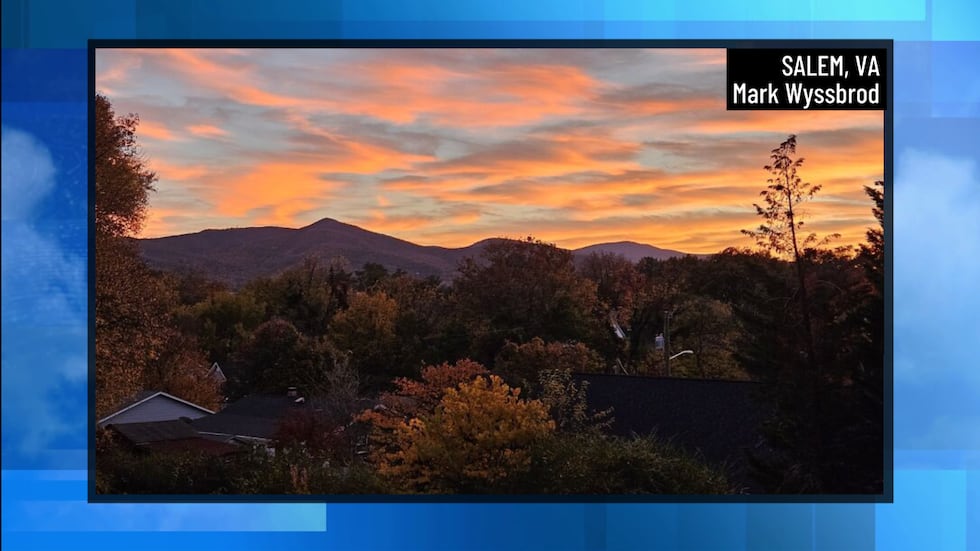 Fall foliage in the Blue Ridge normally peaks in early October at higher elevations, and mid to late-October at lower elevations. But within a Parkway that varies over 5,000 feet in elevation from peak to valley, there is no easy formula for predicting when we'll see fall colors.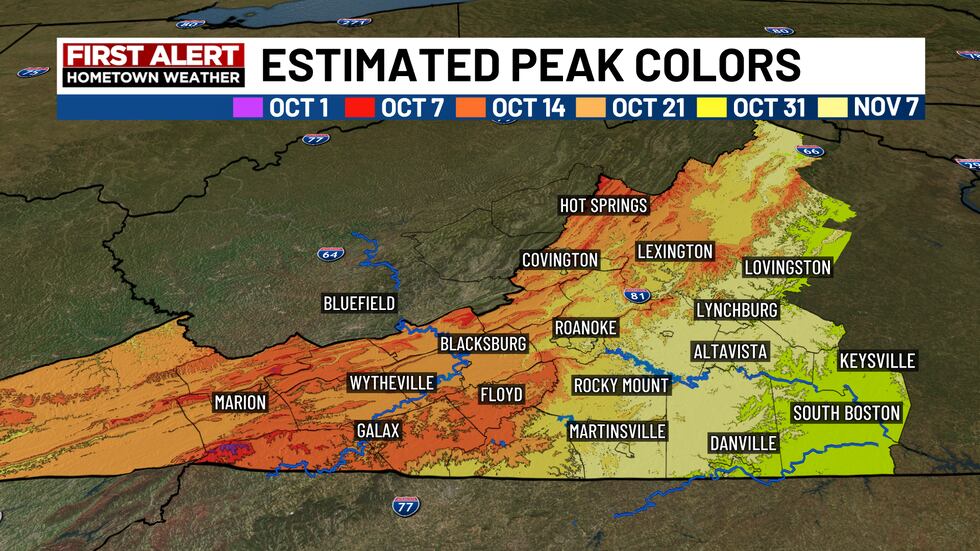 Moisture is a driving factor in the well-being of deciduous trees, which shed their leaves and become dormant in the winter. But, with warm summers and increasing drought, leaves aren't achieving the brilliancy they once did, and the timing of the color change is pushed earlier.
THE SCIENCE BEHIND FALL COLORS
When temperatures begin to drop, and daylight gets shorter, deciduous trees – including oak, birch and maple – cut off nutrients to their leaves. The chlorophyll in the leaves, which gives them a green color, begins to break down, and the yellows, reds and oranges start to appear.
Dr. John Seiler, a professor and tree physiology specialist at Virginia Tech, says that the trees search for long nights to trigger a biochemical signal and start the change.
At the same time, leaf stems are experiencing their own changes. As the leaves weaken, the stems begin separating from the tree and eventually drop to the ground. Gusty winds can expedite this process.
These photos from Tommy Firebaugh show fall foliage developing on Maple trees.
"It's particularly important to have good rainfall and good moisture in the soil for the later half of August and the whole month of September," says Seiler.
Ideal weather conditions in the summer for bright, lengthy fall colors are seasonable temperatures and plentiful rain, two things Southwestern Virginia didn't experience a lot this year.
An ideal autumn would be sunny, warm days, cool nights, no heavy rain, and light winds.
Where a seed comes from also has a profound impact on when a tree decides to change color.
According to Seiler, the seed is programmed to search for a certain day length. If the seed is from Georgia, it's going to look for a longer night than a seed from New England.
When building parking lots and other green spaces within urban areas, often a non-native seed is planted unknowingly. Also, an inconsistent water source and obstructions – such as sidewalks and roadways – can harm the trees.
This is why city trees change colors at a different time than trees in a natural environment
In our latest episode of our Slight Chance of Science podcast, Meteorologist Payton Major chats with Dr. John Seiler about when we can expect fall colors. Click here to subscribe.
HERE'S WHEN WE CAN EXPECT FALL COLORS
Fall colors bring a huge economic boost to cities across the nation. An article from Appalachian State University estimates that leaf peepers contribute more than $30 billion annually to the economies of 24 eastern states.
In Southwest Virginia, Seiler says we are lucky to have a variety of tree species, elongating the time we get to enjoy fall foliage.
But when trees are stressed from a lack of adequate rainfall, they can produce dimmer and earlier colors. Because of ongoing drought in our area, Seiler predicts a semi-early start to fall.
"I've been saying Oct. 28 to Nov. 5 for peak leaf peeping, but I don't know. It might be moving up a little bit," he says.
In August, Roanoke Regional Airport recorded 1.57″ of rainfall, nearly two inches below the monthly average. September wasn't much better, trending 1.27″ below normal.
With successive dry months and stressed trees, Seiler believes we could see some trees changing up to 7-10 days earlier.
CLIMATE CHANGE IS STRESSING OUT TREES
According to Climate Central, fall temperatures across the United States have increased 2.4 degrees Fahrenheit on average since 1970, but in Roanoke, the increase has been nearly 3 degrees.
Fall average temperatures have increased more in Roanoke than Charlotte, NC; Charleston, WV; Richmond, VA; and Washington D.C.
There are also 14 more warm fall days than five decades ago, which is when a daily high temperature is hotter than the average seasonal temperature.
As warm, dry weather accelerates the start of fall, trees are receiving the signal to cut off nutrients earlier in the year, showing earlier fall colors and harming forest health.
Scientists are finding that the leaves of stressed trees aren't as vibrant during intense drought. Healthy trees will produce more sugar, which results in brighter colors.
"If it's really dry, (the trees) won't be photosynthesizing and making sugar. And they won't produce as much of the red pigment," Seiler says.
The latest U.S. Drought Monitor shows more persistent drought in Western Virginia, specifically in the Alleghany Highlands.
As of October 3, 25% of Virginia is under some form of drought. Last year at this time, that percentage was 17.
After a water-parched end of summer, leaves might drop earlier in the year to reduce water loss.
As leaves change color and drop earlier, this also means climate change will reduce the time to enjoy fall foliage. If drought is severe enough, trees can skip the colorful phase altogether.
When September is particularly hot and dry, it will tend to move it forward," Seiler says. "The leaves will go from yellow to crinkly brown quicker, and the Reds will get to a reddish brown quicker. And then, of course, they fall off faster."
This slider shows fall colors in Giles County, VA from 2019 to 2020. The leaf colors are duller in 2019, which was a dry summer. The colors are brighter in 2020, which was a wetter summer. Images from PhenoCam Network.
BEST AREAS TO VIEW FALL COLORS
In the Blue Ridge, we are fortunate to have beautiful fall colors right in our backyard.
In this interactive map, you can learn more information about several popular spots along the Blue Ridge Parkway.
When asked about his favorite leaf peeping destinations, Seiler says it's hard to beat Pandapas Pond.
"In one little half mile loop, you see a whole lot of different trees. And if you're a little more daring, there's some good trail systems that move up into the mountains as well," he says.
Send us your fall photos here!
Copyright 2023 WDBJ. All rights reserved.