FIRST ALERT: Fall front brings major cool down and brisk winds
Passing showers possible Friday as the front arrives
Published: Sep. 1, 2023 at 3:52 AM EDT
|
Updated: Oct. 5, 2023 at 10:39 PM EDT
Sprinkles of rain possible overnight; spotty showers on Friday

Temperatures will be cool starting Saturday

Strong winds this weekend; gusts near 30MPH
TONIGHT
Tracking overnight temperatures to read in the 50s and low 60s all thanks to clouds continuing to thicken up out in front of our next weather maker. We can't rule out the opportunity for a few sprinkles/light showers to develop overnight, but most will remain dry.
FRIDAY
The cold front will enter the region late Friday evening, but some passing showers are possible before that. Some areas could see some light rain for the morning and afternoon, but better coverage (still very scattered...) will arrive in the evening and continue overnight before tapering off Saturday morning. It appears most high school football games should remain dry, but have the umbrella just in case.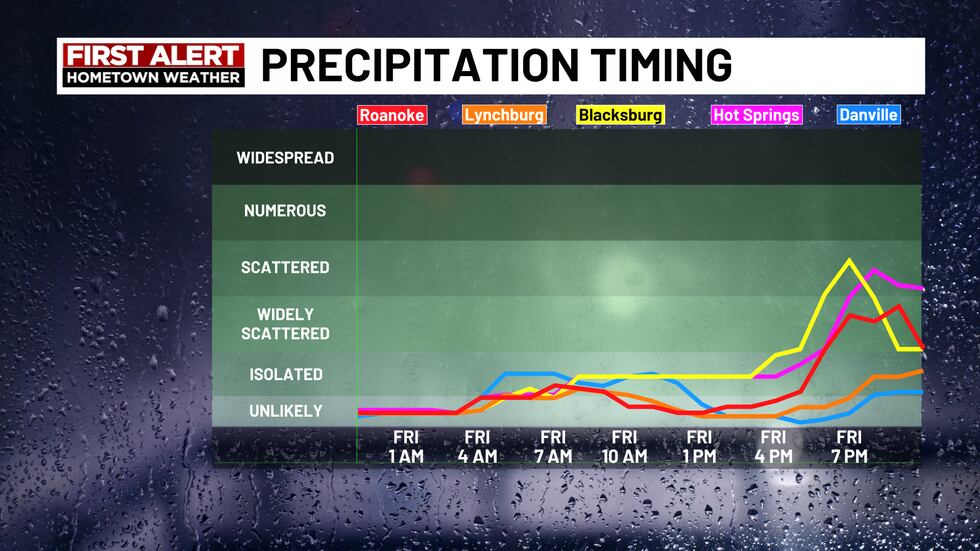 Temperatures on Friday will mimic Thursday's in the 60s and low to mid 70s. Get the sweaters ready for this weekend though!
FIRST ALERT: COOL, BLUSTERY WEEKEND
Any leftover sprinkles should quickly exit Saturday morning with drier conditions filtering in. Along with these drier conditions, cooler temperatures move in. We start off our Saturday in the 50s. We won't warm much with our highs only reading in the upper 50s and 60s.
Sunday features lots of sun, but even cooler highs are expected. Sunday most of us will be in the 50s with only a few hometowns in the low 60s.
- COOLER AIR
The cold front will drag in some very cool air behind it for the weekend. High temperatures will only reach the upper 50s and low 60s Saturday and Sunday. This is around 8-12° below average early-October highs.
The same clear skies we enjoy during the day allow the heat to exit at night which leads to very chilly mornings. Lows will plummet to the low 40s Sun/Mon/Tue mornings. Some of our mountain communities may even have lows in the upper 30s. If you have outdoor plants, you'll want to bring them in Saturday evening and each night through at least Monday just in case.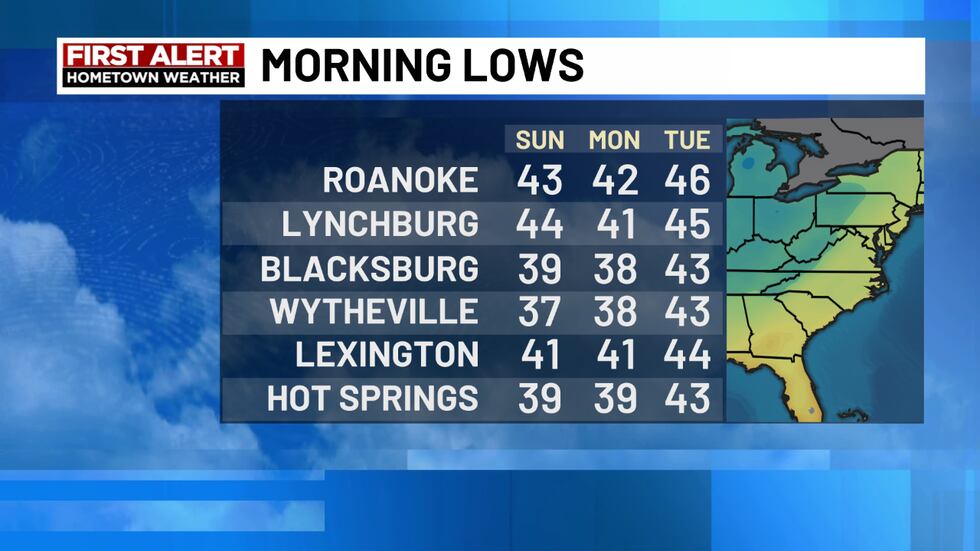 The frost potential appears fairly low at this point, but certainly a reminder that October is our big transition month as we aim toward the end of the year.
- GUSTY WIND
Winds increase early Saturday morning, gusting 15-25 mph throughout the day with a few higher gusts around 30mph in the mountains. This will add to the chill. Festival vendors will want to make sure you have extra weight for those tents this weekend!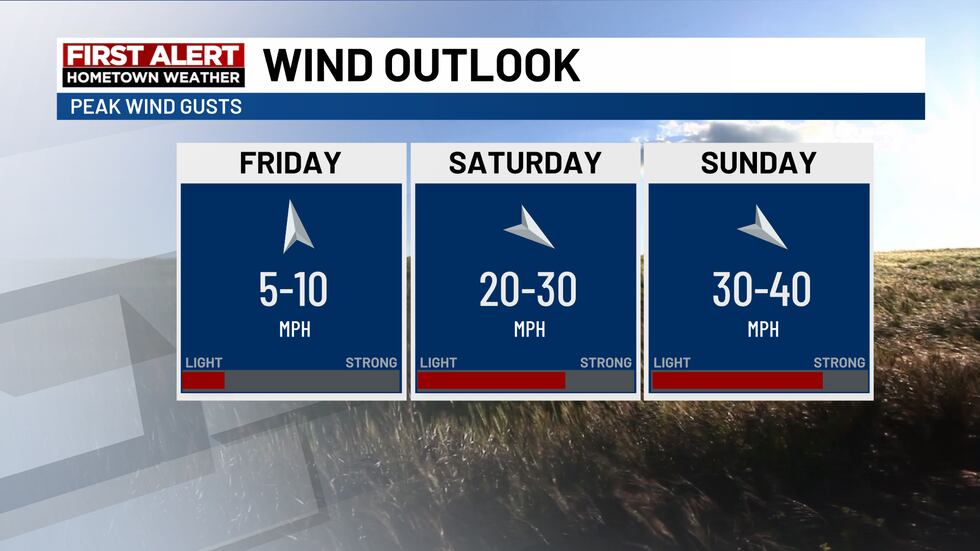 NEXT WEEK
For those having Columbus Day Monday off, the weather looks fantastic with clear skies and *slightly* warmer temperatures. Highs will be scattered around in the 60s. A majority of the week remains dry and near/slightly below average.
We're giving you the FIRST ALERT on a strong front which may head our way by late next week or next weekend which may provide our next chance of rain.
There's still plenty of time for things to change, but currently it appears to arrive late Friday night into early Saturday and offers a higher coverage of rain. By that time, we'll certainly need it.
DROUGHT MONITOR
The drought monitor updates every Thursday morning. Because of our recent dry stretches, some of our hometowns are included in a Moderate drought.
Learn how drought may accelerate fall foliage in our region
TROPICS
Right now there is only one named storm in the Atlantic. Tropical Storm Philippe will continue to travel towards Bermuda and point north. For our interactive tracking map and more information, visit our Hurricane Center.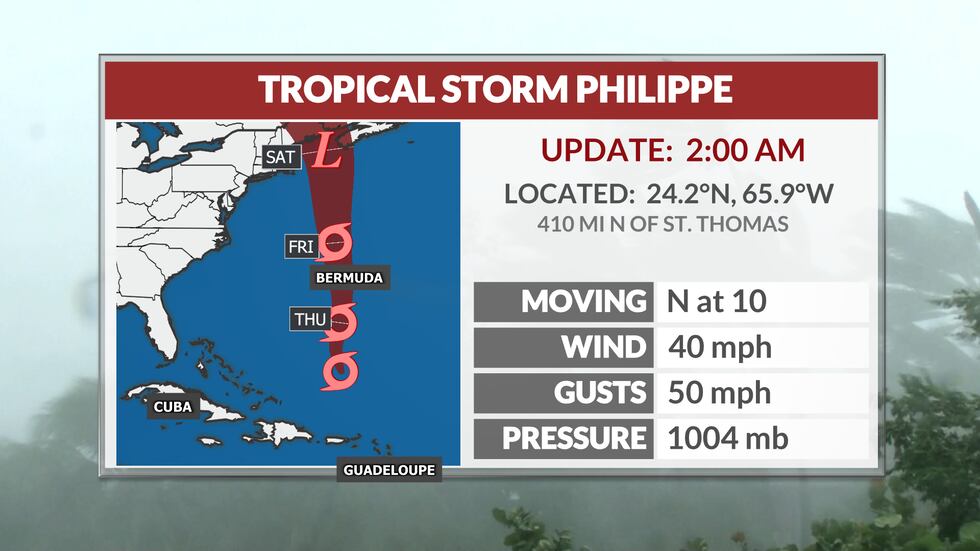 SLIGHT CHANCE OF SCIENCE PODCAST
A new episode of Slight Chance of Science is out! Take a listen! Fall has arrived! Meteorologist Payton Major chats with Dr. John Seiler, a forestry professor at Virginia Tech and tree physiology expert, to find out when we can expect fall colors to arrive and how drought could be stressing out trees.
Listen below or click here to subscribe and be the first to hear new episodes from our team of meteorologists.
Copyright 2020 WDBJ. All rights reserved.