Saturday's annular solar eclipse: Viewing conditions in our hometowns
Scattered showers and overcast skies might block our view of the partial eclipse
Published: Oct. 11, 2023 at 5:09 PM EDT
|
Updated: Oct. 12, 2023 at 2:33 PM EDT
ROANOKE, Va. (WDBJ) - A rare annular solar eclipse will make its way across the U.S. Saturday, October 14. It will be visible in all continental states, including Alaska.
In Southwest Virginia, we're expecting scattered showers to interfere with our view of the partial eclipse.
WHAT IS AN ANNULAR ECLIPSE?
An eclipse is when the moon passes in front of the sun, dimming daylight for several minutes.
Saturday, the moon is further away from Earth, making it appear smaller than the sun. This gives it the term "annular" and will create a "ring of fire" effect as the sun illuminates behind the moon.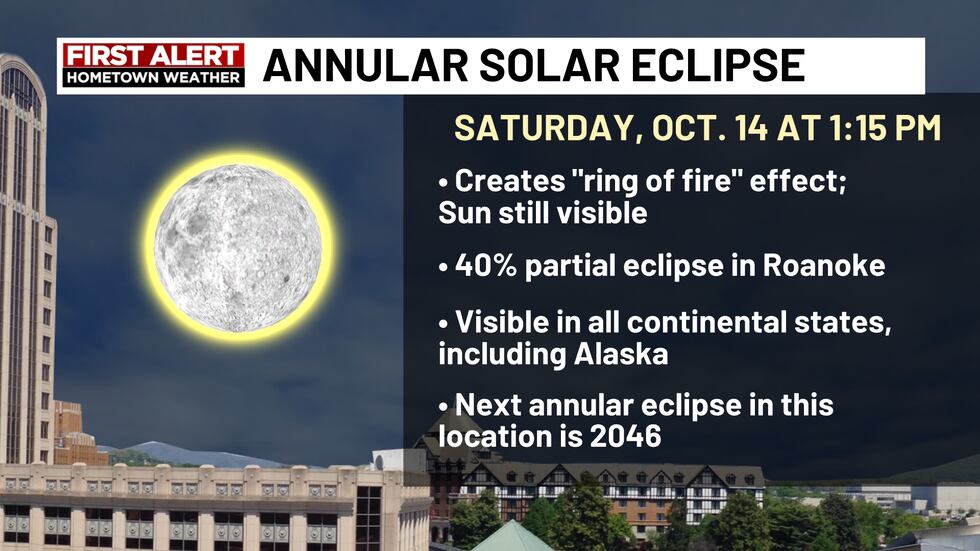 WHEN IS THE ECLIPSE?
The path of the eclipse will make its way across the Western U.S. Saturday, starting in Southern Oregon and continuing through Texas.
In Roanoke, we can expect the sun to be about 40% eclipsed at maximum, but the entire event takes 2 hours and 48 minutes from start to finish.
Just before noon EDT, the moon will start to move in front of the sun. This is also called "first contact."
The maximum eclipse for our area will happen at approximately 1:15 p.m. The third and final contact of the moon and sun occurs just before 3:00 p.m.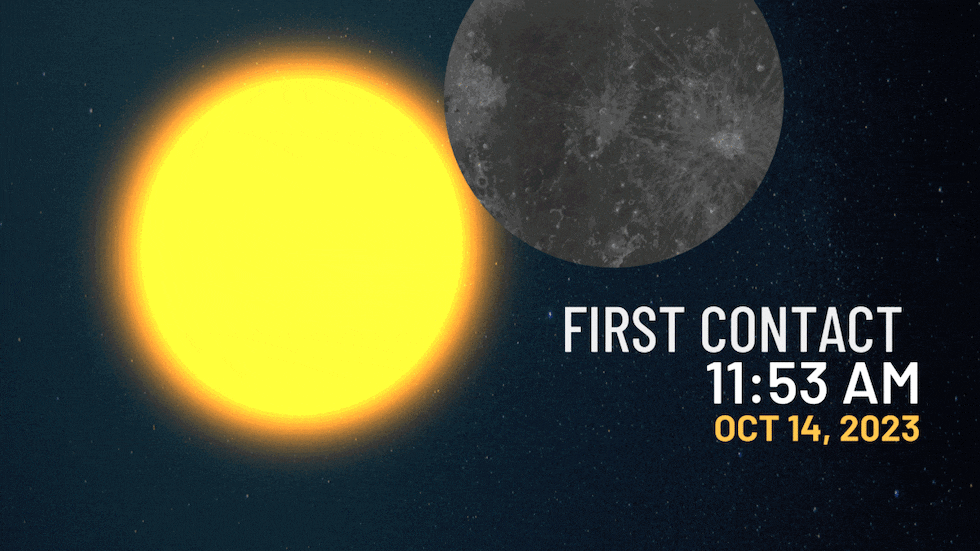 ECLIPSE FORECAST
A cold front moves into our region Saturday, bringing some scattered showers throughout the day. Cloudy skies can be expected for most of the weekend, which will block our view of the eclipse.
However, even with cloud cover, the slight daytime darkness associated with eclipses is noticeable.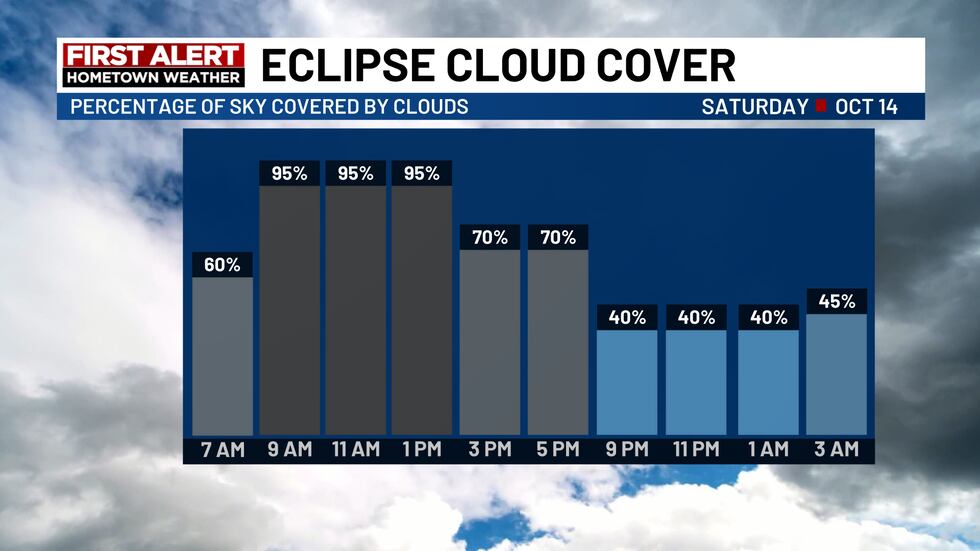 HOW TO SAFELY WATCH
If you're able to find a place to watch the annular eclipse, it's important to wear specialized eye protection designed for solar viewing when looking directly at the sun.
You must look through solar eclipse glasses, which are not equivalent to sunglasses. Also, do not look at the sun through a camera lens, telescope, or binoculars. NASA says the concentrated solar rays will burn through the filter and cause serious eye injury.
Looking at the sun directly can cause permanent eye damage in less than a minute.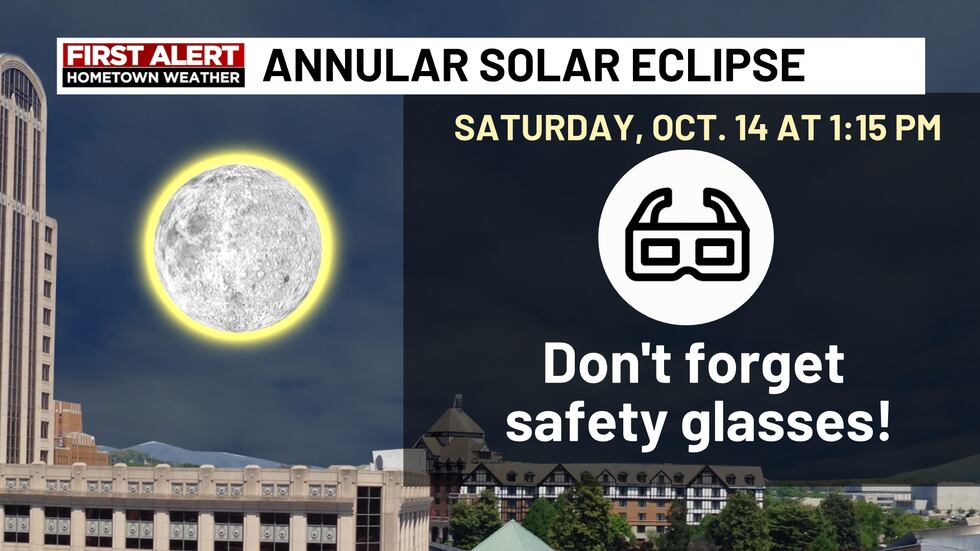 If you can't locate your eclipse glasses from 2017, the Space Science Institute distributed 5-million solar-viewing glasses across 10,000 libraries in the U.S.
Some libraries locally will be distributing glasses while supplies last:
For a full list of libraries participating, check out this map:
TOTAL SOLAR ECLIPSE NEXT YEAR
If you're not able to see this weekend's annular eclipse, don't worry. Next April, a total solar eclipse will make its way from Texas through Maine.
In Roanoke, about 88% of the sun will be covered by the moon on April 8, 2024.
Take any photos? Send them to us!
Copyright 2023 WDBJ. All rights reserved.