Time to fall back! Daylight Saving Time ends Sunday
Turn back your clocks on Sunday, Nov. 5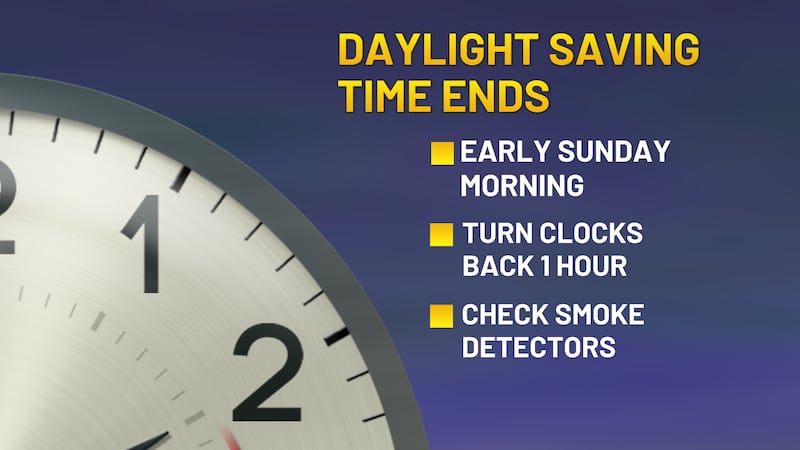 Published: Nov. 1, 2023 at 2:55 PM EDT
ROANOKE, Va. (WDBJ) - Daylight Saving Time (DST) ends and Standard Time begins Sunday for most of the United States.
With the ending of DST, we will gain one hour of sleep Saturday night when our clocks fall back at 2 a.m.
This also means we will have longer nights and shorter amounts of daylight the next few months. Daylight Saving Time will start again on March 10, 2024.
SUNSETS GET EARLIER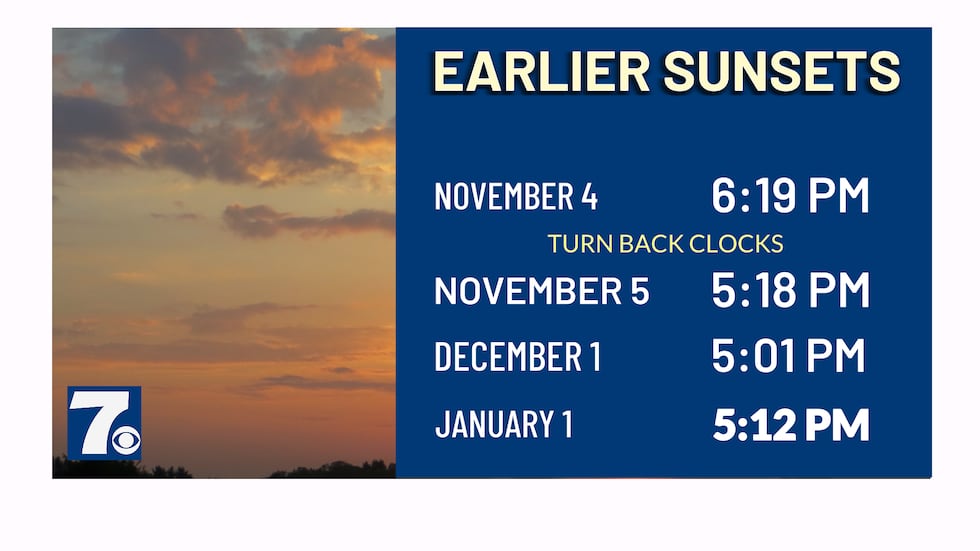 With the time change comes earlier sunsets. On Sunday, the switch to Standard Time will move sunsets up an hour, from 6:19 to 5:18 p.m.
Nightfall will continue to arrive earlier over the month of November. In early December, the sun will set as soon as 5:01 p.m.
Sunrises will also start earlier, at 6:48 a.m., on Nov. 5. The sunrise will be pushed back for the remainder of the year. On Dec. 31, the sun will rise at 7:33 a.m.
THE HISTORY OF DAYLIGHT SAVING TIME
The idea of saving daylight originated during World War I in Germany, when the United States adopted the change for a short year.
Then, during World War II, DST was reinstated in 1942. States were able to choose if they wanted to follow the new time changes for the next 24 years.
Congress passed the Uniform Act in 1966, which gave official start and end dates to DST across the country. Both Hawaii and Arizona opted to keep Standard Time year-round.
Clocks used to jump ahead on the first Sunday in April and remained that way until the last Sunday in October. But in 2005, a change was put in place in part to allow children to trick-or-treat in more daylight. The Energy Policy Act changed the start of DST to the second Sunday in March, and the end to the Sunday after Halloween.
In recent years, there has been more of a push to end the time change.
WHAT IF DAYLIGHT SAVING TIME WAS YEAR-ROUND?
The Sunshine Protection Act, proposed and passed by Senate in March 2022, would make Daylight Saving Time permanent year-round. In order for that to happen, the Act would need to pass through the House of Representatives and be signed into law by President Joe Biden.
However, some experts are recommending the switch to Standard Time year-round instead, which is what most of the countries around the world follow.
DST brings more sunlight in the evenings, but that comes at the cost of morning light. Dark mornings mean icier roads, tired commuters, and more children heading to school before the sun comes up.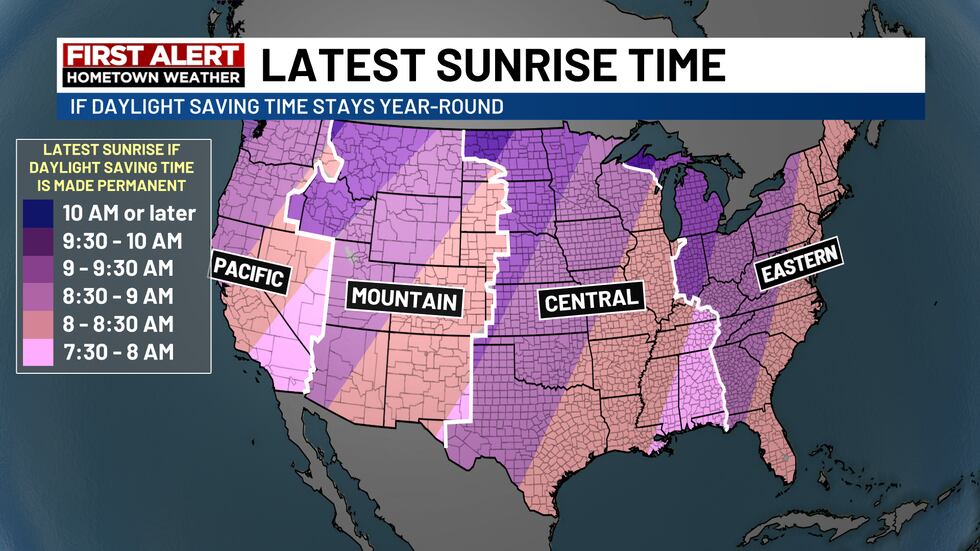 If Daylight Saving Time was year-round, sunrises would be after 9 a.m. for multiple areas of the United States, as shown in this graphic.
Copyright 2023 WDBJ. All rights reserved.