Burn ban list continues to evolve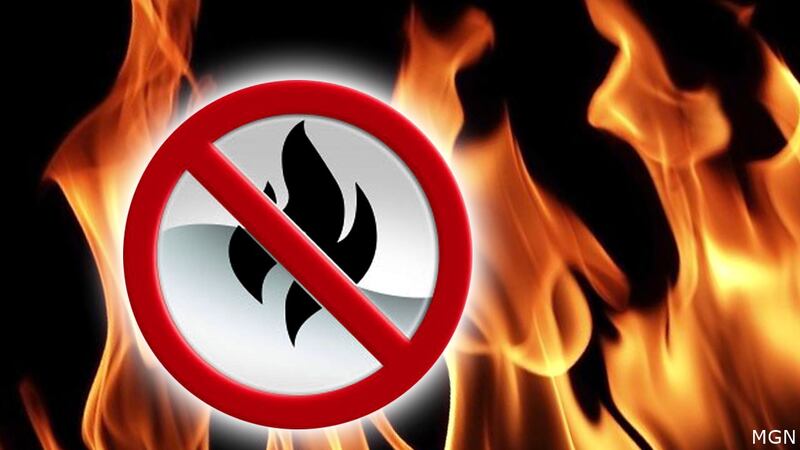 Published: Nov. 6, 2023 at 11:25 AM EST
(WDBJ) - Most burn bans put into place in several Virginia cities and counties remain in place based on drought conditions, though some municipalities dropped theirs after a full recent day of rain.
The following is a list of ban information received by WDBJ7.
ALLEGHANY COUNTY (ban lifted):
AMHERST COUNTY:
BATH COUNTY:
BEDFORD COUNTY:
BOTETOURT COUNTY (ban lifted):
CAMPBELL COUNTY:
Campbell County Department of Public Safety has banned all outdoor burning, both public and commercial on Friday, November 10, 2023. Recent dry weather has caused drought conditions that will allow fire intensity to significantly increase. Fire readily burns in all directions exposing mineral soils in some locations. Larger fuels may burn or smolder for several days creating possible smoke and control problems.
This burn ban will remain in effect until conditions improve and it is determined the extreme fire danger has decreased.
In addition, local officials request that citizens refrain from calling 9-1-1 in relation to fire and/or smoke, unless in direct danger from an active fire approaching their property, or to report an individual in violation of the burn ban.
For those with questions pertaining to the burn ban, please contact Randall Johnson, Public Safety Deputy Director-Fire Marshal, at (434) 332-9540.
Please visit campbellcountyva.gov, or stay tuned to the Campbell County Department of Public Safety's social media for continued updates relating to the burn ban.
To register for CodeRED® Emergency Alerts, please visit: campbellcountyva.gov/566/CodeRED.
CARROLL COUNTY:
CRAIG COUNTY:
Due to the severe dry conditions, currently throughout Craig County, local fire departments, County Administration, and Craig County Emergency Services announce a countywide burn ban until substantial rain has fallen throughout the county. This ban includes leaves, limbs, bonfires, and other outdoor burning. Failure to comply with this ban is a class three misdemeanor and violators will be issued a summons.
Furthermore, the violator may be held liable for damages and costs associated with extinguishing the fire and willfully violating this ban.
This burn ban goes into effect 12 PM Wednesday November 9, 2023 and remains in effect until cancellation.
CITY OF COVINGTON (ban lifted):
FLOYD COUNTY:
FRANKLIN COUNTY (ban lifted):
As of December 4th, 2023 at 11:00am, The Franklin County Fire Marshal has Lifted the Burn Ban for Our County. After receiving much needed rain over the weekend this has permitted Open Air Burning Outside of Town Limits from 9am to Midnight. Fires need to be Fully Extinguished by Midnight, Attended at All Times, and Please Have a Water Source Close by.
GALAX (ban lifted):
GEORGE WASHINGTON AND JEFFERSON NATIONAL FOREST:
The USDA Forest Service is implementing a Stage 1 fire restriction on the George Washington & Jefferson National Forest to maintain public safety and protect forest resources during drought. Building, attending, maintaining or using an open fire outside of a developed recreation site is prohibited on National Forest lands effective from November 9, 2023, through December 31, 2023.
Visitors igniting and maintaining campfires within developed recreation sites should use caution and make sure that all campfires are fully extinguished before leaving their site. Campfires should not be left unattended.
Open fires may not be ignited or maintained at any dispersed recreation site, including along the Appalachian National Scenic Trail, within the George Washington & Jefferson National Forest. This includes all wood, charcoal, coal or other solid-fuel open air fires. Fires may be maintained within metal rings, burn pits, or grills within developed recreation sites. Propane and other fuel powered camp stoves are still permitted.
This fire restriction has been implemented due to dry conditions, high fire danger, and little chance of significant rain in the immediate forecast. "We are working to manage the fire threats on our forest and hope that a fire restriction will reduce the likelihood of additional fire activity," said Forest Supervisor Job Timm.
For more information, visit the forest website at fs.usda.gov/gwj or follow us on.facebook.com/gwjnf.
GILES COUNTY:
GRAYSON COUNTY (ban lifted):
HENRY COUNTY:
LYNCHBURG:
MARTINSVILLE:
MONTGOMERY COUNTY:
PATRICK COUNTY:
PITTSYLVANIA COUNTY:
PULASKI COUNTY (ban lifted):
ROANOKE COUNTY has announced a burn ban.
ROCKBRIDGE COUNTY (ban lifted):
WYTHE COUNTY:
Copyright 2023 WDBJ. All rights reserved.