First Alert: 2023-24 Winter Season Outlook brings snow back despite the winter warmth
El Nino will play a major role in weather patterns this winter
Published: Nov. 14, 2023 at 5:34 PM EST
|
Updated: Nov. 14, 2023 at 5:49 PM EST
ROANOKE, Va. (WDBJ) - The First Alert Weather team released the podcast version of the winter weather outlook at the beginning of November [LISTEN HERE]. Now, it's time to share a more in-depth look at what may be headed our way this winter.
LAST WINTER'S SNOW DROUGHT
Last winter (2022-23) was one of the "least" snowiest winters in recorded history. In fact, most hometowns never saw the first half inch of snow. Even in the mountains where snow is typically plentiful, barely 1″ fell.
| | 30-YR AVERAGE SNOWFALL | LAST WINTER SNOW TOTALS |
| --- | --- | --- |
| ROANOKE | 15″ | 0.4″ |
| LYNCHBURG | 11″ | 0.5″ |
| DANVILLE | 7 | 0.5″ |
| BLACKSBURG | 25″ | 1.3″ |
| HOT SPRINGS | 27″ | 0.20″ |
The 2022-23 winter was driven by La Niña, a pattern that had been stuck in place since the Spring/Summer of 2019. This left may areas with below average snowfall during the multi-year stretch from the winter of 2019 through the winter of 2022, last winter being nearly snowless.
MAJOR PATTERN SWAP THIS WINTER
While the past few years have been dominated by a rare triple-dip La Niña, this year, a pattern swap has taken place that will bring the opposite, El Niño , to the table. El Niño is used to describe when ocean waters in the equatorial Pacific Ocean become warmer than average which helps drive the jet stream and allows moisture-rich air to rise and develop into storms.
El Niño isn't the sole determining factor in whether the winter will be snowy and cold. However, it does have a history of producing some significant winter storms thanks to the active storm track if everything comes together just right.
Four of the past big snow events produced a foot or more totals during El Niño Winters, including the last big winter storm in 2018, just two weeks before Christmas.
PAST FEW "FOOTER" SNOWS DURING EL NINO YEARS: 2018-19, 2015-16, 2009-10, 1997-98
El Niño has also been known to produce some early-season snows, sometimes in late-December and early January.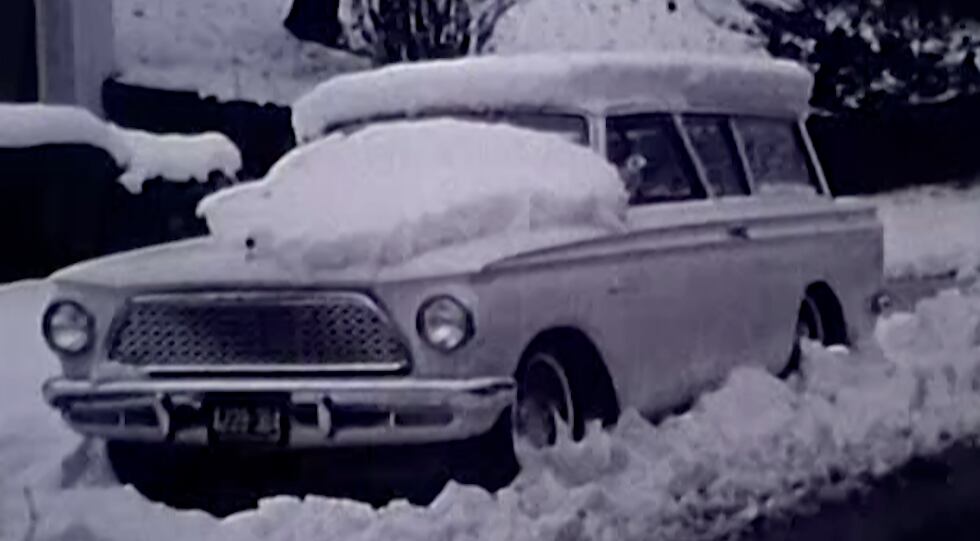 One of the largest early-season storms occurred during the snowiest decade in history, the 1960s. In December 1969, more than a foot of snow fell during the Christmas holiday, setting the benchmark for a "White Christmas."
Snow aside, El Niño has a distinct pattern that keeps the southern branch of the jet stream bringing a steady stream of moisture across the southern states. Every so often, a "kink" in the jet stream occurs that will launch some of that precipitation (rain or snow) into the Mid Atlantic.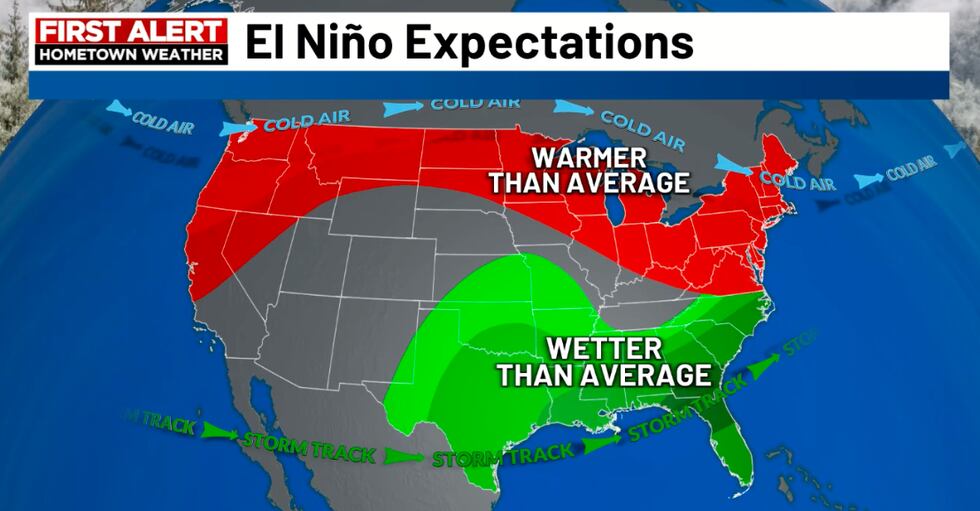 Also of note, the northern jet stream typically keeps the cold air locked into Canada except for rare occasions when a piece of the polar vortex breaks loose and drops south into the region. When the two of these happen simultaneously, we can get wintry weather. We're thinking that should happen more often than last winter.
OTHER FACTORS AT PLAY
El Niño isn't the only thing that we looked at when coming up with the forecast. We checked on current snow pack in Siberia. More of it early in the season often brings the potential for colder outbreaks later in the season. This year, we're finding there's less of it than it was during the last El Niño winter of 2018. Could that mean fewer cold air outbreaks?
Solar activity has also been extremely high this year as we're entering a solar maximum. Remember all the reports and images of the Northern Lights in our area? These are caused by solar storms that disrupt the earth's atmosphere, sometimes influencing how much cold air drops into the lower latitudes.
Interestingly, looking back, a majority of the Top 10 snowiest winters occured when we were in a solar "minimum," not a maximum like we are this winter. This may offset the El Niño impact.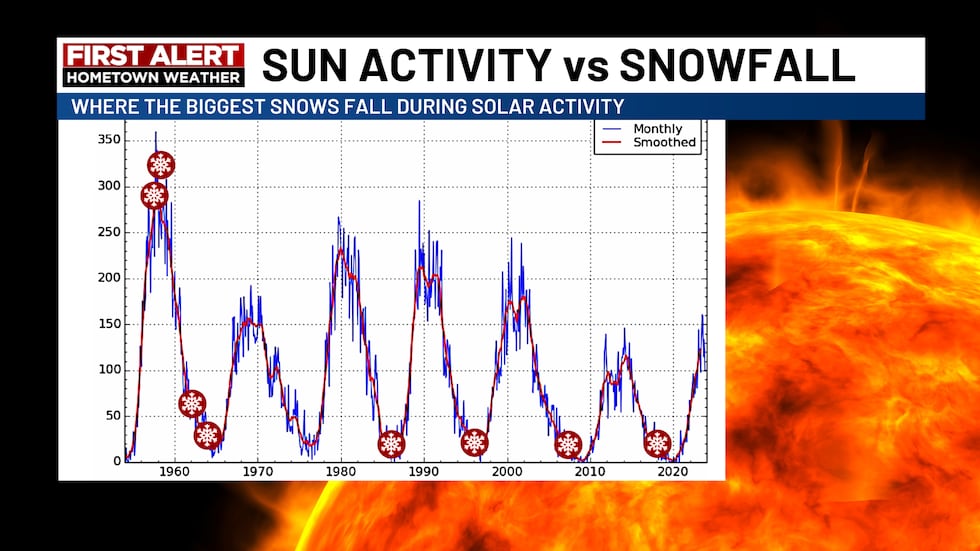 Our active tropical season, combined with continued warm ocean waters may also help determine the amount of leftover energy to help form storms.
ABOVE AVERAGE TEMPERATURES THIS WINTER
This has been a no-brainer. Winter is the fastest warming season for most of the U.S. and that's likely to remain the case this year with warmer than average temperatures favored for much of the mid-atlantic. The continued warming across the globe has set most winters in an above average temperature profile each year. We're already seeing one of the warmest years in history globally, and that's likely to continue into the winter months.
That doesn't always mean less snow though. In fact, since warmer air holds more water, it can sometimes fall as even bigger snow events when temperatures are cold enough.
ABOVE AVERAGE PRECIPITATION
This is the deceiving one. More precipitation doesn't always mean all snow. Some of the wettest years on record occurred during El Niño patterns, but fell as a mix of wicked rain events along with some intermingled snowfall and ice. Sometimes you can go from rain and flooding in one storm, to winter snow and ice the next. The severe weather potential also exists during El Niño winters. You may remember the 2016 EF-3 tornado that struck Appomattox county during late-February.
OUR SNOWFALL FORECAST
Of all the parts of the forecast, predicting snowfall for the upcoming winter is tricky, if not impossible. We do this more for fun, and to test our skills at long-range forecasts, which past 10 days or so, is really limited. However, we've had a pretty decent track record.
We looked at the past El Nino winters and the current patterns setting up and we're confident we'll see more snow than last year. It would be nearly unheard of to get back-to-back snowless winters. So let's put some numbers together.
More coastal type storms are expected with El Niño which may bring slightly to moderately higher totals east and only slightly higher totals in the west.

Any sleet & ice mixing in could bring down forecasted amount to the lower end
| | FEW OF THE HOMETOWNS INCLUDED | 30-YEAR AVERAGE SNOWFALL | SNOW FORECAST THIS WINTER |
| --- | --- | --- | --- |
| ROANOKE | Roanoke, Vinton, Smith Mtn. Lake, Bedford, Fincastle, Rocky Mount, Lexington | ROANOKE: 15″ | 15-22″ |
| CENTRAL VA | Lynchburg, Forest, Appomattox, Amherst | LYNCHBURG: 11″ | 11-16″ |
| SOUTHSIDE | Danville, Martinsville, South Boston, Phenix, Gretna | DANVILLE: 7″ | 7 - 12″ |
| NEW RIVER VALLEY | Blacksburg, Wytheville, Narrows, Floyd, Pulaski, Galax, Marion, New Castle | BLACKSBURG: 25″ | 25-32″ |
| HIGHLANDS | Hot Springs, Monterey, Covington, Clifton Forge | HOT SPRINGS: 27″ | 27-32″ |
As far as predicting the first snowfall, El Nino has a history of bringing early-season events, but no two winters are alike. If we look back at previous winters, the average first snowfall is typically in December in the mountains and January for most other areas. On rare occasions, we can get all the way to March and April without seeing the first 1″ snowfall. It's rare to have a snowless winter like last year, and even more rare for two of them to fall back-to-back.
| | AVERAGE FIRST 1″ BY | LATEST WITHOUT 1″ OF SNOW |
| --- | --- | --- |
| ROANOKE | JANUARY 6 | MARCH 22, 1981 |
| LYNCHBURG | JANUARY 8 | APRIL 4, 1992 |
| DANVILLE | JANUARY 22 | APRIL 5, 1992 |
| BLACKSBURG | DECEMBER 25 | FEBRUARY 13, 1920 |
To sum it all up, the winter is expected to be nothing like last winter which was a bit of a dissapointment for snow fans. While this year may not bring blockbuster storms, we are expecting a near-to-above average season for precipitation and snowfall along with above average warmth.
A majority of the snow is expected in January and February although an early-season snow during El Nino years has been known to occur.
YOUR FIRST ALERT TO WINTER WEATHER
WDBJ7′s First Alert Weather is powered by the region's largest weather team with a history of accuracy and non-hype approach to weather forecasting and presenting. A commitment that started with long-time meteorologist Robin Reed and continues with Chief Meteorologist Brent Watts and meteorologists Leo Hirsbrunner, Catherine Maxwell, Bradford Ambrose and Payton Major.
Our goal is to give you plenty of time to prepare. We were the first to issue First Alert Weather Days last year and we will continue our commitment to alerting you first when the weather turns disruptive. That could mean extremely cold mornings with intense gusts and dangerous wind chills, heavy rain to impact the commute, light snow events that disrupt travel, or even the big snowstorms that take days to prepare for.
You will see the First Alert Weather Day highlighted in Red on-air as well as our First Alert mobile app. This guides your attention to follow the forecast for updates from our weather team.
On the actual First Alert Weather Day, the studio lights and our graphics will turn red, alerting you to the disruptive weather that is expected that day. You'll have constant updates on the WDBJ7 mobile apps, on-air during our newscasts, and Live Chats with our meteorologists on social media.
Copyright 2023 WDBJ. All rights reserved.