Containment grows as teams work on control lines for Matts Creek Fire
Published: Nov. 18, 2023 at 7:39 PM EST
BEDFORD CO., Va. (WDBJ) - As of Saturday night, 6,835 acres of land in Bedford County have burned, with 15% containment of the Matts Creek fire. Around 184 firefighters are working to control the fire.
Joe Mazzeo with the Southern Area Red Team said Friday firefighters had a good hand on the fire.
"That hand line had been constructed. And they've removed the fuels by burning out along that and they've been patrolling and securing that in preparation for today's wind event," said Mazzeo.
Here is the US Forest Service map of the fire as of Saturday morning.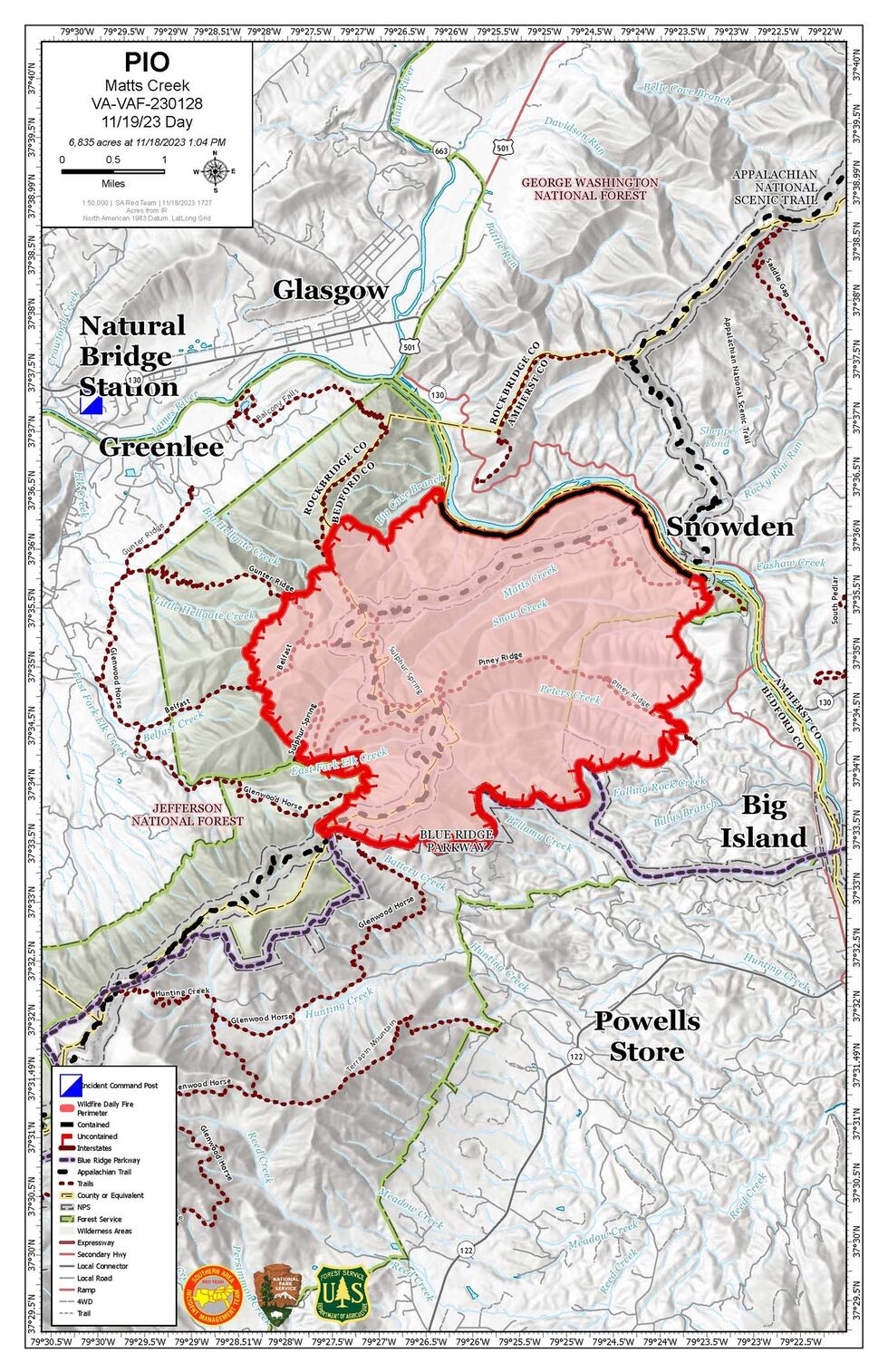 Click here to see photos and updates from the US Forest Service.
Fuels the team has removed include mixed hardwoods, shrubby vegetation, and leaf litter.
He said with the increased wind and the wind direction changing to the south, firefighters are working on completing the control line.
"The concern is the pocket of unburned fuel here, so they've moved additional resources in today to hold and control this line and patrol along the parkway." explained Mazzeo.
The Southern Area Red Team inserted a structural protection specialist where the fire is heading toward private property.
The chief of Bedford County Fire and Rescue said they have plans if the fire goes beyond the control line.
"If the evacuation was ordered, there would be notifications made, we have our account of a reverse 911 system that is also wireless," explained Chief Janet Blankenship. "We recognize for areas that may not have all those resources that we're going to have people out and about, and the sheriff's office would be out there and make notifications to residents."
"The last thing we want is to have fire across the pipeline, because that is a control point. So the emphasis is on that area," added Mazzeo.
With a burn ban still in place in Bedford County, Blankenship said local partnering fire departments will continue to monitor the area.
Copyright 2023 WDBJ. All rights reserved.