Health alert declared as smoke from Matts Creek fire continues
Published: Nov. 19, 2023 at 9:33 AM EST
BEDFORD COUNTY, Va. (WDBJ) - Smoke from the Matts Creek fire in Bedford County is expected to be in the very unhealthy range between Bedford and Lexington Sunday, according to the US Forest Service.
The Virginia Department of Environmental Quality has issued an air quality health alert for Sunday:
AIR QUALITY HEALTH ALERT for Bedford, Amherst, Rockbridge, Campbell, Charlotte, and Appomattox counties and the city of Lynchburg due to smoke from the Matts Creek wildfire in Bedford County. Limit or reschedule strenuous outdoor activities until conditions improve.
View current conditions and forecast and sign up for forecasts and health alerts: deq.virginia.gov/.../mon.../air-quality-forecast
The forecast calls for light west winds to disperse smoke along I-81 and the Blue Ridge Parkway, and Sunday's clear skies, light winds and warmer temperatures may produce short periods of reduced roadway visibility and pockets of heavier smoke concentrations along drainage and valley bottoms, according to the Forest Service. Sunday evening, smoke will continue to settle in communities between Natural Bridge, Buena Vista, Amherst and Lynchburg. Then, a cooler, moist air mass moving into the area Monday night is forecast to bring improved air quality.
The most recent update can be accessed online at outlooks.airfire.org/outlook.
Click here for other stories about the Matts Creek fire.
The fire itself continues to move around in heavy leaf litter and shrubs within the Thunder Ridge National Forest Wilderness Area southeast of Natural Bridge. Saturday's winds pushed active fire edges on the west flank of the fire, resulting in additional fire spread between Belfast and Big Hellgate Creek toward the James River, according to the Forest Service. Light west winds Sunday are forecast to slow the spread of the fire and reduce smoke production into the evening.
Troy Floyd, with the Southern Area Red Team said Sunday, more crews are coming in from across the country. He said there are two groups that are focused on structure protection.
As of Sunday morning, the fire has burned 7,614 acres (just under 12 square miles) and is 15% contained.
Click here for updates and videos from the US Forest Service.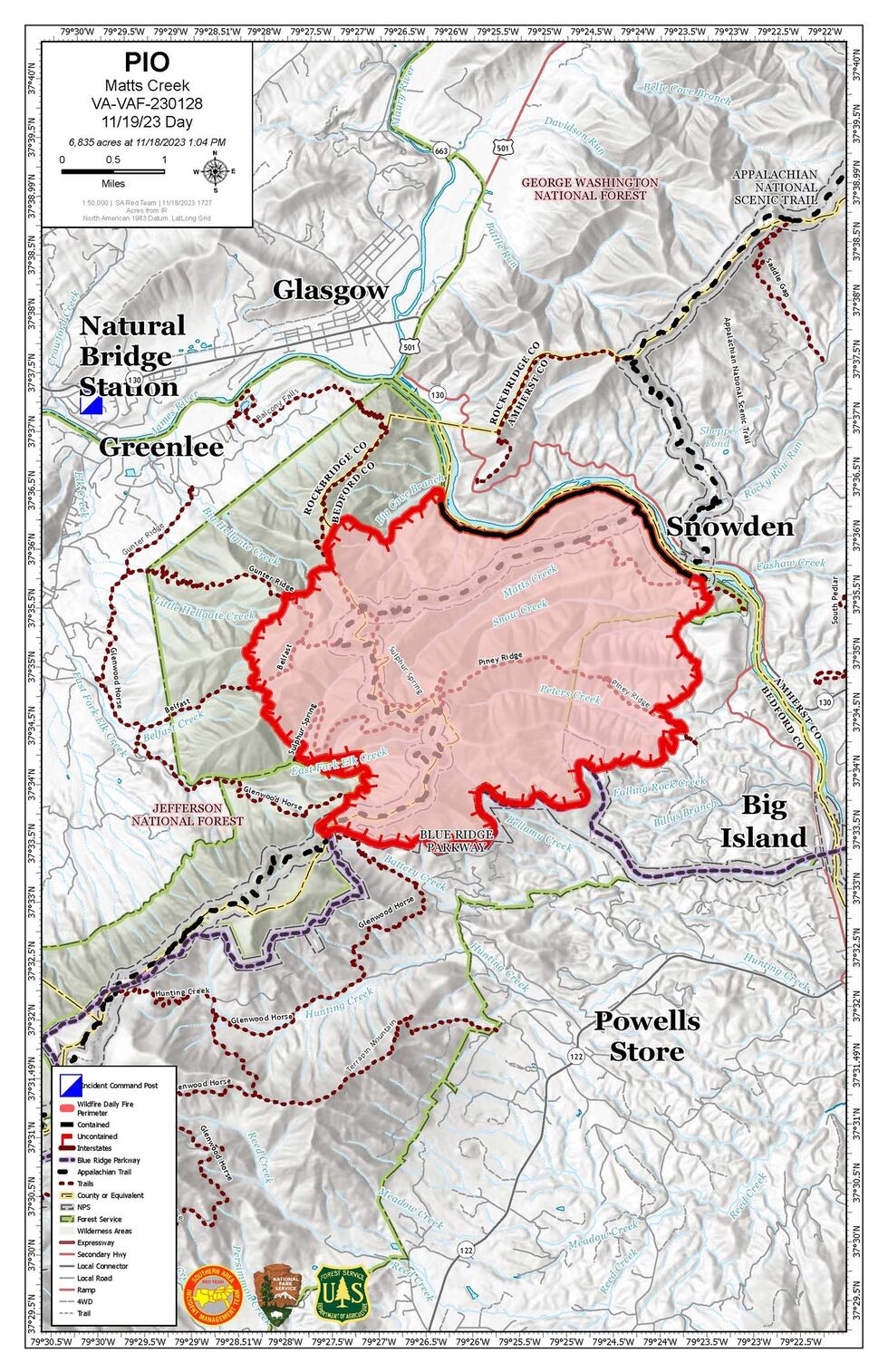 Copyright 2023 WDBJ. All rights reserved.