First Alert Weather Day: Storm brings rain, wind, and burst of late-day snow
Some isolated storms are expected to bring heavy rain and damaging winds
Published: Nov. 4, 2023 at 5:14 AM EDT
|
Updated: seconds ago
Widespread rain, all-day rain with periods of gusty winds

Snow/Wintery Mix late tonight

Drier and colder Monday
Get constant forecast updates, weather alerts specific to you, and radar on our FREE WDBJ7 Weather App.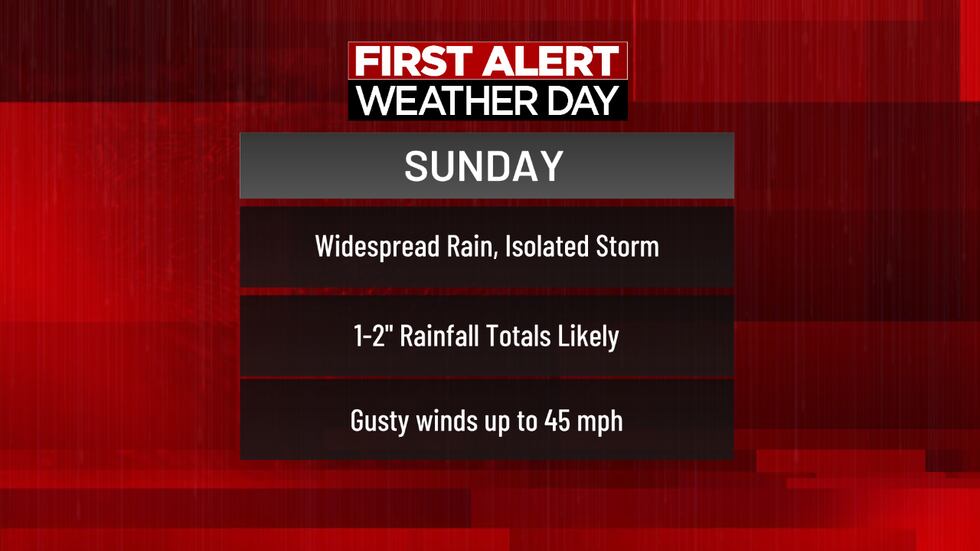 We've issued a First Alert Weather Day Sunday for a powerful storm that will send a widespread rain our way followed by a quick drop in temperatures tonight. This is topped off with strong wind and a period of sleet and snow for many hometowns.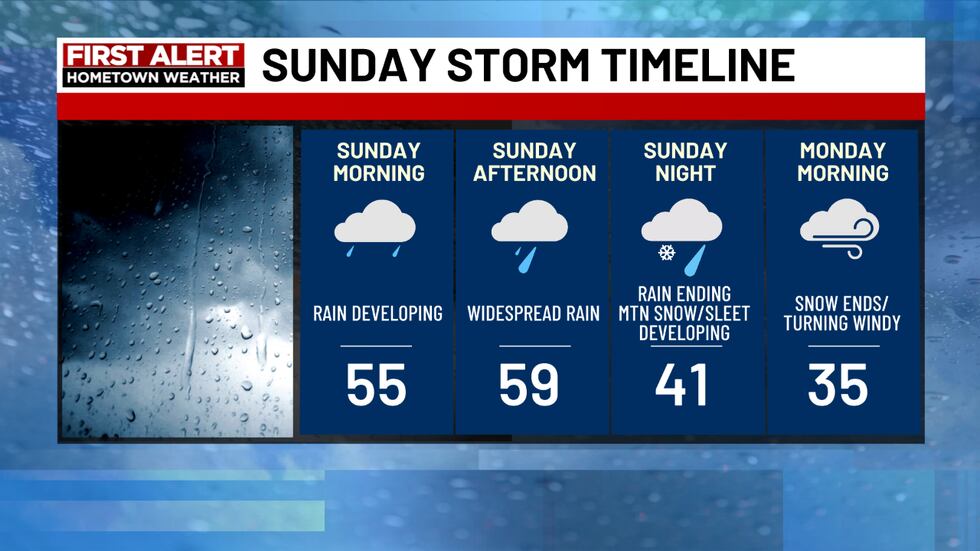 LATEST ALERTS:
The National Weather Service has issued a Special Weather Statement for the areas in ORANGE for isolated thunderstorms. Damaging winds and heavy rainfall are likely throughout the day today.
A Winter Weather Advisory is active for Tazewell, Smyth, Grayson and Highland County from 7pm tonight through Monday afternoon. 1-2″ of snow is expected with greater amounts at higher elevations.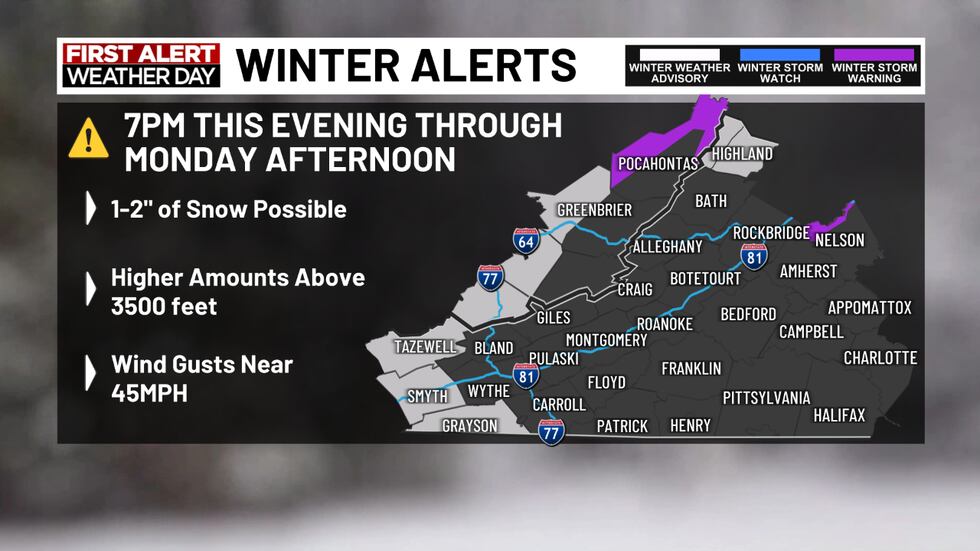 RAIN TIMING: Widespread rain will continue throughout the day Sunday. Rain will come in two waves, the first in the morning, then another round later in the afternoon and through the evening hours. Pockets of heavy rain and isolated thunderstorms are likely at times.
RAIN AMOUNTS: Combined rainfall will likely be in the 1″ to 2″ range with locally higher amounts possible. Watch for ponding water if you're driving. The overall flood risk remains low.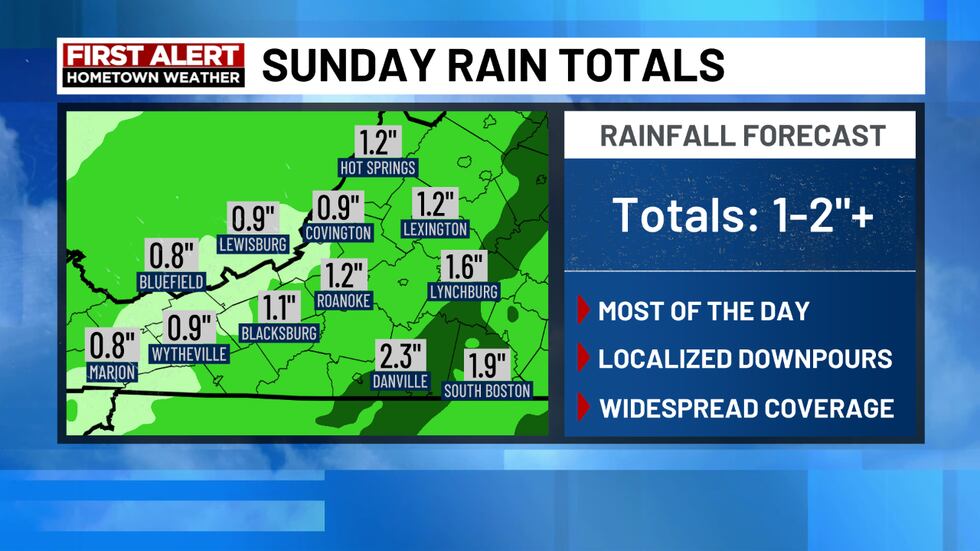 STRONG WIND: Winds will increase during the afternoon Sunday, gusting 25-45+ mph at times as the front moves through. Higher gusts are possible along the southern Blue Ridge toward Grayson and Carroll counties and along the Blue Ridge Parkway. Winds will remain strong into Monday as the cold air rushes in, which will cause bitterly cold wind chills to start the workweek.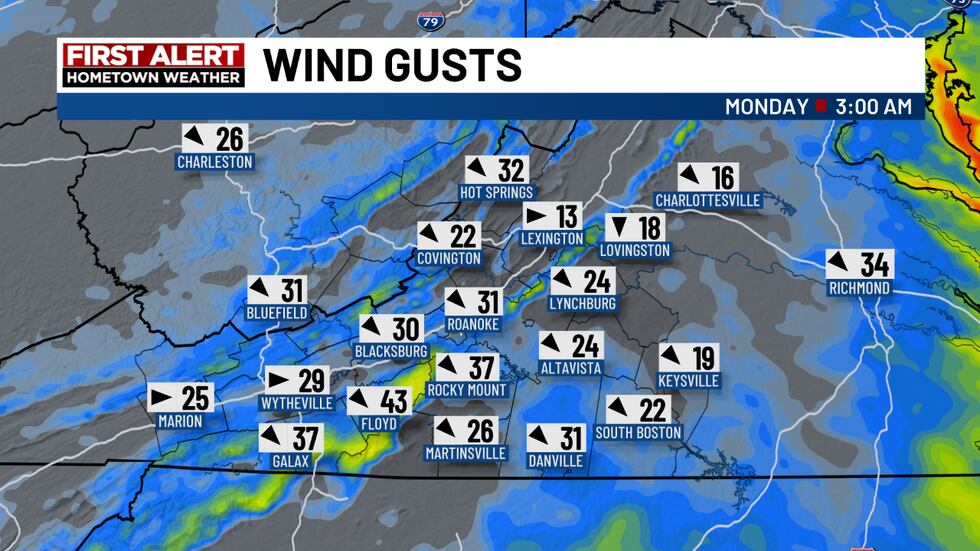 SNOWFALL: This will be a rain-only event during the day Sunday. After sunset, the front is expected to start pulling colder air in and temperatures will start falling. If the cold air catches up, we anticipate a likely changeover of any leftover rain to wet snow. This will start in the higher elevations first, then valleys late Sunday night into Monday morning.
Snow totals (for places that see it) will be on the lighter side thanks to the recent warm temperatures.

Any snow that falls will have a hard time sticking to the roads as roads temperatures will be above freezing.

Amounts may reach 1″ or so in the grass along the Blue Ridge Parkway into Floyd and Bent Mountain, as well as areas such as Mountain Lake.

In the valleys, much lighter amounts are expected, with a dusting up to .50″ in hometowns such as Blacksburg and Wytheville.
Overnight lows will be in the upper 20s and low 30s tonight.
We turn much colder and remain windy Monday with highs only in the upper 30s in the mountains to low 40s elsewhere.
WINTER WEATHER AWARENESS WEEK
December 4-8 was Winter Weather Awareness Week in Virginia! This is a good time to get prepared for what could be an active winter season. We're forecasting an an above average winter of snowfall. Check out our Winter Weather Outlook here.
MONDAY
Following our weekend cold front, Monday will be the coldest day of the upcoming week. Highs will only be in the 40s and wind chills will make it feel even colder. We'll keep the gusty winds around throughout Monday with increasing sunshine.
NEXT WEEK
Much of the week features drier conditions and seasonable highs in the low 50s. This week will feature very cold lows in the 20s and 30s thanks to a lack of clouds.
Our next chance of rain may not arrive until late next weekend when a similar system could brings some rain our way. We'll update you first when we know more.
DROUGHT MONITOR
We're desperate for some multi-day rainfall to help ongoing drought in our area. Most areas remain in a moderate to severe drought.
The drought monitor updates every Thursday morning.
WINTER WEATHER OUTLOOK
Did you miss our Winter Weather Outlook? No worries! Here's the link to see how much snow you could possibly see this season!
SLIGHT CHANCE OF SCIENCE PODCAST
Aftermath Of This Year's Hurricane Season: This hurricane season in the Atlantic ranks fourth for the most named storms in a year since 1950. Meteorologist Catherine Maxwell along with Dr. Stephanie Zick, Assistant Professor at Virginia Tech who specializes in tropical meteorology, dive into why we saw an uncharacteristically above average El Niño season.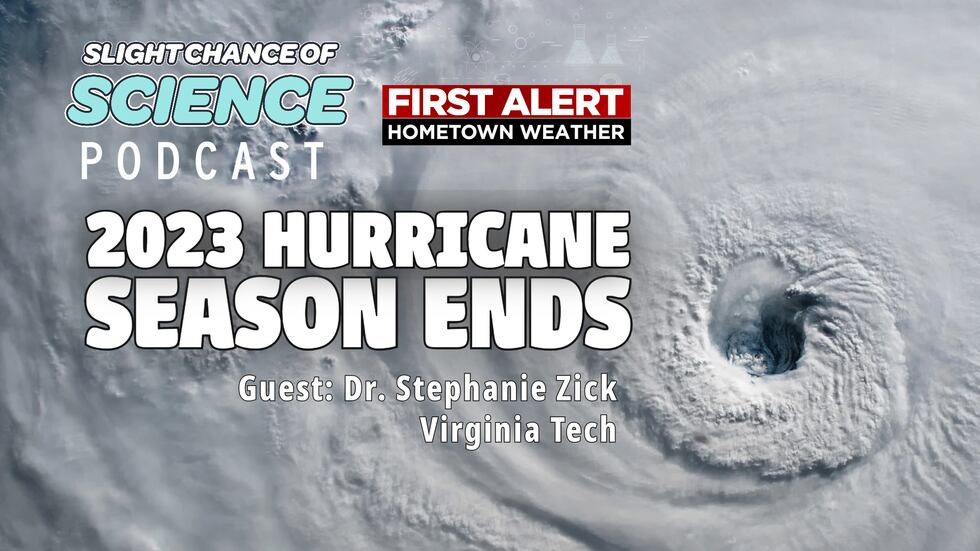 Click here to subscribe and be the first to hear new episodes from our team of meteorologists.
Copyright 2020 WDBJ. All rights reserved.