A man and his horse ride from Arkansas to Texas looking for work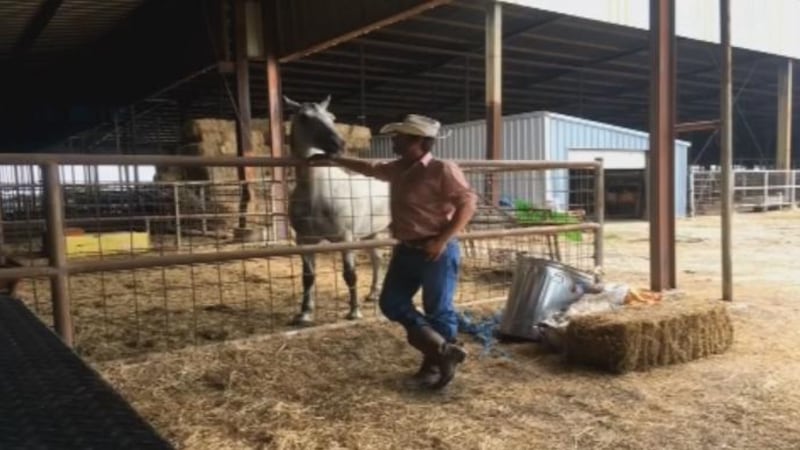 Published: Jul. 30, 2017 at 2:04 PM EDT
An Arkansas man is trying to achieve his lifelong dream of becoming a Texas cowboy by saddling up and riding horseback through three states.
Lawrence Ferguson,38, and his 20-year-old horse Leon have been on the road for nearly two weeks, having already traveled about 165 miles from Fayetteville to McAlester.
"Every mile somebody stopping and giving me a Gatorade or a water and just helping me out. I can't believe how generous people are and how nice people are and they've been real receiving."
Ferguson's journey began after he lost his job as a chicken farmer in Arkansas.
That's when he says he decided to pursue something he'd been dreaming about becoming a cowboy and finding work on a ranch in San Angelo, Texas.
"It was kind of my father's dream to come out West and it kind of became mine. We always wanted a big ranch and we thought that's where the big ranches are in Texas"
We caught up with the "Travelin Cowboy" at the McAlester Union Stockyards, who offered a stable so Leon could get some much needed rest.
Robin Burge, another one of the handful who have helped them so far, tells us she finds the pair inspiring.
"I think a lot of people have dreams in life and they never follow through with them and it takes a lot of courage to do that."
The original post about their trip has already had more than 15 thousand shares on Facebook, with many hoping to meet him along the way.
If you missed him in Oklahoma, you can try to catch him on his way to Texas.
He said he would be staying in Kiowa Friday night, but would not be there long.
"I plan on staying on 69 and I guess that goes through Gainesville and then I'm headed West towards Weatherford."
Ferguson says he hopes to reach San Angelo in a month.