You're not going nuts, acorns are dropping earlier this year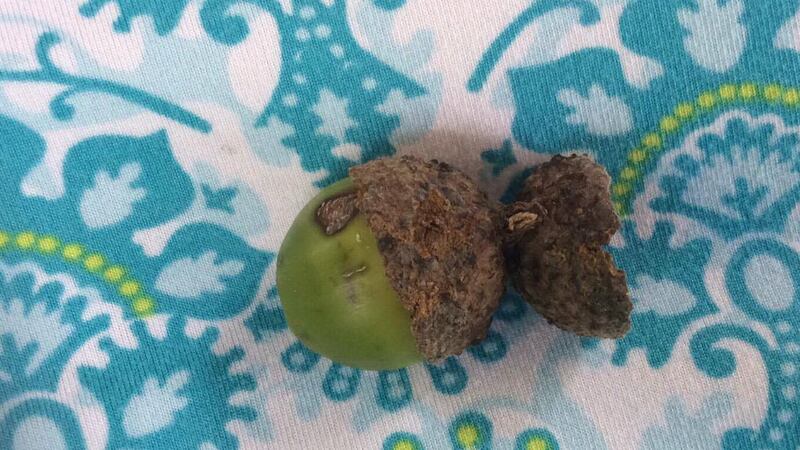 Published: Aug. 1, 2016 at 6:47 PM EDT
It's that time of year when trees begin feeling the impacts of Mother Nature's wrath.
Whether it's too much rain, not enough rain, too hot or too cold, a tree's health is very dependent on the weather patterns.
In the past, we have written stories on the lack of, or abundant acorn crops and their impacts. The seeds not only allow for future oak tree growth, but are also a major food source for numerous species of animals such as squirrel and deer.
This July and August, the WDBJ7 Weather Center has received numerous photos of green acorns covering the ground across the region. Rhonda Mills of Martinsville shared a photo (above) noting the early drop, stating "the acorns are dropping like crazy as I send this."
The acorns are green, which indicate the trees are dropping them prematurely. Mature acorns are typically tan and often fall during the months of September and October. While an early acorn drop doesn't always indicate a serious problem with the trees, it can mean they are struggling.
"If a tree is dropping green acorns this time of year, stress is probably a factor," says Lori Chamberlin, Forest Entomologist with Virginia Department of Forestry.
"If the cost of continued energy expenditure for seed production is too much, then the tree may abort and drop all acorns in their current state."
The extremely hot summer may have been to blame for the premature drop. A stretch of heavy rain may have also contributed.
WHAT DOES EARLY ACORN DROP MEAN FOR UPCOMING WINTER?
Acorn production is a cyclical phenomenon that happens every three to five years. It takes approximately one year to produce a white oak acorn and two seasons to produce an acorn from a red oak tree.
Since acorn production varies from year to year, it often becomes the center of winter weather folklore. The most common thought is an unusual abundance of acorns means the winter will be harsh, with cold conditions and above normal snowfall
With most folklore, it may have once been a great predictor for observers a few times, then the idea stuck. However, there's little scientific proof to the acorn theory.
Since the acorns predictions are based on past weather, we can look back at the past few years and predict what the acorn crops may be like. However, predicting what the weather will be like based on the acorn crops is purely for fun.