College students stop in Blacksburg during their cross country bike trip, raising awareness for Alzheimer's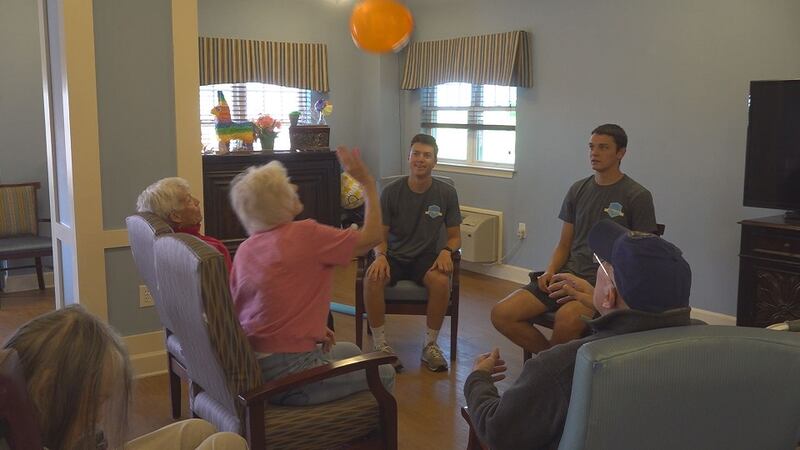 Published: Jul. 15, 2019 at 4:58 PM EDT
For one group of Western Kentucky University students, pedaling is their way of finding a cure for Alzheimer's disease. They are biking across country to help raise awareness for Alzheimer's.
Bike. Wake up. Back on the bike. That's what Max Benningfield has been doing for almost two months with 13 of his Fiji fraternity brothers.
Biking from San Francisco to Virginia Beach. Their trip started May 18th and will end on July 20th.
"We've had a couple rough times, when we were in California we got rained on in 40 degree weather, Nevada we got hailed on, Kansas we got Tornadoes, all of Missouri was flooded, and now we got decent weather finally," Benningfield, a Western Kentucky student biking on this trip, said.
But he's doing it all for a worthy cause--to raise awareness for Alzheimer's--a disease Benningfield knows all too well.
"My grandmother has Alzheimer's, it's one of those things where she doesn't remember my name, she barely remembers, she actually doesn't remember my dad's or uncle's or aunt's name anymore, so it's one of those things where I felt like I had to do it for her," Benningfield said.
The Alzheimer's Association says that 5.8 million Americans are living with Alzheimer's and every 65 seconds, someone in America develops the disease. To help reduce these numbers, the fraternity members are fundraising, meeting some of the folks they're helping along the way. The spent Monday at the Memory Care Unit of English Meadows Blacksburg Campus.
"We love getting to talk to these people and just kind of seeing what we're doing, what impact it's going to have, and what we're doing it for," Caleb Strunk, another Western Kentucky student and biker on this trip, said.
"Our residents love that interaction because they get to talk with some outsiders and everyone brings a different experience to the table, and our residents have a lot of great stories to tell," Melinda Collins, Campus Administrator at English Meadows Blacksburg, said.
The group is following in the footsteps of their senior Fraternity members, who have been biking every year for this disease since 2010.
"Me knowing that I helped out with ending it means a lot because I'm directly affected by it," Benningfield added.
They end their trip in Virginia Beach on July 20th.