Latest Roanoke College poll: Dismal for Trump, improvements for Clinton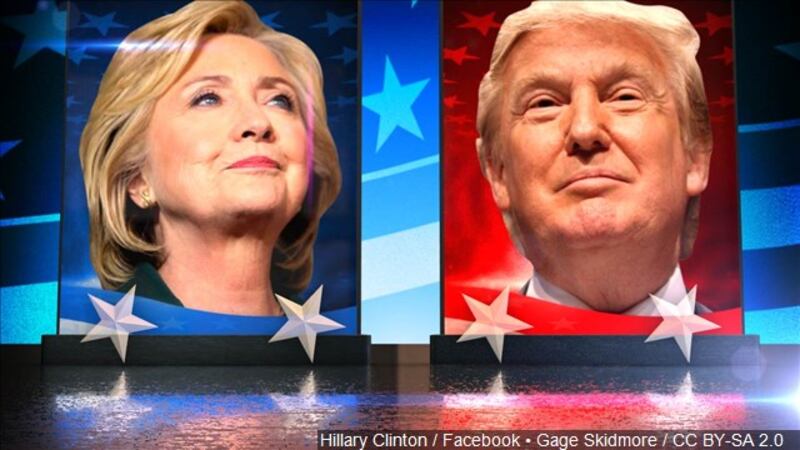 Published: Aug. 23, 2016 at 6:35 AM EDT
It doesn't look good for Republican Presidential nominee Donald Trump, according to the latest poll from Roanoke College.
Democratic Presidential nominee Hillary Clinton has opened a 16-point lead over Trump among likely voters in Virginia (48 percent-32 percent).
Libertarian Gary Johnson received the support of 8 percent of likely voters, and Green Party candidate Jill Stein trailed the field with 3 percent, while 9 percent remain undecided.
Trump and Clinton were tied in the May Roanoke College Poll.
The Roanoke College Poll interviewed 803 likely voters in Virginia between August 7 and August 17 and has a margin of error of +3.5 percent.
Nearly two-thirds of likely voters (64 percent) said they were very interested in the campaign, and 88 percent said they care a good deal about who wins the presidential election.
Clinton has improved her standing among Democrats since May (91 percent support her now compared to 78 percent in May), and Trump's support among Republicans has declined slightly from 80 percent in May to 78 percent in August.
Clinton holds strong leads among both political Independents (43 percent-25 percent) and self-described moderates (57 percent-22 percent).
About half (49 percent) of Clinton supporters said their vote was more of a vote for her than against Trump (38 percent), while Trump backers were more likely to say their vote is one against Clinton (49 percent) rather than for him (35 percent).
Clinton's favorable ratings, though not good, have improved from May (39 percent favorable; 45 percent unfavorable compared to 35 percent and 50 percent in May), while Trump's numbers are very poor and marginally worse than in May (23 percent favorable; 63 percent unfavorable down from 23 percent and 56 percent).
Poll takers asked how voters would feel if either candidate was elected president in November. One-in-five (20 percent) respondents said they would feel proud, with another 32 percent satisfied, but 28 percent would be disgusted if Clinton wins. Those numbers are largely unchanged in three months. Again, Trump's numbers are even worse and very similar to May (7 percent proud, 27 percent satisfied, and 49 percent disgusted).
While party affiliation has a large impact on those numbers, 2 percent of Democrats said they would be disgusted with a President Clinton (43 percent would be proud), while 8 percent of Republicans would be disgusted with a President Trump.
Clinton was preferred by likely voters to Trump on a variety of issues, including the economy, terrorism, health care, race relations, immigration, foreign policy, and firearms policy.
Clinton (9 percent very honest; 39 percent somewhat honest) was marginally viewed as more honest than Trump (11 percent very honest; 31 percent somewhat honest), and 72 percent said she is qualified to be president, compared to 36 percent who said Trump is qualified.
Clinton was also seen as a having a temperament that is fitting for president (72 percent) compared to 28 percent for Trump. A majority of respondents said she at least somewhat understands the problems of people like them (56 percent), while just over one-third (36 percent) said the same about Trump.
Vice-presidential candidate and Virginia Senator Tim Kaine is viewed favorably by a majority (52 percent) of respondents. That is a significant increase from 32 percent in January. Republican VP candidate Mike Pence has a favorable rating of only 24 percent, but 4-in-10 (40 percent) don't know enough about him to have an opinion.
Interviewing for The Roanoke College Poll was conducted by The Institute for Policy and Opinion Research at Roanoke College in Salem between August 7 and August 17. A total of 803 likely voters in Virginia were interviewed. Telephone interviews were conducted in English and Spanish. The random digit dial sample was obtained from ASDE Survey Sampler and includes both Virginia landline and cell phone exchanges so that all cell phone and residential landline telephone numbers, including unlisted numbers from Virginia exchanges, had a known chance of inclusion. Cell phones constituted 34 percent of the completed interviews. Questions answered by the entire sample of 803 likely voters are subject to a sampling error of plus or minus approximately 3.5 percent at the 95 percent level of confidence. This means that in 95 out of 100 samples like the one used here, the results obtained should be no more than 3.5 percentage points above or below the figure that would be obtained by interviewing all likely voters in Virginia who have a home telephone or a cell phone. Where the results of subgroups are reported, the sampling error is higher. Quotas were used to ensure that different regions of the Commonwealth were proportionately represented. The data were statistically weighted for gender, race, age, and political party. Weighting was done to match the demographic groups' representation in the 2012 Virginia exit poll. The margin of error was not adjusted for design effects due to weighting. A copy of the questionnaire and all toplines, as well as the crosstabs, may be found on the IPOR website. More information about the Poll may be obtained by contacting Dr. Harry Wilson at wilson@roanoke.edu or (540) 375-2415 or the Roanoke College Public Relations Office at (540) 375-2282. The Roanoke College Poll is funded by Roanoke College as a public service.