Lexington group schedules parade for MLK weekend, pre-empting SCV parade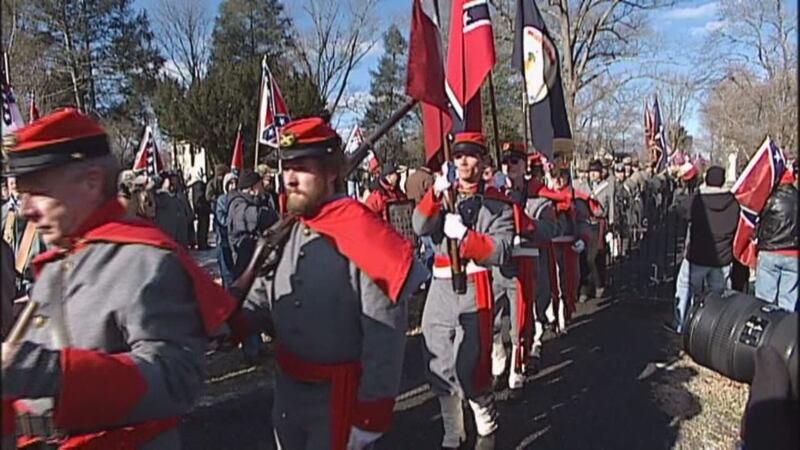 Published: Oct. 27, 2016 at 6:15 PM EDT
Every January, sponsored by the Sons of Confederate Veterans, they gather at the base of the Stonewall Jackson monument on what was once Lee-Jackson Day.
Then they parade down Main Street to Lee chapel, where Robert E Lee rests.
"A lot of people have asked me: What can we do to send a positive message on that weekend, which is also the MLK weekend?" But, Lyndon Sayers, pastor of Good Shepherd Lutheran Church and a founder of CARE Rockbridge, said.
The answer: Throw your own parade.
"They did sort of sneak in under the wire and apply prior to ours," Brandon Dorsey of the local camp of Sons of Confederate Veterans said. "We don't have a problem with them doing do what they want to do. It's the fact they decided to deliberately put it right on top of our event that's the issue."
"We thought: we live here. We're the residents of Lexington and surrounding area," Sayers said. "We want to send our own message that is more fully inclusive and more fully welcoming to all our residents."
"We just see it as attempt to either silence, quash our point of view or you know just try to create a controversial situation," Dorsey said.
The parade, and particularly the flags that come with it, have begun to face pushback in recent years.
"Everyone has a right to their own interpretation of that history," Sayers said. "But in the public sphere, we're wanting to embody something more welcoming and inclusive for all the residents."
"It comes across as very confrontational, what they've done, very deliberate, so you know it may just be a stone wall of sorts that we can't surmount, dealing with them," Dorsey said.
"Our focus really isn't on those who may feel angered, and we're sorry that they feel upset and angered by that. But we think that the greater public good will be served by a more inclusive parade," Sayers said.
And in the meantime, what will the admirers of Lee and Jackson do?
"We've decided the best approach is to be flexible," Dorsey said. "And to move the event to the following weekend which is actually closer to Lee and Jackson's birthday."