UPDATE: Work on Mountain Valley Pipeline resumes after FERC approves stabilization plan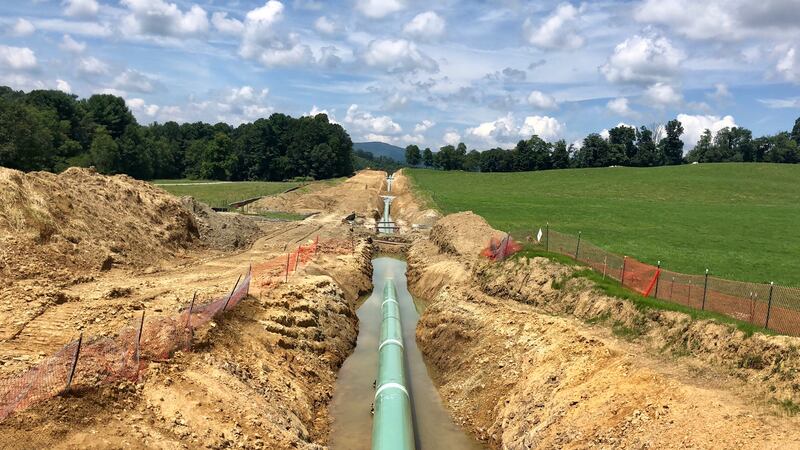 Published: Aug. 10, 2018 at 8:14 PM EDT
The Federal Energy Regulatory Commission has given partial approval to the Mountain Valley Pipeline's stabilization plan, clearing the way for some construction activities to resume in the pipeline right-of-way.
The Director of FERC's Office of Energy Projects issued a letter granting partial approval of the Temporary Stabilization Plan Friday.
"As indicated in your plan," wrote Terry L. Turpin, "the shutdown presents challenges for stabilization and restoration, and we agree that there are some clear advantages to allowing some limited construction activities to proceed to prevent potential safety and environmental impacts."
Saturday afternoon, crews were operating heavy equipment on Bent Mountain in Roanoke County, near the point where the pipeline crosses Route 221 and the Blue Ridge Parkway.
----------------------------------------------------------
Except for an occasional car passing by, there was little activity on the Blue Ridge Parkway Friday afternoon.
One week after the Federal Energy Regulatory Commission issued an order stopping work on the Mountain Valley Pipeline, the heavy equipment sits idle near the point where the pipeline passes underneath the scenic highway.
This week, MVP submitted a stabilization plan it says will minimize erosion, protect sensitive resources and topsoil, secure fuels and equipment and address safety concerns, including those associated with open trenches, but pipeline opponents are saying not so fast.
"MVP's stabilization plan is really a continue-to-construct plan," said Tammy Belinsky, an environmental attorney who works with a number of groups fighting the Mountain Valley Pipeline.
She and other opponents view the stabilization plan as an attempt to get around the recent order stopping work.
"They should not be allowed to continue to construct under the guise of a stabilization plan," Belinsky told WDBJ7 Friday. "Continuing to construct will do nothing but cause more harm to our water resources, especially if they are not allowed to use this route in the future."
A spokesperson for the Mountain Valley Pipeline released the following statement Friday evening:
"Constructing the Mountain Valley Pipeline in the safest manner possible; minimizing impacts to sensitive species and environmental, cultural, and historic resources; and ensuring the highest levels of environmental protection have been our priorities since the inception of the project.
We are pleased that the FERC appreciates MVP's desire to uphold our environmental responsibilities by allowing the project to stabilize the right-of-way and to take certain measures to minimize unnecessary erosion and sedimentation occurrences as we work with the agencies to resolve the issues related to the August 3, 2018 stop work order.
In addition, we remain confident that the U.S. Forest Service and the Bureau of Land Management (BLM) will be able to satisfy the Fourth Circuit Court's requirements regarding their respective decisions related to the Jefferson National Forest (JNF). We continue to believe that the BLM has reached the correct conclusion during their initial analysis of alternatives in the JNF and agree that MVP's current route has the least overall impact to the environment. We look forward to continuing the safe construction of this important infrastructure project."