New Freedom Farm reunites two army veteran brothers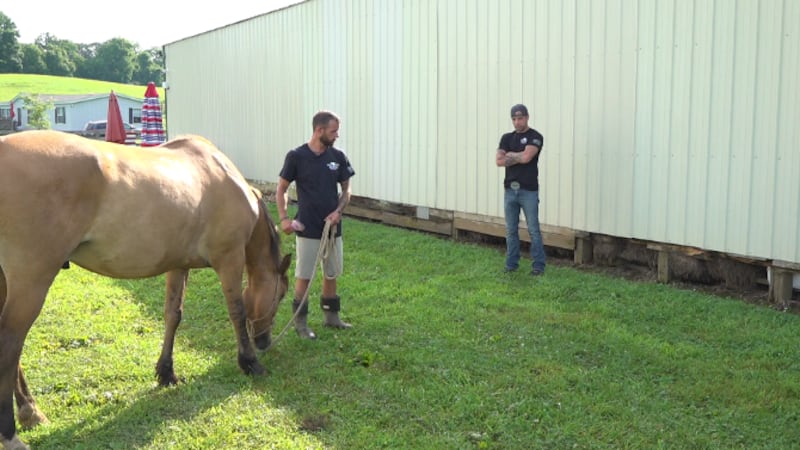 Published: Jul. 18, 2019 at 5:46 PM EDT
"Easy, easy, easy, good boy," said Andrew Kintgen to a nine-year-old Mustang named Ghost.
Ghost will chomp on grass as long as he is allowed.
He's not hungry.
But it keeps him calm while Andrew brushes him, attempting to earn his trust.
"You have to bond with them before you can even do anything with them in the first place," said Kintgen.
The bond horse and man share is like the one brothers share - both platoon and biological.
"So uh yeah, my brother flew out here from California," said Kintgen.
Andrew and Steven Spurrel have the same mom, the same hometown of Lynchburg, and the same dream.
A dream to serve their country.
A dream that in many ways, they're still recovering from.
"I've done three tours to Iraq, he's done two. And the last two that we did, we did them together in the same battalion, so we saw each other everyday," said Kintgen.
Once home, Andrew found New Freedom Farm. It's a place that's dedicated to Andrew, Steven, veterans of any rank, any branch, any length of time.
This past Saturday, folks gathered to remember a long time visitor, Carlos Showalter. His remembrance ceremony is the reason Steven flew in.
"And when veterans get together, it's easier to sit and talk through what we've been through," said Kintgen.
Since their medical releases in 2015 and 2016 life hasn't been easy for Andrew and Steven. Places like New Freedom Farm help.
"Lots of help, lots of many different directions," said Kintgen.
For now, Ghost goes back behind the gate.
Steven flies home to California Saturday.
The farm stays put, ready to help as many veterans that need it's therapy.