New developments Friday in state and federal cases involving Mountain Valley Pipeline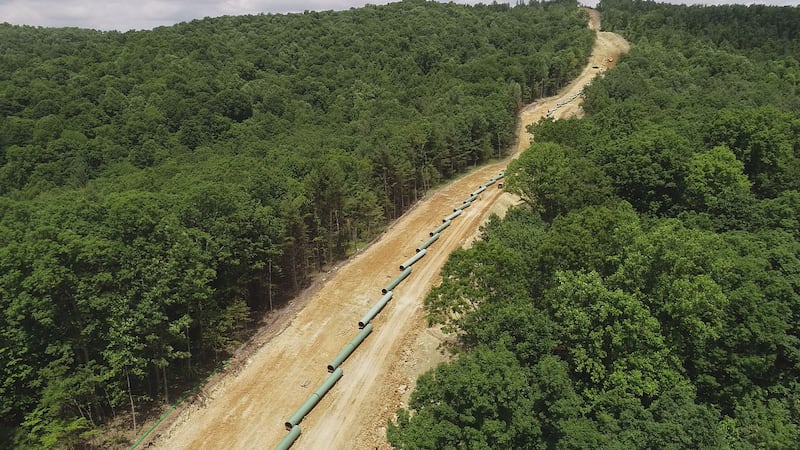 Published: Oct. 11, 2019 at 8:26 PM EDT
There were major developments Friday in both state and federal cases involving the Mountain Valley Pipeline.
Virginia Attorney General Mark Herring announced an agreement Friday that requires Mountain Valley Pipeline to pay a $2.15 million civil penalty. And a federal appeals court in Richmond granted a stay of key permits issued by the U.S. Fish and Wildlife Service.
Herring filed suit last December alleging repeated environmental violations in western Virginia.
The settlement calls for the civil penalty, and enhanced monitoring and court-supervised compliance.
Friday afternoon, a spokesperson for Mountain Valley Pipeline said most of the violations were the result of unprecedented rainfall in the Spring and Summer of 2018. The company said it will comply with the terms of the agreement, and work with inspectors to maintain high standards of environmental stewardship.
"The MVP project team will satisfy its civil administrative penalty and will implement additional measures of independent, third-party monitoring to ensure compliance with Virginia's court-ordered and court-supervised environmental protections that will further enhance the performance of ESC measures for the remainder of MVP's planned construction activities," the company said in a written statement.
Opponents of the project, who have called for the state to issue a stop work order, describe the agreement as "a sell-out of people in the path of the pipeline."
Roberta Bondurant is a Co-chair of the POWHR Coalition, which opposes the project.
"There are big concerns about a mere $2.1 million fine," she said. "In context, that is a drop in the bucket compared to the cost of what is now likely an over $5 billion project."
Late Friday afternoon, we also received word that the federal appeals court in Richmond granted a stay of key permits issued by the U.S. Fish and Wildlife Service.
The Sierra Club requested the stay, on behalf of a coalition of conservation organizations, including Wild Virginia, Appalachian Voices, Preserve Bent Mountain, Defenders of Wildlife, Chesapeake Climate Action Network, and the Center for Biological Diversity.
"MVP's dangerous pipeline project has already destroyed and degraded the habitat of endangered species along its route, not to mention the threat it poses to clean air and water," said Sierra Club Staff Attorney Elly Benson in a written statement. "That's why, time after time, we have said MVP should stop work on this pipeline. Their rushed, shoddy permitting puts the entire project in question."
Mountain Valley Pipeline released a statement saying the company is disappointed and disagrees with the decision of the U.S. Court of Appeals for the Fourth Circuit.
"Since inception of the project, MVP's commitment to minimizing overall environmental impacts and protecting sensitive or endangered species has been one of our top priorities and MVP's voluntary suspension plan was intended to do just that. MVP's voluntary suspension included conservative measures designed to avoid any potential impacts to threatened and endangered species. In circumstances where construction was ongoing, the need to make environmentally responsible decisions on stabilization and restoration should outweigh the opponents' efforts to simply block progress on the project. MVP will continue working with the federal agencies to address stabilization and restoration activities in an environmentally sensitive way."