Pulaski Health and Rehab residents try out Virtual Reality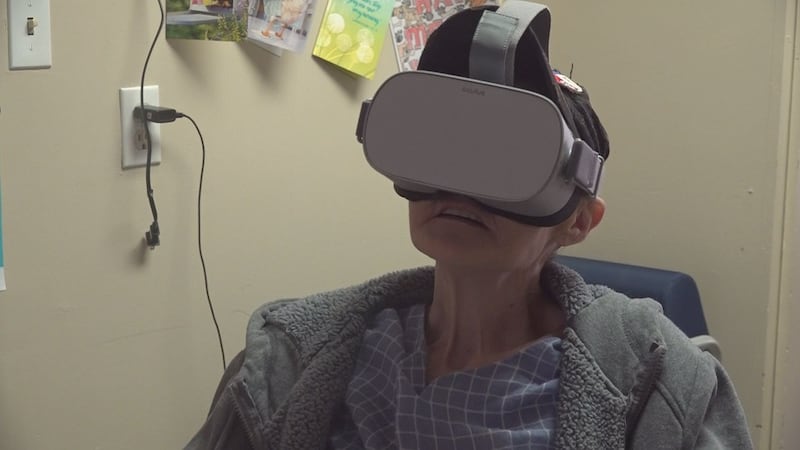 Published: Oct. 26, 2019 at 6:15 PM EDT
Residents at the Pulaski Health and Rehabilitation Center got the chance to escape without having to leave their rooms. Next Level VR, a virtual reality company coming to downtown Pulaski, gave them VR sets to try out. VR is a computer-generated simulation of reality.
"It took me back to a happy place, and we all need that," Stephanie Whittaker, a resident at Pulaski Health and Rehabilitation Center, said.
She was overcome with emotion when she got to try out virtual reality Saturday for the first time.
"I felt so safe and in my own element in that," she said.
It's been 17 years since Whittaker saw a dolphin.
"My ex-husband was a scuba diver instructor," she said.
But Next Level VR reconnected her with her favorite animal.
"It was beautiful, absolutely beautiful," Whittaker said.
"We get to come here and work, make somebody's day, let them have a day outside of the building, but at the same time they don't have to leave, they get to be in the comfort of their own bed or their own chair, whatever they like to do, and we can take them all over the world," Ian Turbyfill, a Managing Member and Partner with Next Level VR, said.
Students from The Edward Via College of Osteopathic Medicine, known as VCOM, in Blacksburg, volunteered to help bring these residents an escape.
"It's nice to get out here on the weekend and experience something that motivates you and drives you to help patients in the future," Craig Johnson, a military student at VCOM, said.
Helping patients like Whittaker.
"Especially with anxiety, I started having anxiety attacks when I came here, brand new, really scary, and that would help tremendously," Whittaker said about VR.
Next Level VR folks plans to bring their virtual reality sets back to Pulaski Health and Rehab again next month.