Former Radford student pleads guilty to killing roommate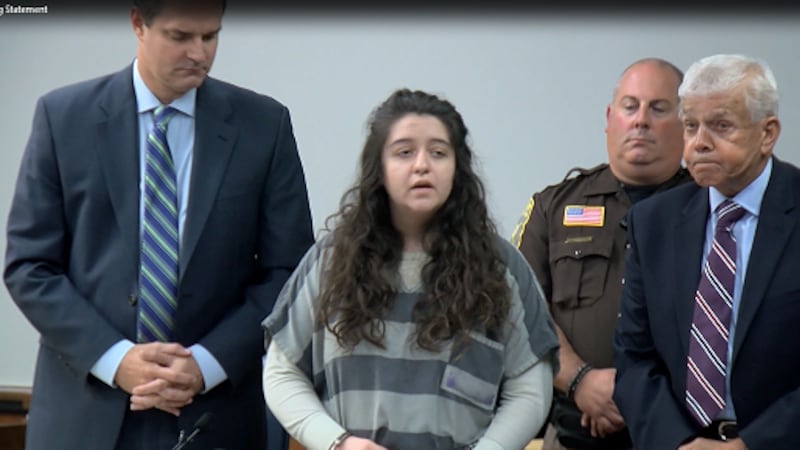 Published: Oct. 7, 2019 at 7:08 AM EDT
A former Radford University student pleaded guilty Monday to the second-degree murder of her roommate, Alexa Cannon.
Luisa Cutting, 21, never disputed the fact that she stabbed Cannon, who she called her friend, to death in January 2019. Monday she stood before a judge and took "full responsibility" for Cannon's murder.
"There are no words for this tragedy and my heart is filled with sorrow and grief," Cutting read from a hand-written statement in court.
Cutting entered into a plea agreement with the Commonwealth, leaving her serving a 20-year active prison sentence.
From the moment police arrived at the scene of the murder, Cutting had been forthcoming about killing Cannon. When police were called to the girls' apartment on Clement Street, Cutting told them to arrest her and said she killed Cannon. Cannon was found unresponsive with more than a dozen stab wounds.
While Cutting admitted to killing Cannon, the motive was unclear. Chris Rehak, Radford City Commonwealth's Attorney, called the case "extraordinarily unusual" in a statement, adding, "the guilty plea today ends criminal proceedings in this tragic and mysterious event."
Rehak walked the court through the events leading up to and immediately after Cannon's death. He said that Cutting told officers that she had taken a slew of drugs the night before the murder including cocaine, marijuana, mushrooms and Xanax.
According to Rehak, Cutting had not slept for several days and was exhibiting strange behavior. Rehak told the court that Cutting was praying out loud, trying to shove her hands in her mouth, would often have memory lapses and told the officers that she did cocaine with the devil.
Cutting's defense attorney, Blair Howard, confirmed that Cutting had a history of drug abuse and said that led to a psychotic episode. Officers eventually secured a temporary detention order for Cutting and she was involuntarily hospitalized for eleven days.
"I am absolutely convinced she was undergoing a psychotic episode, but that was brought about, unfortunately, by her use of drugs," said Howard.
Howard said it was most appropriate that Cutting accept responsibility for her actions. He said she has since become sober, received help and thought a lot about what led to her actions.
"The unfortunate thing is, now, what can she do? And there is nothing she can do," said Howard.
"My heart goes out to the Cannon family," Cutting said in court through tears. "I am so, so sorry."
According to Rehak, a 20-year active sentence is at the high end of the sentencing guidelines for second degree murder. Read Rehak's full statement:
"This case was extraordinarily unusual and the guilty plea today ends criminal proceedings in this tragic and mysterious event. It was an honor and privilege to represent the life of Alexa Cannon. I worked with her family, who provided thoughtful input and helped craft the plea agreement terms which reflect a complex balance of facts, trial options and proportionality.
"Perhaps more importantly, the agreement secured a murder conviction, avoided any appeals and spared Alexa's family and friends the anguish and anxiety of trial. The Commonwealth also considered the impact and viability of defenses such as insanity, irresistible impulse and voluntary intoxication. Second degree murder appropriately fit our specific facts, reflects the provable criminal intent and achieves justice. The twenty-year active sentence is at the high end of second degree murder sentencing guidelines which recommend 12 years and 9 months to 21 years and 4 months with a midpoint of 17 years and 1 month."
A former Radford University student charged with killing her roommate is set to appear in court Monday.
Luisa Cutting, 21, of Jeffersonton in Culpeper County, is facing second-degree murder in the stabbing death of Alexa Cannon.
Radford Police made the grisly discovery after responding to a student apartment complex in the 1200 block of Clement St. for a domestic dispute call Jan. 24, 2019.
Within moments police found Cutting covered in blood and her roommate, Cannon, 20, of Roanoke, lying on the ground.
Investigators said Cannon sustained multiple stab wounds.
According to a warrant, Cutting told police, "Arrest me, I killed her."
Last month, Cutting waived her right to a preliminary hearing.
Defense Attorney Blair Howard, known for defending Lorena Bobbitt, wouldn't elaborate on the mental issues he said Cutting, his client, faced and would not confirm if she had undergone a psychological evaluation.
Cutting is set to appear in Radford Circuit Court at 1 p.m. Monday.
This is a developing story; stay with WDBJ7 for details.
Copyright 2019/WDBJ7. All rights reserved.