Roanoke City Public Schools teacher to be inducted into National Teachers Hall of Fame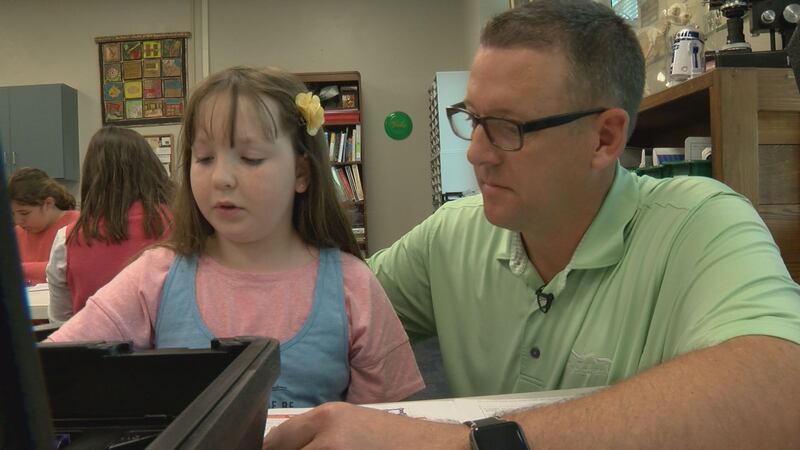 Published: May. 23, 2016 at 5:55 PM EDT
A Roanoke City Public School teacher is getting a rare honor.
He's a 2016 inductee of the National Teachers Hall of Fame.
This Crystal Spring Elementary School fifth grade teacher loves teaching and respects each of his students.
One look inside Wade Whitehead's classroom and you'll know it's different.
Ask his students about their teacher and they'll tell you, he's different.
"He's not like the other teachers in a definitely good way," said Elijah Lee-Spurell.
"He's really fun and he lets us do a lot of fun games to help us learn," said Rebecca Collier.
Whitehead is a fourth generation Virginia public school teacher, and he's been teaching for 22 years.
"Every child matters. Every voice is heard. Everybody has a chance. And there's something really appealing and exciting about that to me. Something I want to be a part of," says Whitehead.
His students have definitely noticed that he's different than other teachers.
"We're having so much fun and the games don't feel like you're learning but the whole time you are," said Collier.
"Along the way I've just paid attention to what my great teachers did and I try to emulate that in my own classroom," said Whitehead.
He says the best teachers he knows understand three things, "They understand their content and they love it. They understand how to teach and they love teaching. But most importantly they understand rapport and relationships."
Now he's getting national recognition as one of five teachers in the country to be inducted into the 2016 Teachers Hall of Fame.
The opportunity has even given him the chance to meet with President Obama.
"I had planned just to say to the president, thank you for all you do. And he beat me to the punch when he said Mr.Whitehead, thank you for all you do and that was a moment I'll never forget," said Whitehead.
Now that the school year is wrapping up, Whitehead will go to a formal ceremony in Kansas to be inducted.
You need to have 20 years of experience teaching to be considered so he'll be one of youngest inductees.