Roanoke City Schools discover hundreds of students may be color-blind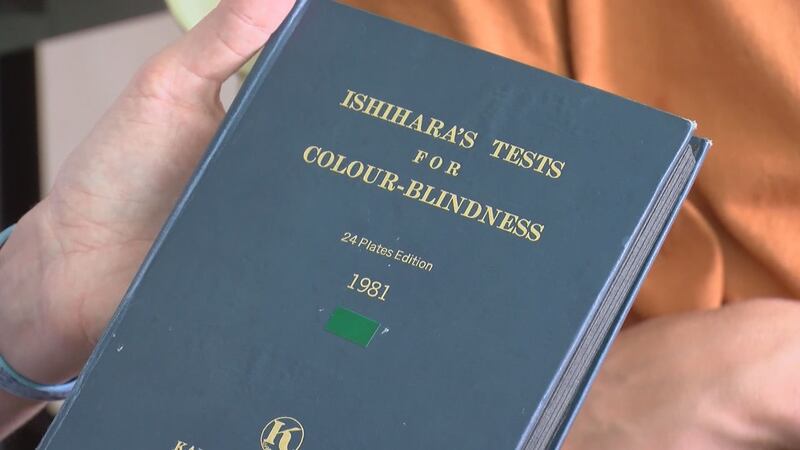 Published: Dec. 6, 2018 at 9:01 AM EST
For the first time, thousands of Roanoke City school children were tested for color blindness this school year.
Hundreds have been identified as color vision deficient and district officials think it should be taken seriously by the entire commonwealth.
Dr. Elizabeth Martin's son Alex is colorblind. They noticed when he started having trouble in the classroom.
"Sometimes he wouldn't see pastel chalk on a chalkboard," Martin recalled during an interview in July.
She said Alex's teacher made adjustments, but Dr. Martin worried Alex's peers may be struggling, too - undiagnosed.
She took her concerns to the school board, where Superintendent Dr. Rita Bishop knew exactly what she was getting at.
"Well I can tell you that I'm probably wearing right now the only colors that my husband can distinguish clearly," Dr. Bishop said with a smile.
Dr. Martin worked with Dr. Bishop to develop a plan to test 11,000 students in grades K-12 throughout the semester. They bought 20 testing kits for less than $1,000 that can be reused.
"I volunteered to help the nurses test and realized many of these kids had no idea they were colorblind," Martin said.
Not only that, she says, but it could be affecting their performance in the classroom.
"One child said, 'Sometimes I'll just put my head down in class and go to sleep if I can see the slides," Martin said.
They found that 2.7 percent of children tested in the district could have color-blindness. That amounted to several hundred students and was on par with outside studies on color-blindness.
"For some it was a missing piece of what they might have been missing but they never could put their finger on it," Martin said.
Unlike the studies that posit most color-blindness in the white male population, Martin said she noticed students of all ethnicities and genders among the 2.7 percent.
What's more, she said a decent chunk of those potentially color blind students are in special ed, prompting Dr. Martin to ask, "Do they really have special needs or are they just color blind?"
"If a child has been misdiagnosed special ed," said Dr. Bishop, "...I think that you might have a lot of symptoms of requiring services just because you can't see."
Students in that near 3 percent were sent home with a note, recommending a visit to the eye doctor.
Meanwhile, teachers in the district will learn how to make their classrooms universally seen.
And these Dr. Martin and Dr. Bishop have a vision for the future which involves mandating clarity for all of Virginia's students.
"And I think it is our responsibility in the entire commonwealth, which was our point to the department of ed, and it's on our legislative agenda, that I think this should be mandated," said Dr. Bishop of the testing.
She said the Department of Education has already made efforts to make the online standardized testing more visible for all students. Additionally, the district is working to see if they can provide colorblind students with special glasses to help them see.
Moving forward, Dr. Bishop said students in select grades and all new students will continue to be tested for color-blindness to be sure they're performing their best in the classroom.
"And I just want kids to see the world."