Roanoke Valley Governor's School students head to international science fair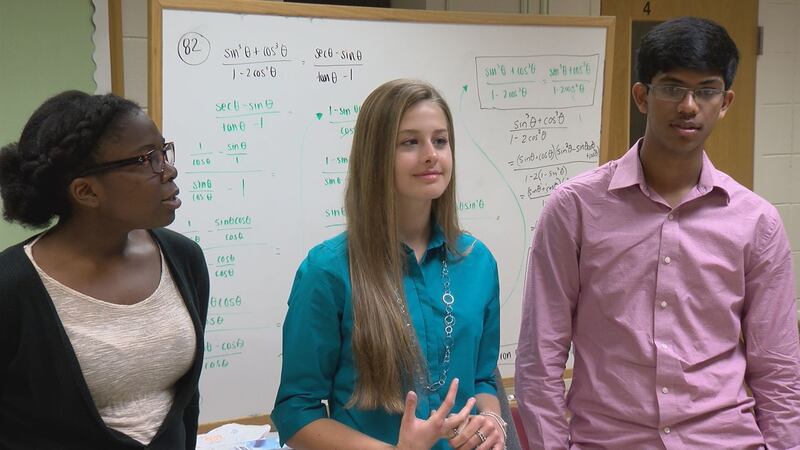 Published: Apr. 19, 2016 at 5:46 PM EDT
Three students at the Roanoke Valley Governor's School could take home a $75,000 award next month, and it's all because of science.
Vishnu Karri, Alexus McBride, and Chichi Ugochukwu go to different schools across the region but together are headed to Phoenix, Arizona for the International Science and Engineering Fair in May.
They'll be competing against almost two thousand other students.
Each of them in a different field.
Hidden Valley High School Sophomore Vishnu Karri's project has to do with chemistry. "One of the rising problems in the medical field is the hydrophobicity of drugs, or drugs that won't dissolve in water. I created a gel particle that encapsulates such drugs so they could be made more available to the commoner," said Karri.
Franklin County High School Senior Alexus McBride's project is a social experiment. "Seeing if a social network can be used to treat those who are in recovery from substance use addiction," said McBride.
William Fleming High School Senior Chichi Ugochukwu's project involves microbiology, more specifically Streptomyces. "I was looking at the compound that they produce to investigate the compounds they produce and the antibiotic and antitumoral agents in those compounds," said Ugochukwu.
For each of these three students, it's a humbling experience.
"It kind of makes me feel good to know that I can actually do science," chuckles Karri.
"Surprised, mostly, " said Ugochukwu. "I was really pleased with how project went but there's also so much more than can be done."
They all want to take their projects beyond the science fair.
"Maybe in the future it could be used for other forms of social support," said McBride.
"Theoretically it could help MRSA but further testing has to be done to just to make sure it
could actually work," said Karri.
They all hope to one day go into some type of medical field.
And it's just the beginning of their journey.
"It's really good to see the base that we get here in high school does mean something in the future," said Ugochukwu.