Roanoke holds domestic violence awareness event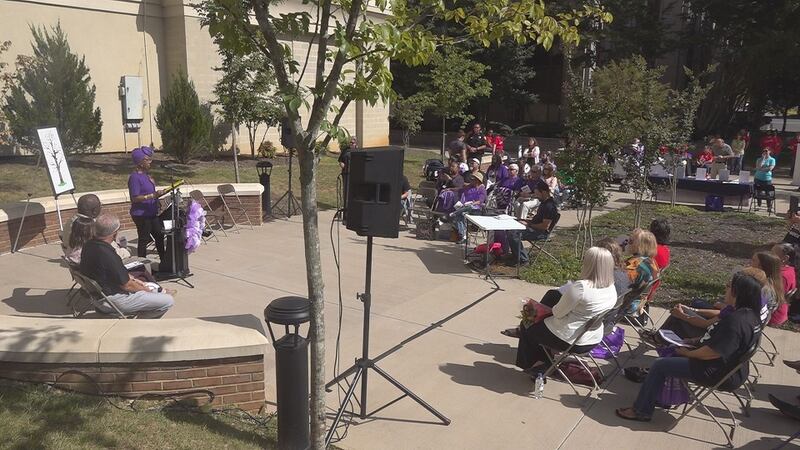 Published: Oct. 11, 2019 at 6:06 PM EDT
This month is Domestic Violence Awareness Month. Survivors were recognized Friday at an event here in Roanoke. It was not just about healing but also about sparking a conversation.
"Aveion Lewis was only two years old. He suffered in secret, now he's home with the lord," Gloria Preston read aloud in a poem for her nephew Aveion Lewis, a 2-year-old Roanoke boy who died in 2010. His step-father was found guilty of abusing and killing him. She hung a butterfly on a remembrance tree for Aveion at Friday's Domestic Violence Awareness Event.
"That felt so great because I'm sure that Aveion was looking down from heaven and seeing me and his grandmother Bridgette Mason pinning that on him so he can get that recognition so his life can be of value," Preston said.
This event took place for people like Aveion and Preston, who, like her nephew, was also abused. City leaders, including the Roanoke Mayor and Police Chief, were there to show their support for survivors.
The event gave the community a chance to come together to show domestic violence is an epidemic. It affects 1 in 4 women and 1 in 7 men nationally. That's according to data from Total Action for Progress.
"We want to be able to break that cycle, generational abuse," Stacey Sheppard, Director of Housing and Human Services for Total Action for Progress (TAP), said.
TAP wants to make sure domestic abuse isn't ignored.
"Silence hides violence, and so anytime we can be out in the community and people can be talking about the issue of intimate-partner abuse and domestic abuse because you don't just see it, it's not always bruises and broken bones, it's so much more," Sheppard added.
Like in Lesley Harrop's case, who was abused verbally, mentally and eventually, physically.
"I felt very alone when it came to reaching out for help," Harrop said.
She wants to tell those who currently are being abused, "They are loved, they are enough, they have always been enough."
Resources on how to get help were available.