Roanoke mom helps bring colorblind testing to local schools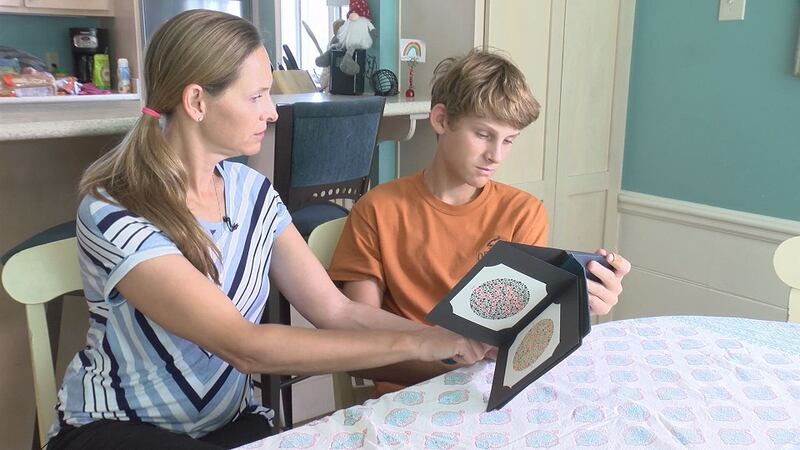 Published: Jul. 18, 2018 at 5:29 PM EDT
Starting in the fall every student in Roanoke City Schools will be tested for colorblindness.
It's an effort led by a local mom who says Color Vision Deficiency could be a real problem in the classroom.
Local mom Elizabeth Martin realized early on, her oldest kid wasn't seeing everything she could see.
It took some observation, some questions and just a simple test to figure out why.
Her son Alex, she found out, was color blind, which became a challenge in the classroom.
"Sometimes he wouldn't see pastel chalk on a chalkboard," Martin recalled.
She became more concerned when he started taking standardized testing online.
She realized he might not be seeing questions properly, and therefore worried his scores might be adversely affected.
"When we were growing up, everything was black and white so it wasn't as much of an issue," she said. "But as the classroom has become more colorful, it becomes more important to try to make it less colorful for kids with color vision deficiency."
She brought her concerns to his teachers, who began making adjustments to help Alex see.
"They won't use say yellow like bright yellow on a white background, they'll instead use white and black which is helpful," 14-year-old Alex said. "And they don't always use colorful backgrounds which makes it easier to see."
But Martin didn't stop there.
She went to Virginia's department of Education and Roanoke City Schools.
The district agreed and now has 20 color blind testing kits to use on every student starting this fall.
Martin is glad her vision for local schools is coming to life.
"It feels great to know that I can possibly improve the lives of these kids that otherwise may struggle and not know why they're struggling."
Her son is glad his mom is able to speak up for other kids who might be in need and not even know it.
"I think it's really good because some of them don't have advocates for them and some of their situations and so I think that's really good," he said.
District leaders say all the kits they bought are less than $1,00 and can be reused each year. After an initial test of every student this year, for the following years Roanoke City Schools will test all first graders
District leaders say this something they're asking the Virginia School Boards Association to make a legislative priority.