Salem Goodwill gets solar array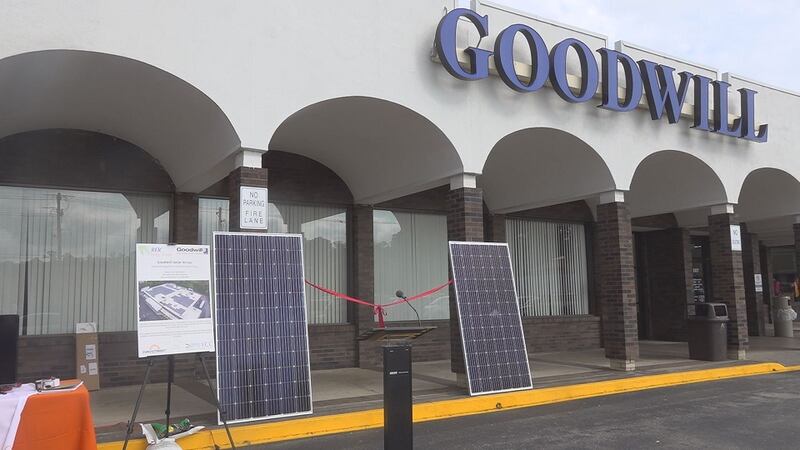 Published: Oct. 7, 2019 at 4:05 PM EDT
Goodwill has just become one of the only non-profits in Salem to use solar energy.
Officials from
in Salem gathered Monday morning for a special announcement.
"We've had a dedication of our new solar array, and we are able to celebrate the fact that we're going to be reducing our carbon footprint," Bruce Phipps, President and CEO of Goodwill Industries of the Valleys, said.
Phipps joined solar industry partners from RER Energy in a ribbon-cutting to unveil the 236-killowatt solar array.
"It demonstrates to the community that we are going to be responsible, we are taking care of our environment. We've been doing that for over 100 years, as part of Goodwill's initiative to recycle and re-purpose items in our community," Phipps said.
With the new solar panels on Goodwill's roof, the non-profit will be creating more than $400,000 in energy cost savings.
"Solar has become much more cost effective over the last several years. As the cost of the equipment and the lower cost of financing has come to be, solar has become more of a viable economic solution," Rodney Rose, the RER Project Developer for the Goodwill solar array, said.
Goodwill can use these savings to help further its mission.
"It's saving dollars that we can put then to services and helping people get back to work," Phipps said.
This is one of the first non-profits in Salem to work with solar energy.
"I think it's phenomenal that we have organizations that are trying to reduce the carbon footprint," Melinda Payne, Director of Economic Development for the City of Salem, said.
Payne believes this Goodwill could lead the way for other Salem businesses.
"It sets the tone for other organizations," she said.
Copyright 2019/WDBJ7. All rights reserved.