SeaQuest responds to petition with nearly 1,000 signatures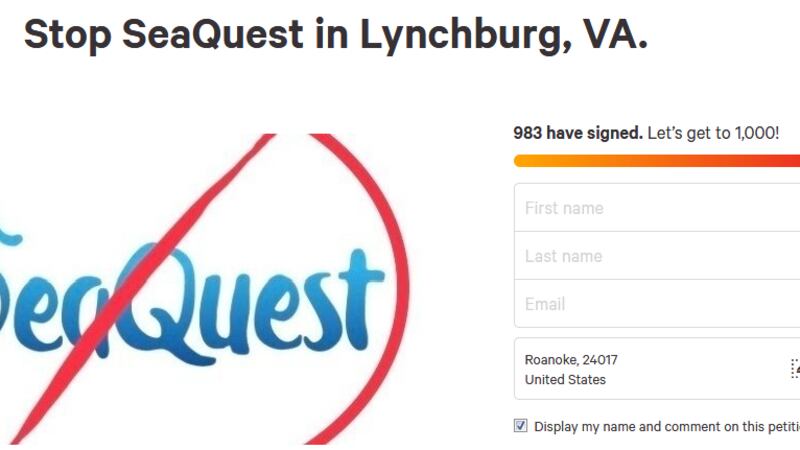 Published: Mar. 22, 2019 at 10:55 AM EDT
SeaQuest has responded to a petition created last week that nearly 1,000 people have signed, stating they do not want to see the aquarium come to River Ridge Mall in Lynchburg.
The petition started on Change.org by Elizabeth Russell, titled '
' claims, "the Lynchburg community does not support an organization that exploits animals for profit."
The petition continues by saying the organization only cares about money rather than the care of animals, due to the company "failing animal welfare inspections, mistreating animals, and breaking the law."
As of Wednesday morning, Change.org says the petition stands at 985 signatures.
SeaQuest officials said they have seen activists share misleading information and present it as facts. SeaQuest claims that activists "pad their 'supporter' numbers with people that don't even live in the communities."
Their statement reads:
Recent news stories have brought to light inaccurate and misleading information about SeaQuest, and how we care for the animals at our facilities. The SeaQuest family is committed to delivering a safe, educational, and fun interactive experience at each of our facilities for the animals, our guests, and team members. We demonstrate that daily not only to our guests, but by partnering on community efforts to support animal rescue and adoptions, foster children programs, food and school supply drives, among other many other initiatives. We look forward to opening in Lynchburg and welcome community based organizations that would like to learn more about how we can work together to have a positive impact in the community. According to a news release from SeaQuest, the aquarium delivers the ultimate interactive animal experience for millions of guests each year. Each site has vet supervision, a team of biology and zoology experts with over 100 years combined experience at every location, and follows strict standard operating procedures and processes. In addition, each facility works closely with local, county, state, and federal agencies to ensure all regulations and guidelines are in compliance - the same is true for the Lynchburg facility.
SeaQuest has nine locations across America, some receiving similar criticisms.
A Fox-affiliate newstation in Colorado,
, investigated complaints of 'unsanitary, unsafe conditions' at on of the locations at a Colorado mall.
KDVR obtained records, stating that SeaQuest failed both its initial inspection and state's follow-up inspections. Video obtained by KDVR shows a SeaQuest employee swatting a dustpan at birds inside of a birdcage.
An educator at SeaQuest Las Vegas spoke with the
and claimed at least 300 animals died before opening its location.
, a 'hands-on interactive animal experience,' announced its plans to come to the River Ridge Mall in Lynchburg late this summer. It plans to hire 75 full and part-time employees.