State Water Control Board approves permit for Mountain Valley Pipeline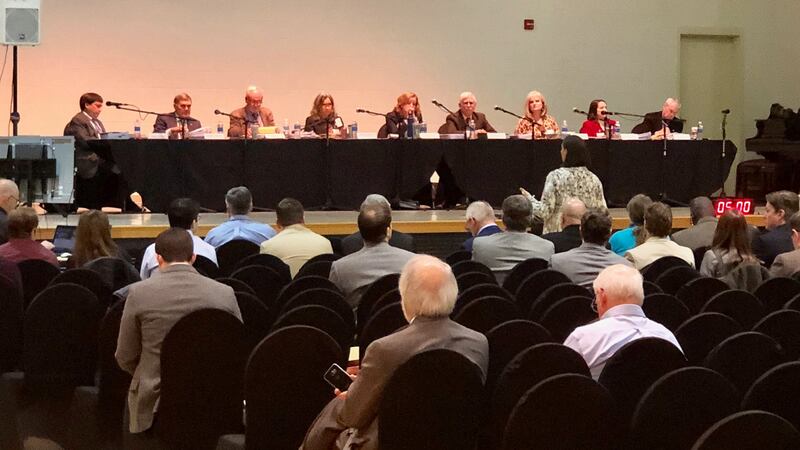 Published: Dec. 7, 2017 at 6:48 PM EST
The State Water Control Board has granted a permit for the Mountain Valley Pipeline.
Members voted late Thursday afternoon, approving changes that were designed to preserve the opportunity for additional state oversight after the U.S. Army Corps of Engineers completes its review of the project.
The vote was 5 to 2 in favor of granting the permit.
Opponents of the project were disappointed with the result, saying the board was guilty of a rush to judgment, making the decision without adequate information.
Carolyn Reilly is a Franklin County landowner, whose farm lies in the path of the proposed natural gas pipeline.
"It felt like there was a glimmer of possibility in our favor, in favor of doing what is right," Reilly told WDBJ7. "And so literally I just feel like my head was spinning, and shell-shocked I suppose."
Bill Wolf is with the group Preserve Craig.
"The DEQ staff in collusion with MVP, forced the decision to be made today, prematurely, without adequate information, guaranteeing harm to Virginia's water," Wolf said.
The pipeline company has defended the environmental review of the project, and the plans and practices it says will protect water quality.
"I'd like to assure you," Project Director Robert Cooper told the board Thursday, "we are dedicated completely to building this project in an environmentally responsible manner."
The company released the following statement Thursday evening after the vote:
"The Mountain Valley Pipeline (MVP) project team is, of course, pleased that the Virginia State Water Control Board has completed its supplemental water quality review process by imposing certain additional conditions on the MVP project.
Since the onset of the MVP project, we have worked to design a route with the least overall impact to landowners and communities; and to preserve and protect sensitive species, historical resources, and the environment, including streams and wetlands. In doing so, the MVP team has worked closely with state and federal environmental agencies to provide accurate, comprehensive information that would allow for a thorough environmental review of the project.
Today's action by the Virginia State Water Control Board in approving the additional conditions recommended by the Virginia Department of Environmental Quality provides further assurance that the MVP project will be constructed in an environmentally responsible manner."
The Virginia Department of Environmental Quality released the following statement after the vote:
"This certification is part of the most rigorous regulatory process to which a proposed pipeline ever has been subjected in Virginia. DEQ's technical staff has been diligent to ensure that all appropriate practices are in place to meet all water quality challenges identified. We have worked closely with our attorneys to make sure that we have met all of the requirements of state and federal law for which DEQ is responsible. If this project proceeds, we expect to hold the developers to the highest standards for which they are accountable."
Opponents say their fight will continue. They say a legal challenge to the board's decision is likely.