Tractor trailer driver charged with reckless driving after 7-vehicle accident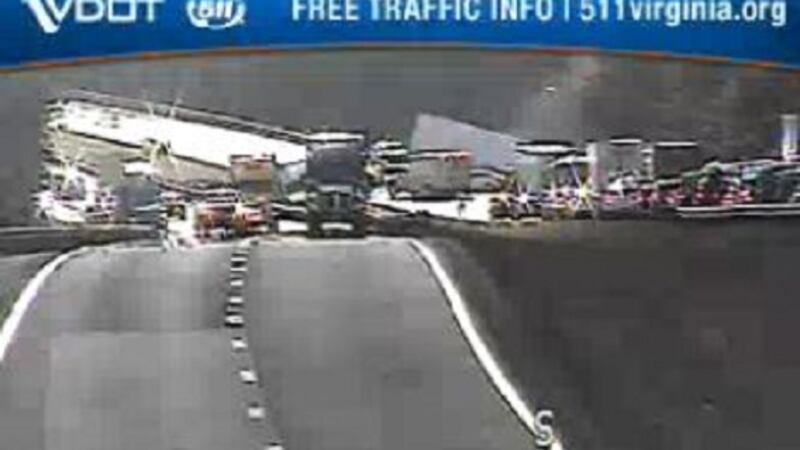 Published: Dec. 27, 2017 at 3:31 PM EST
A tractor trailer driver has been charged after a 7-vehicle accident that happened on Interstate 81 in Pulaski on Wednesday.
Miriam U. Campbell, 32, of Gastonia, North Carolina, was charged with reckless driving.
According to Virginia State Police, Campbell was driving south when her tractor trailer sideswiped another tractor trailer in the adjacent southbound lane.
The impact of the crash caused both tractor trailers to run off the left side of the interstate and into the median.
Campbell's tractor trailer stopped in the median, but the one she hit continued across the northbound lanes and struck five passenger vehicles.
That tractor trailer then went over the guardrail off the right side of the northbound lanes.
Campbell was wearing her seat belt and was not injured in the crash.
The driver of the other tractor trailer, who is from Tennessee, was wearing his seat belt and was not injured in the crash.
A woman in one of the five passenger vehicles was flown to Roanoke Memorial Hospital for treatment of serious, but non-life threatening injuries.
Two other people were treated and released at a nearby hospital for minor injuries.
Another person was treated at the scene for minor injuries.
Virginia State Police has confirmed three minor injuries as a result of the tractor trailer wreck. One person, a passenger in one of the vehicles, was airlifted from the scene. There is no word yet on her condition. Seven total vehicles were involved in the crash.
The left lane of I-81 South is back open. Crews expect it to take around four hours to clear the area completely.
A tractor trailer accident has closed all lanes of I-81S in Pulaski County, just south of Exit 94.
VDOT reports the south left shoulder, left lane, right lane and right shoulder are all closed, and delays are around 6 miles long.
Traffic is currently being detoured off at Exit 98.
Stay with WDBJ7 for updates.