Virginia Tech rethinks the future of home building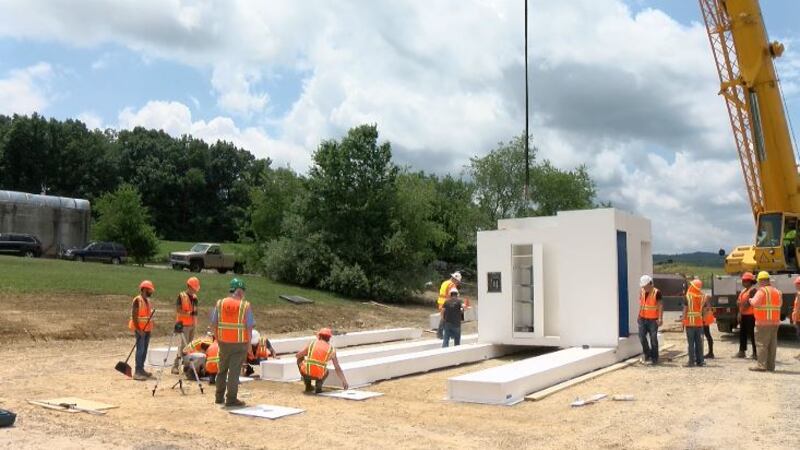 Published: Jun. 13, 2018 at 4:07 PM EDT
It was a hot day at the construction site. Virginia Tech students were hard a work building FutureHAUS Dubai.
"The overall concept for this is to rethink how we build houses," Joe Wheeler, the project lead and a professor at Tech, explained.
"FutureHAUS is a modular design with different cartridges and each cartridge represents a different part of the house," VT graduate Kunal Gandhi said.
Cartridges are basically the rooms that make up a house, like a kitchen, bathroom, or bedroom.
"We actually build each part of the house beforehand and then we just assemble them on site," Gandhi said.
Wheeler said the future is digital so it wouldn't be surprising if soon building houses was also done online.
"Maybe in two to three years, maybe four, we'll be ordering components of homes on Amazon," Wheeler said.
He explained that with this concept you could design a new kitchen online, have it delivered straight to your house, then in a couple of days you have your brand new kitchen.
"They're plug and play," Wheeler said. "They're stacked into place. It's almost like building a house like a Lego house."
The house they're currently working on is being designed specifically for the Solar Decathlon Middle East competition in Dubai next November. Gandhi says this house is one of the best designs they've ever done.
"Most energy efficient and quickest to assemble; the newest technology that's not even really out on the market yet," Gandhi said excitedly.
Besides prize money and recognition for their school, they have another incentive to win.
"We want to create an assembly factory for these kind of houses," Gandhi said.
The students have also worked with FEMA to see how these fast-assembled houses can help victims of natural disasters.