Virginia Tech team designs device to help change disabled veteran's wheelchair wheels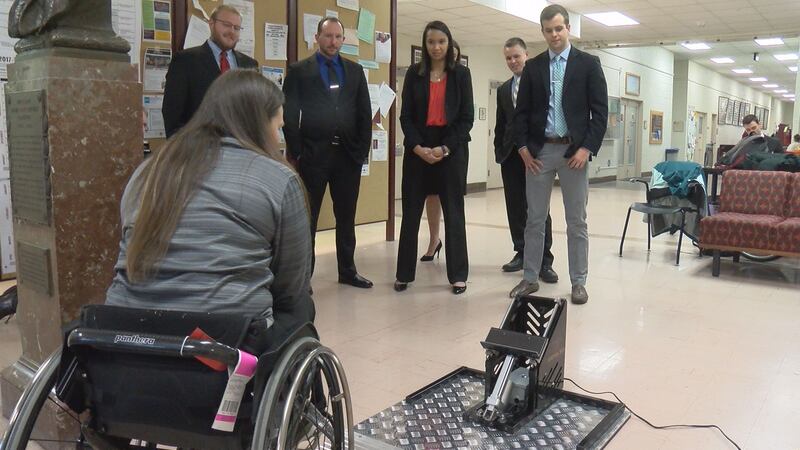 Published: Mar. 21, 2018 at 9:21 PM EDT
While the snow can be a burden for anyone, it causes unique problems for people with disabilities who use wheelchairs.
But a team at Virginia Tech believes they've solved one big problem after working with a disabled veteran.
After ten years serving in the army, Tammy Landeen of Caribou, Maine was paralyzed in a horseback riding accident. A big problem she now faces every year is something many likely wouldn't think of.
Landeen grew up in Maine and pointed out there's usually much more snow there than in Southwest Virginia.
So she needs special treaded wheels to get through the snow along with the kind she has on here for indoors. But switching them out is quite a process.
She described the process saying, "I have to grab my other wheels, balance them on my lap, go to a chair, transfer out of my wheelchair onto the couch, change my wheels, transfer back into my wheelchair, and then take the muddy ones back outside."
She then has to mop all the snow and mud she brought in the house.
The same issue comes up in the Spring and Summer as she likes to garden, but the wheels she uses indoors cannot make it across the grass.
Enter a team of Virginia Tech Mechanical Engineering students.
Senior Colin Jones explained, "What we needed to design was a device that could lift her a little bit off the ground so she could pop a dirty wheel off and put a clean one on, just like you change your shoes."
Working with Landeen to get her input as someone in a wheelchair every day, the team came up with 29 designs. They finalized down to the device they presented to Landeen Tuesday and had her test.
With a push of a button, it's like a NASCAR pit stop, raising the wheelchair and her off the ground enough to be able to remove wheels and replace them with others.
It's something these students know will change Landeen's life forever.
Virginia Tech Senior Kristine Baisa said, "That's why, I think, a lot of us go into this sort of profession is to have an opportunity to improve something and if it can improve the life of someone else, that's even better."
And when asked if it really will improve her life, Landeen said, "It's better than anything I could have imagined."
The device will now be finalized and at the end of the semester, shipped up to Landeen at her home in Maine.
The design will be given to the sponsoring company, QL+, which does work to improve the lives of those injured in the line of duty. That company will decide whether or not to patent the design and mass produce it for disabled people all over the world.