Virginia lawmakers continue to explore options for improving Interstate 81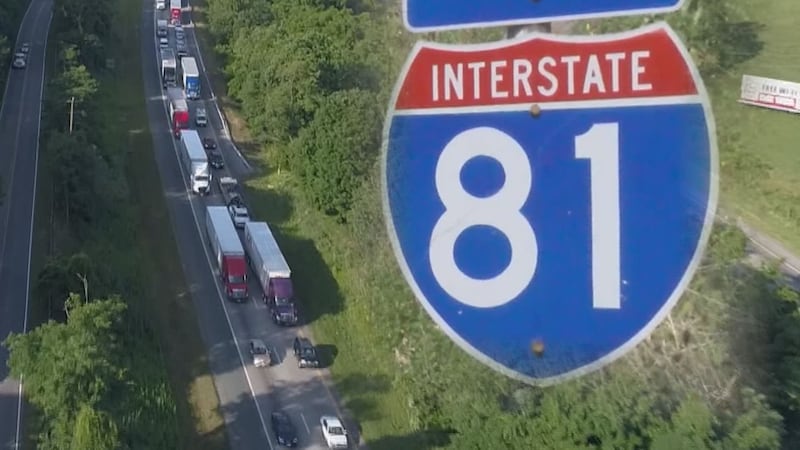 Published: Feb. 14, 2019 at 8:54 PM EST
It's a common, but unpredictable problem along Interstate 81. Traffic crashes often block the highway and leave traffic backed up for miles.
"Interstate 81 is a real challenge for anybody who lives along the corridor or does business along the western part of Virginia," said State Senator Mark Obenshain (R-Harrisonburg).
Data collected by the Virginia Department of Transportation shows about 2,000 crashes happen along Interstate 81 every year. Around 45 of those incidents take at least four hours to clear.
That's a significant loss of time for trucking businesses like Lawrence Companies, based in Roanoke County.
"We have about 250 trucks and Interstate 81 is our lifeblood," said Peer Segelke, CEO of Lawrence Companies.
More than one-third of all trucks traveling in or through Virginia use Interstate 81. That's around 11 million trucks carrying 312 billion dollars worth of goods.
When the highway is shut down, even for just a few hours, businesses owners and truckers say they lose money.
"Most drivers are compensated based on the miles they travel," said Segelke. "For the driver themselves, they're not making any money while they're sitting in traffic."
Unlike Interstates 95, 64, and 66 which backup in urban areas during predictable rush hours, more than half of all the delays on Interstate 81 are caused by unpredictable incidents, ranging from crashes to weather and work zones.
"Those of us in the legislature representing the 81 corridor have agreed on one thing: that it needs to be fixed," Obenshain said.
In 2018 Virginia's transportation officials developed the Interstate 81 Corridor Improvement Plan, a report that details problems along the highway and solutions that could cost around 4 billion dollars. The report was released in December, after a year of study.
Lawmakers took immediate action. In January legislation was introduced that would have paid for improvements to 81 by tolling drivers. The proposed rates were 11 cents a mile for cars and 17 cents a mile for trucks.
"The vast majority of the cost would be picked up by the trucking industry," said Segelke. "That's problematic because it's not just trucks on the road."
Trucking industry leaders like Segelke came out strongly against the tolling proposal, prompting a change in Richmond.
"We are going back to the drawing board, trying to come up with some solutions that meet some of the objections," Obenshain said.
Delegate Steve Landes was a patron of the original toll legislation, but after getting pushback he changed course.
"The good news is the General Assembly, both the house and senate, have agreed that we need to move forward on making improvements to Interstate 81," said Landes (R-Rockingham County).
Landes introduced a bill, which passed in the house of delegates and is now awaiting approval in the state senate. It calls for the formation of a committee, made up of lawmakers and transportation officials along the Interstate 81 corridor, along with local planners. They would study what drivers and other stakeholders will tolerate when it comes to paying for work on 81.
"It has to be something that gets through the General Assembly and it has to be something that the public buys in to," Landes explained.
The problem, Landes says, is that the options for funding 81's needed improvements are limited. Tolling, he says, was thought to be the best way to put the cost of fixing 81 on drivers who use the Interstate.
"With a lot of these sources, we're not collecting from the people who use the road coming from outside the state," said Landes.
Landes thinks funding could come from an increase in state gas and sales taxes, but he doesn't favor that option alone.
"It's putting more of the burden on those of us who live in the corridor, less of a burden on those people who are traveling through the corridor," Landes said.
Organizations opposed to tolling, like the Alliance for Toll-Free Interstates say that option carries a lot of what they call "unintended consequences."
"The reality is that people don't like tolls and they drive around them, and so what you see is traffic diversion onto secondary roads," said Stephanie Kane with the Alliance for Toll-Free Interstates.
Kane believes highways like Routes 11, 29, and 460 would see a sharp increase in traffic, especially from trucks, if tolls were applied to 81.
"They're talking about tolling a road that people currently access without having to pay any tolls," Kane said. "There is no doubt that you would change driver behavior when you introduce any kind of new cost on the road.
Kane said toll roads are not an efficient way of raising money. She points to the Triangle Expressway, an 18-mile highway near Raleigh, North Carolina. Even though tolling on the highway is completely electronic, with no human toll collectors, Kane says 36 percent of every dollar collected went to overhead costs that cover the toll road's operation.
"Toll operators are in the business of making money by running a road," said Kane.
Ultimately, Landes said tolling in some form may be necessary to address 81's needs.
"I've said from the beginning that I'm open to any and all sources," said Landes.
He hopes the committee that could be formed by his legislation will find a consensus on funding, based on public input.
"Hopefully the public will buy and the legislators will buy into either an option of tolling or gas tax, or some other kind of fees," Landes said.
Obenshain, who authored the legislation that led to the 81 corridor improvement plan, hopes momentum built up over the last two years to address the Interstate's problems will continue.
"We're going to make it a priority. It's my hope that we're going to be able to come up with a plan," Obenshain said. "The sooner the better."