Virginia researchers say new car technology is cutting down on crashes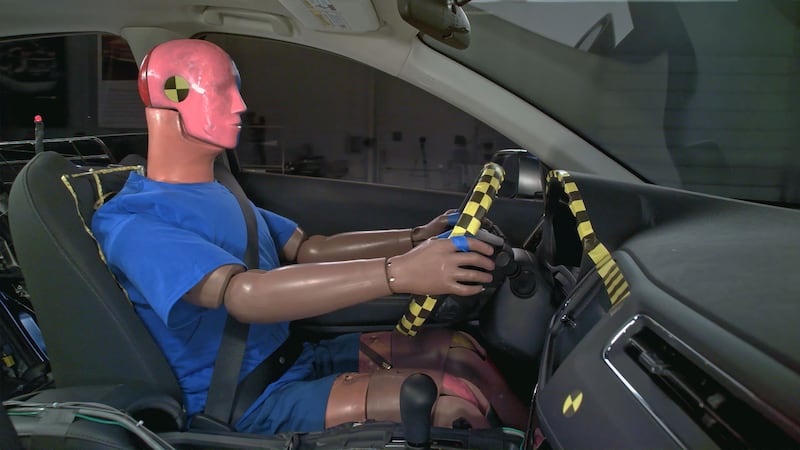 Published: Feb. 3, 2019 at 4:06 PM EST
When you hear the name Insurance Institute for Highway Safety, the first image that comes to mind might be that of a crash test.
The nonprofit, funded by automotive insurance companies, wrecks vehicles at a facility near Charlottesville to learn how drivers might be impacted by a variety of accidents.
"The research we do here has a direct impact on safety on the roads today," said Becky Muller, a Senior Research Engineer at the IIHS.
Their research isn't limited to just crash tests. Some of their work involves helping drivers avoid crashes altogether.
"Over the last few years, we've seen a lot more of the systems that help prevent drivers from getting in crashes in the first place," said David Aylor, Manager of Active Safety Testing for the IIHS, which researches features on new cars that are designed to prevent collisions.
In the last 10 years, many automakers have introduced technology that can see objects in front of or behind a car and automatically stop the vehicle.
Other safety features are designed to keep drivers from veering into other moving vehicles or leaving the road. Technology known as "lane assist" can read markings on the pavement and partially steer the car to prevent drivers from leaving their intended path.
"(The technology) will follow other vehicles and maintain your position in the lane, but it's not a replacement for an actual driver," Aylor explained.
Some lane assist technology will apply the car's brakes if the driver starts to drift.
Features like this are common right now in high-end, luxury cars, but Aylor said the technology is starting to appear on more mainstream vehicles as well.
Many vehicles can set off an alarm when the car veers out of its lane but it's up to the driver to steer back into place. Aylor says features like automatic breaking to prevent front-end crashes will be common on a wide selection of vehicles within the next five years.
"There's a voluntary commitment by most manufacturers to make (front-crash prevention) standard by 2022," Aylor said.
Also becoming widely available are warning lights appearing in rear-view mirrors to alert drivers when a vehicle is in their blind spot.
"They help you detect if there is a vehicle in your blind spot and will warn you if you try to change lanes," said Aylor.
Adaptive cruise control features use sensors to maintain speed and automatically slow down when necessary to keep cars a safe distance away from other vehicles.
Dynamic headlights can pivot as drivers navigate winding roads, and many cars now come equipped with backup cameras and sensors that alert drivers to surrounding objects and, in some cases, stop the car to avoid a collision.
"We're seeing more of these systems available on cars," Aylor said.
That's thanks, at least in part, to the testing that happens at the IIHS. Automakers value the ratings assigned by the agency and want to receive high marks for their safety features.
"Because we rate them and we evaluate them, we started to see them becoming optional on more vehicles."
Since the introduction of crash avoidance technology, researchers at the IIHS say they've noticed a decline in certain types of fender-benders.
"When we look at police-reported crashes, we're seeing a 50-percent reduction in front-to-rear crashes," Aylor said.
Creating safer conditions on the road, and for the Insurance Institute's researchers they hope it will lead to fewer crashes like the ones they so often evaluate.