WDBJ7 In-Depth: A look at the growth of home school education in Virginia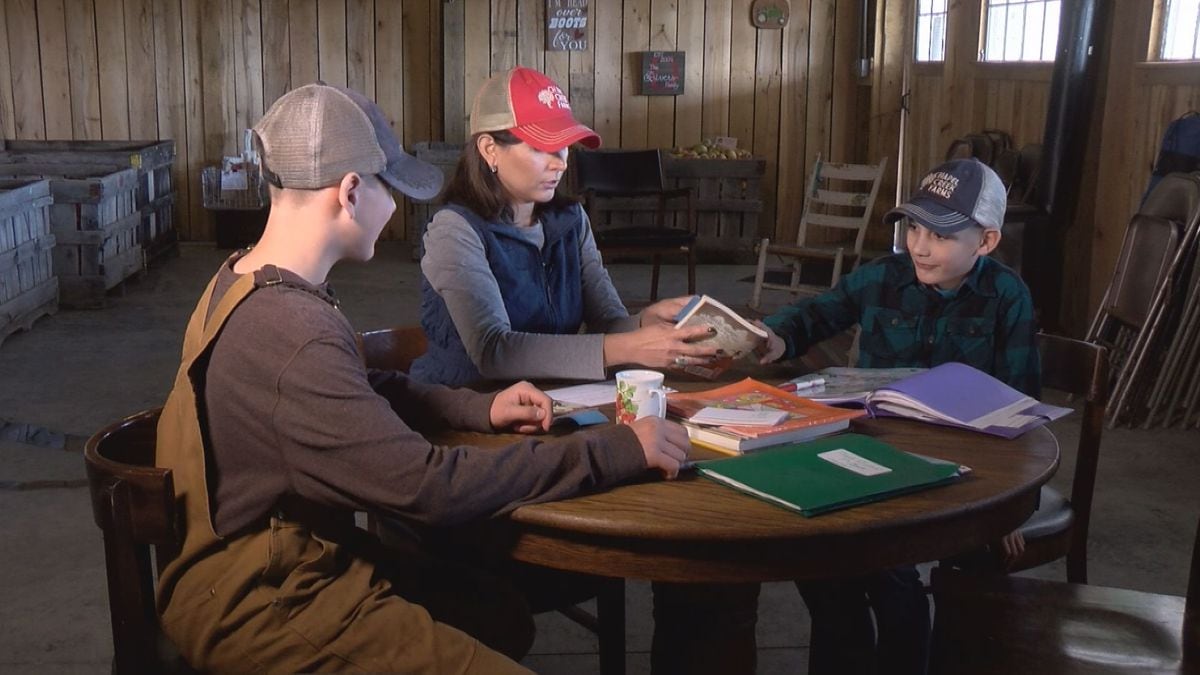 Published: Dec. 2, 2019 at 8:22 PM EST
Inside the barn of her family fruit orchard, Melody Divers reads the novel
James and the Giant Peach
as her sons listen.
Storytime is something many parents share with their children, but Divers is conducting a formal lesson. Since last year she's been educating her sons at home, one-on-one.
"It's been a joy, really working with them and experiencing their 'light bulb' moments or their genuine moments where they are like 'oh, I just got that!" Divers told WDBJ7.
Divers taught in a public school for 15 years. She recently left that career to start working with her husband in their family business, an orchard called "Chapel Creek Farms."
"We were thinking about how our schedule needed to be more flexible with the things we had coming up," Divers said of the decision she made with her husband.
Once she started working at home, Divers realized she could teach her sons there, too.
"If you had told me before that I will be a homeschool mom, I would have laughed in your face and laughed hard," Divers said. "Now, I just can't imagine not doing it."
Divers is far from alone. In Bedford County 10 percent of the school-aged population, around 886 students, were home-schooled last year - one of the highest percentages in the state.
Only Floyd County, where 14 percent of students were educated at home, had a higher ratio.
"The data alone speaks to an increase in popularity of home schooling," said Charles Pyle, director of media relations for the Virginia Department of Education.
According to the DOE's data, 36,984 students in the commonwealth were home schooled during the 2018-2019 school year, tripling the 11,443 who were educated at home 20 years ago.
"Twenty years ago there were many more requirements to home school than there are today," Pyle explained.
Since 1999, Virginia's General Assembly has changed laws that regulate home school educators.
"At one time parents had to have a four-year degree, or follow a correspondence course approved by the state department of education," Pyle said.
Today Virginia parents only need a high school diploma to teach at home. They can also qualify by simply showing their local school division proof that they can provide an adequate education for their child.
"Parents are looking for choices. They're looking for alternatives in education," said Yvonne Bunn, director of homeschool support & government affairs for the Home Educators Association of Virginia.
Bunn said many parents home school as a way to pass along their cultural or religious beliefs. In recent years she's also heard from parents who have chosen to educate at home amid concerns about bullying and safety in public schools.
"We are receiving more and more phone calls from parents, who are concerned about the anxiety level of their children not wanting to go back to school," Bunn said.
Bunn taught her children at home 30 years ago, at a time when fewer people in Virginia followed the practice. She said parents who home school today have many more resources available to guide and support them.
"Through co-ops, through online learning, through dual enrollment in community colleges, there are tremendous options for home school families out there," Bunn said.
Home school co-ops or cooperatives are groups of families that band together to provide a structured curriculum and extracurricular activities like field trips.
"It provides accountability," said Judy Wisler, who educates her children as part of a co-op in Franklin County called "Classical Conversations."
Wisler said she likes the interaction with other families and the support she gets from having a curriculum developed with her peers.
"It provides a focus, instead of me trying to figure out how to integrate everything. It's all figured out for me," Wisler said.
Wisler's co-op visited Chapel Creek Farms on a recent field trip. They learned about the business of running an orchard, something Divers says she incorporates into the daily education she provides for her sons.
"Home schooling doesn't look the same for everybody," said Divers, who emphasized her sons had positive experiences in public schools.
For her the motivation was flexibility, in what her sons learn and the time she gets to spend with them.
"If you're homeschooling you're most likely doing it for the right reason of 'this is what the heartbeat of our family needs," Divers said.
Copyright 2019 WDBJ7. All Rights Reserved.