Work begins on Downtown Roanoke Amtrak platform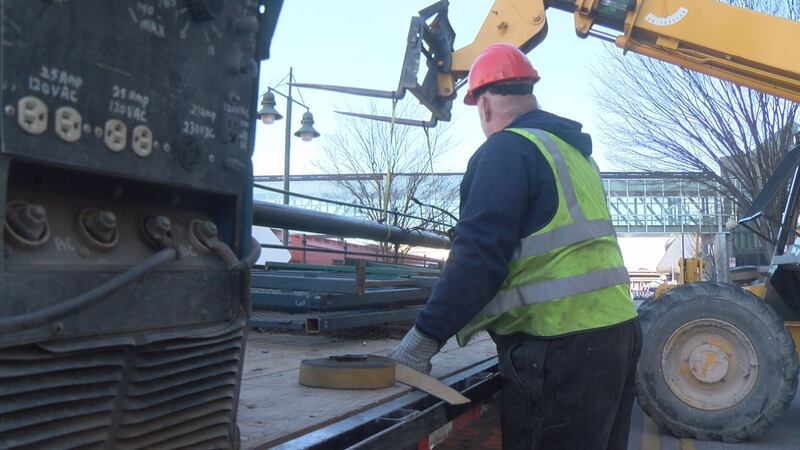 Published: Feb. 13, 2017 at 11:49 PM EST
Roanoke's Amtrak service is one step closer to reality as work is now underway on the high-platform passenger rail station in Downtown Roanoke.
It's a slow start out of the gate. Crews have to tear this area down before they can build it up. But even though it doesn't look like much, this is a huge hurdle.
It was a busy day Monday for crews working just on the other side of the fence from the tracks. Piece by piece, mementos to what put this city on the map were stripped off, taken down and loaded on a truck. Will Harris owns North Fork Lumber and is also the president of the Board of Directors for the Virginia Museum of Transportation. His company is sub-contracting to remove all the decorative pieces of railway history along the sidewalk.
"It's been a pretty heavy job, a lot of stuff is real heavy, we have to have a pretty good size lift to handle it," Harris said.
The downtown Roanoke Railwalk is coming down. In its place along Norfolk Avenue, the only high-platform in the Commonwealth will go up.
"This is probably the last, most complex piece of getting Amtrak back to Roanoke. Over on Albemarle, we're near completion on the servicing station which is a big component," Commonwealth Transportation Board Member and former city councilman Court Rosen said. "This is a serious and what I believe to be last major milestone to be accomplished, Norfolk Southern has been a good partner, the state the city working together, it's really a lot of moving parts."
Crews began tearing up the concrete and taking apart overhands Monday morning.
"We worked here late last night to try and get a jump on things because Faulconer is under the gun to get this project on the move and we're doing the best we can to help them along with that," Harris said.
It's slow work now, but in just a few weeks this site will be unrecognizable.
"After many, many years of planning, funding, cooperation of all parties, digging dirt is a major, major step toward completion," Director of Policy, Communications and Legislative Affairs for the Virginia Department of Rail and Public Transportation, Chris Smith said.
By completion, tracks will sit where the sidewalk once stood, this platform high above the ground.
"There's been a lot of people that have been advocating for this for a long time," Rosen said. "This isn't a simple project, these kinds of things take years and years and years."
The mementos are not gone for good. Just a short move down the street to the museum is their new home.
"It's pretty neat, we're having a good time doing it," Harris said.
While they're gone from here, they leave room for new history at this very same site.
Tuesday morning crews will move the flatbed train car to the Museum of Transportation. It has served as a stage and part of the rail walk.
The first Amtrak scheduled train is still on schedule to roll into town this fall.
During construction, travel on Norfolk Avenue will be reduced to one-way eastbound traffic, between the Martin Luther King Bridge and Jefferson Street.
Railside Avenue, behind Warehouse Row, will have restrictions to parking within 10 feet of the temporary fence line to accommodate one-way eastbound thru-traffic, only.
The work is expected to take 300 days to complete.