McCloud throws 3 TD passes, James Madison holds on to beat South Alabama 31-23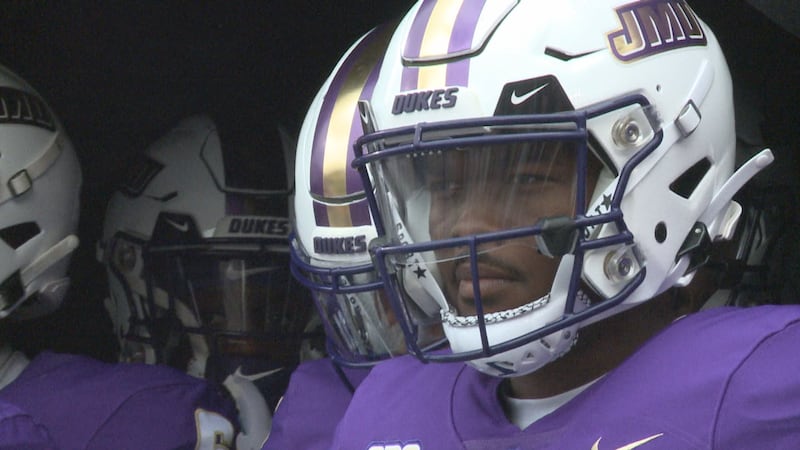 Published: Sep. 30, 2023 at 7:01 PM EDT
HARRISONBURG, Va. (AP) — Jordan McCloud threw three touchdown passes — two to Zach Horton — and Jalen Green returned an interception 24 yards for a TD to help James Madison beat South Alabama 31-23 on Saturday.
Horton scored on a 66-yard catch-and-run to give James Madison (5-0, 2-0 Sun Belt Conference) a 31-7 lead with 11:32 remaining. The Jaguars responded with a nine-play 75-yard drive that culminated with a Carter Bradley's 3-yard TD pass to Lincoln Sefcik about 3 minutes later and, after a JMU punt, La'Damian Webb scored on a 1-yard run to cut the deficit to 31-23 with 3:56 to play.
The Dukes went three-and-out but the defense quickly erased any doubt about the outcome. After an incomplete pass on first down, Aiden Fisher tackled Webb in the backfield and then Green - whose pick-6 made it 24-7 at halftime — sacked Bradley to make it fourth-and-26 with before Francis Meehan picked off a pass in the closing seconds to seal it.
Bradley completed 28 of 50 passes for 299 yards with two touchdowns and two interceptions. Caullin Lacy caught six passes for 132 yards.
Elijah Sarratt had five receptions for 92 yards, including a 48-yard touchdown that gave JMU a 7-0 lead with 12:49 left in the first quarter and McCloud connected with Horton for a 44-yard touchdown that made it 14-0 about 5 minutes later.
South Alabama (2-3, 0-1) went three-and-out on each of its first two possessions and had just three drives of more than five plays.
___
AP college football: https://apnews.com/hub/college-football and https://apnews.com/hub/ap-top-25-college-football-poll
Copyright 2023 The Associated Press. All rights reserved.